Construction milestone for world's largest sports mall in Dubai
Khansaheb completes first floor of Sport Society, with retail project due for launch in Q1 2020
Progress has been made on the world's largest sports mall, Sport Society, which is under construction in Dubai by developer Viva City and contractor Khansaheb.
The first floor of the development in Mirdif is ready, with overall completion due at the end of 2019, with a Q1 2020 launch scheduled. 
Construction on the second of the three-floor project has started. The mall's ground floor has been designed to host and organise sporting events, whilst the other two floors will feature sports brand stores, as well as restaurants and cafés that will offer organic diet-friendly options. 
READ: Design details of world's largest sports mall in Dubai revealed
Prefabrication is being deployed to build Sport Society, which involves 60,000m3 of concrete and 8,165 tonnes (t) of steel across six floors – including the basements and the roof. 
More than 16ha of casting moulds will be used to construct the roof, and prefabricated and pre-assembled mechanical, electrical, and plumbing (MEP) units are being used for the project. 
Nine steel beams, each weighing around 63t, will be used for Sport Society. Finished, assembled, and manufactured sections – each weighing 12.7t – will be used in five sections per pillar, and installed together on the ground floor, bringing each unit's total capacity to 63t. The beams will be installed at heights of up to 30m above-ground with one elevator, using a tracked crane.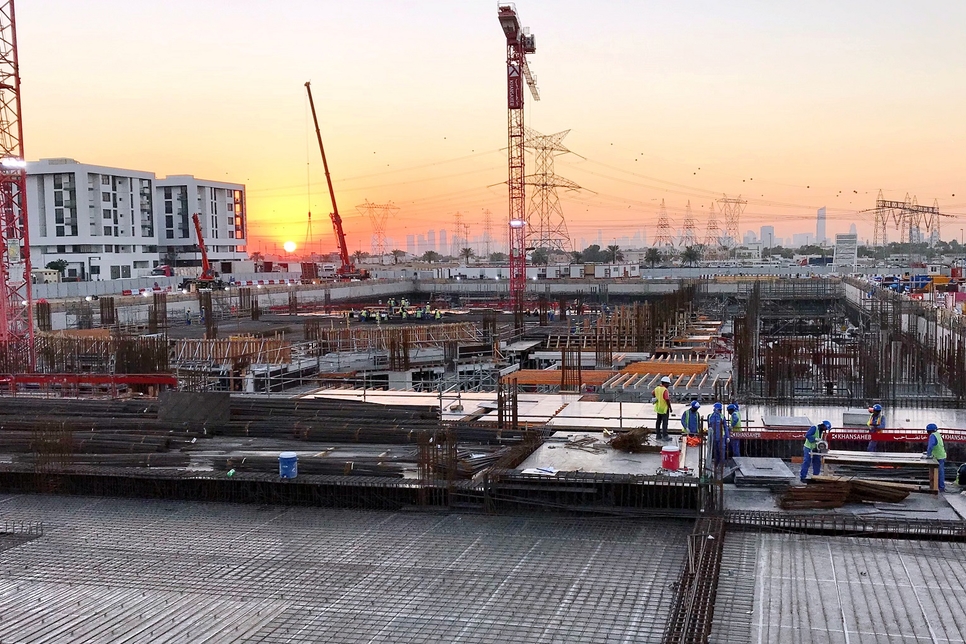 Sport Society will feature "huge LED screens" to broadcast entertainment and sports news, as well as a hockey rink that is cooled to -5°C during the summer. 
Commenting on the project's construction schedule, Khansaheb Civil Engineering's group general manager and industry veteran, Steve Flint, said the contractor's track record was "the deciding factor" that allowed it to win the project deal.
"We employ an integrated process in managing and coordinating all elements of design, ensuring consistency between different construction processes, as the volume of work in the project is huge as well," he continued. 
READ: Saudi Arabia unveils Riyadh's first entertainment complex
Viva City's head of design, Edgar Bove, said the contractor's "efficient operations" were ensuring that construction progresses to schedule. 
"The world-class building is well under way and on programme, due to the depth of Khansaheb's experience, innovation and expertise in building such key retail projects," Bove added.