HH Sheikh Mohammed tours new Dubai facility of Amazon's Souq
Newly opened 4ha facility at Dubai South is the first of its kind to have been launched since Amazon's acquisition of Souq
HH Sheikh Mohammed bin Rashid Al Maktoum, Vice President and Prime Minister of the UAE, and Ruler of Dubai, has toured the new facility of Amazon-owned online shopping website Souq.
The tour of Souq's new Fulfilment Centre in Dubai South followed the 4ha facility's launch in September 2018, and is the first to be launched since Souq was acquired by Amazon, the global tech giant owned by billionaire Jeff Bezos. According to Souq's chief executive officer, Ronaldo Mouchawar, the facility will create 600 jobs within the Fulfilment Centre's first year of operation.
The new Fulfilment Centre is used to store inventory for Souq's subsidiaries, and is also employed by sellers that use 'Fulfilled by Souq' services, allowing them to store, collect, pack, and deliver their products. The Fulfilled by Souq programme is particularly popular with the online shopping giant's since it allows sellers to cut logistics costs. 
HH Sheikh Mohammed was shown how customer orders are fulfilled by Souq, and his tour also included a demonstration of Amazon's new product, the Arabic language-enabled e-reader, Kindle.
Accompanying the Dubai Ruler on his tour were HH Sheikh Ahmed bin Saeed Al Maktoum, chairman of Dubai Civil Aviation Authority, and chairman and chief executive officer of Emirates Airline and Group; HH Sheikh Ahmed bin Mohammed bin Rashid Al Maktoum, chairman of Mohammed bin Rashid Al Maktoum Knowledge Foundation; and HH Sheikh Mansour bin Mohammed bin Rashid Al Maktoum.
Commenting during his visit, HH Sheikh Mohammed underscored the UAE's position as the ideal location for global investors due to its strategic geographic location and smooth access to emerging markets. He also reiterated Dubai's commitment to open market policies, and its ability to offer the infrastructure required to support the investment and growth of companies of all sizes. 
Remarking on the global investment-worthiness of homegrown companies, HH Sheikh Mohammed said: "The global accomplishments of local companies are testimony to the strong partnership between Dubai and the investment community. We are happy to see local companies becoming international success stories. 
"Their success is our success. We spare no effort in creating a conducive environment for businesses to thrive. 
"We are keen to meet business owners and investors to obtain their inputs and feedback, which will allow us to further enhance our collaboration with them."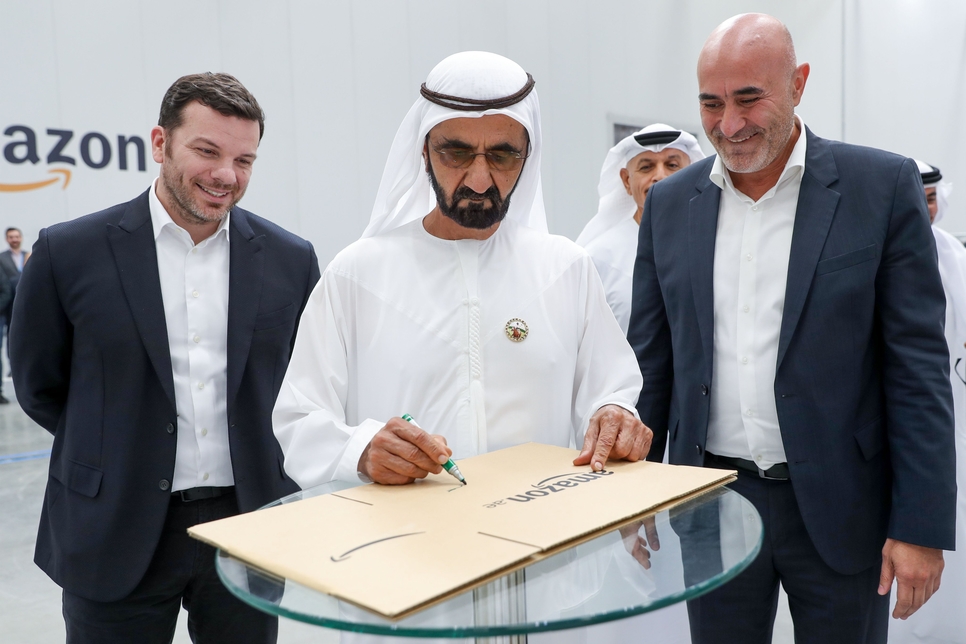 Souq's Mouchawar, added: "We are honoured to be visited by His Highness today and showcase another milestone on our journey here in the Middle East.
"Entrepreneurship is an engine of economic growth globally, so we are proud to play our role in empowering the many small- and medium-sized businesses that sell through our marketplace, as well as providing our customers access to millions of products," Mouchawar added, according to the UAE's state news agency, Wam.