The 20 most influential Indian leaders of Gulf construction
Meet the Indians that will lead the region's construction, real estate, and infrastructure sectors in 2019 and beyond
Who are the top Indians that have made a home in the Middle East, and how are the construction industries of countries such as the UAE, Saudi Arabia, and Oman impacted by these leaders, some of whom are non-resident Indians (NRIs) abroad?
It is to answer these questions that Construction Week has compiled its list of the most influential, successful, and richest Indian businessmen in the Gulf's real estate, construction, and infrastructure industries in 2019.
By far, Indians in the UAE are among the largest segment of India's diaspora in the GCC. The Indian community in Dubai is a thriving one, and has over the years significantly contributed to the local business community, as is exemplified by the efforts of individuals such as Maghanmal Pancholia of MJ Group and MD Saini of Shapoorji Pallonji International.
Countless expats in the UAE and other parts of the Gulf have helped to build the region, and this list is a compilation of 20 Indian individuals that have influenced the local socio-economic landscape so far – and will continue to in 2019.
These are the top Indian businessmen in the Gulf that are significant players in the region's construction and real estate industries:  
Cheriyan Alex, National Piling
Jayant Balan, Voltas Limited
Ajay Bhatia, Bhatia Brothers
Bharat Bhatia, Conares
Rahul Duragkar, Emitech
Prasad Galla, RGI
CK Khanna, Bahwan Engineering Company (BEC) Oman
Devaki Khimji, Al Tasnim Group
Faizal Kottikolon, KEF Holdings
Rajesh Kumar Krishna, Beaver Gulf Group
Michael Mascarenhas, Desert Group
PNC Menon, Sobha Group
Gumeet Singh Nanda, Voltas Oman
Anil Pillai, Airolink Construction Group
Ravi Pillai, RP Group
Subhash Pritmani, Semco
Maghanmal Pancholia, MJ Group
Mohandass Saini, Shapoorji Pallonji
Rizwan Sajan, Danube Group
SB Subrahmanyan, Larsen & Toubro
Please note that this list is not a ranking and has been arranged in alphabetical order.
Cheriyan Alex
Chief executive officer, National Piling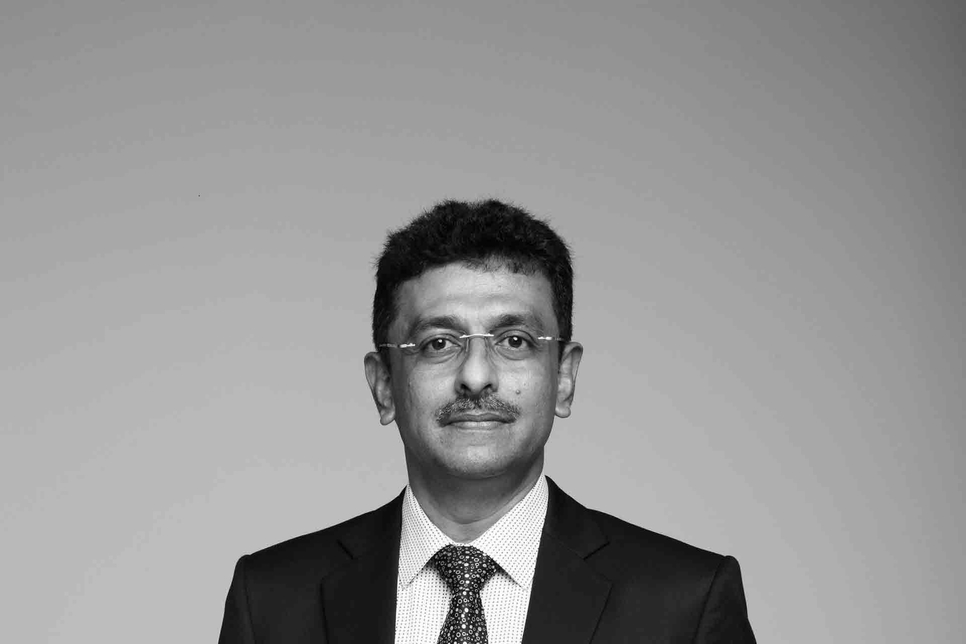 UAE ground engineering company National Piling has grown under the helm of Cheriyan Alex, who as chief executive officer is leading the firm's work with companies such as Azizi Developments, Damac Properties, and Bloom Holdings, among numerous others.
Based out of the UAE's Northern Emirate of Sharjah, National Piling has steadily raised its profile under the guidance of Alex, with the firm also securing pre-qualification from the Dubai Financial Market-listed Emaar Properties in 2017.
A sister company of National Dewatering & Land Draining, and National Pump Industry, National Engineering Contracting, National Piling's portfolio features a range of high-profile construction projects in Dubai. According to its profile on construction listings website ProTenders, this list includes 1/JBR, Marasi Riverside, Radisson Dubai Damac Hills, Phase 3 of Mohammed Bin Rashid Al Maktoum City – District One's Waterfront Residences, and Prive by Damac.
Alex's alma mater includes India's Karnatak University, and his former employers include Bauer Spezialtiefbau.
Jayant Balan
Executive vice president, Voltas Limited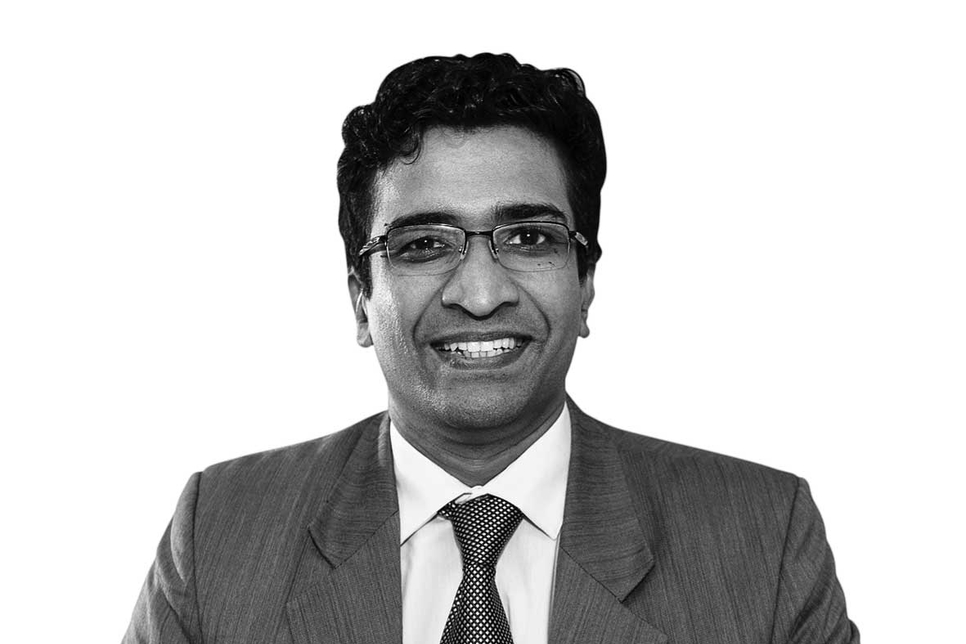 Worth well over $2.7bn, Voltas Limited is no stranger to large-scale construction schemes in the Middle East and beyond.
Voltas is part of the illustrious Tata Group, the company behind the iconic Taj Hotels hospitality brand that was founded by Jamsetji Tata and is currently led by Ratan Tata. Established in 1954 in India, Voltas today offers services across the mechanical, engineering, and plumbing (MEP) spectrum, including textile machinery, water management, and cold-chain systems.
The company's executive vice president and chief operating officer of international operations, Jayant Balan, told Construction Week's sister title MEP Middle East in October 2017 that the firm went international in 1978, and has since expanded to 35 countries across the Middle East, Asia, Africa, and CIS regions.
Under Balan's leadership, Voltas has worked on regional projects such as the Jotun Paints factory in Oman and Abu Dhabi's Etihad Towers. The firm's 2017 revenues totalled $1bn, and Voltas was busy delivering MEP work on projects such as Emirates Pearl Hotel, Ferrari World Extension, Dubai World Trade Centre Phase 2, and Kempinski Hotel Muscat during this period.
According to Voltas, Balan has also worked as senior assessor and team leader for the Tata Business Excellence Model programme, leading the assessments of Tata Group companies such as Tata Steel Europe, Tata Motors, Titan, Tata Teleservices, Trent, Jaguar Land Rover, and Taj.
In September 2018, Balan – featured in MEP Middle East's Top 25 MEP Contractors 2018 list – said that the firm was also working on Expo 2020 Dubai packages, which he described as "prestigious and critical" jobs.
Balan has been in his current role for three years, and has spent 19 years with the firm, which hires 500 qualified MEP engineers in the GCC.
Ajay Bhatia
Chairman, Bhatia Brothers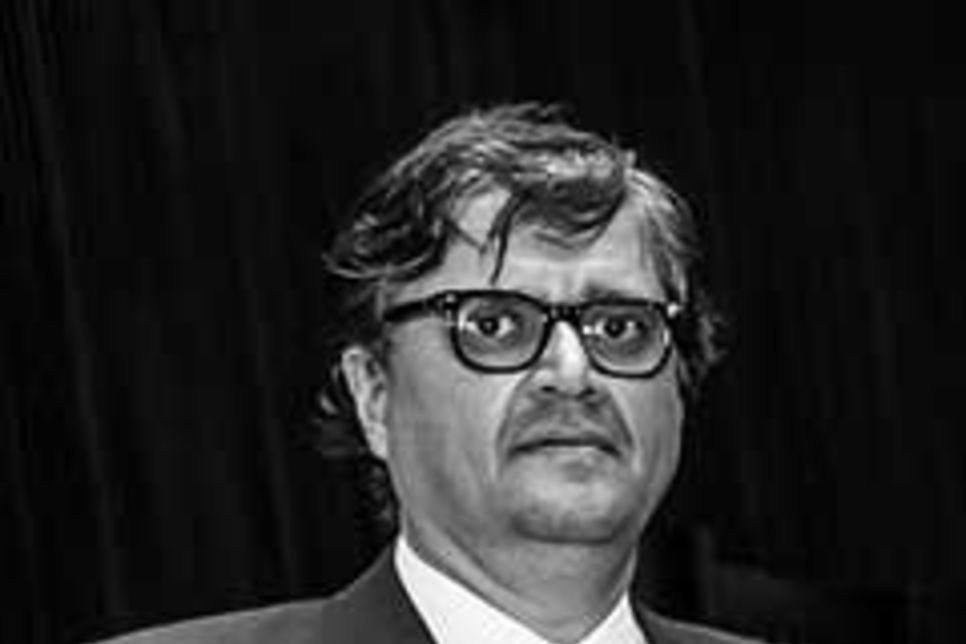 Chairman of UAE-headquartered industrial giant Bhatia Brothers, Ajay Bhatia, heads up one of the rare companies whose presence in the Gulf dates back decades. Bhatia Brothers, founded by BV Bhatia, is a multinational conglomerate with operations in Oman, Kuwait, Iraq, Singapore, India, and parts of Europe.
Bhatia Brothers employs more than 1,000 staff members across divisions such as engineering and industrial; consumer; and investments and real estate. The group's companies include C&J Gulf Pipe, Gulf Detection, Oil Fields Supply Centre, V V & Sons, and Technical Parts Co, among others.
According to an Arabian Business report in March 2017, Bhatia Brothers' hotels include Ajman Beach Hotel, Ajman Kempinski Hotel & Resort, and Pearl Hotel in Umm Al Quwain. As of February 2016, the company offered real estate services through its division Sol Properties, and was expanding to Saudi Arabia and Nigeria.
Bharat Bhatia
Chief executive officer, Conares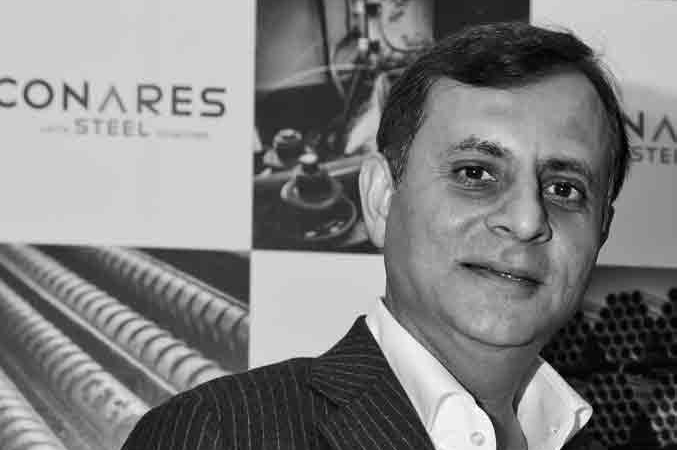 Since its establishment in 1988, Conares Metal Supply has rapidly expanded into a steel trading giant in its home market of the UAE, and the wider Middle East. At the helm of this heavyweight is Bharat Bhatia, chief executive officer and managing partner of the firm that specialises in the trading and manufacturing of steel pipes and rebar.
Bhatia, a long-term resident of Dubai, also owns Mechweld Trading Co, a welding, hardware, and building materials firm that marked his first UAE venture – and one he continues to own and oversee. Bhatia is also the chief executive officer of United Metal Supply, a UAE trader of structural steel and pipes, and since 2004 has held a similar role at JackBerrys.
As one of the most successful Indian businessmen in Middle East construction, Bhatia – a prominent member of Dubai's thriving Thathai Bhatia community from India – wields significant influence on the local socio-economic scene. In May 2018, a new facility of Conares, the UAE's second largest private steelmaker, was inaugurated by Bollywood superstar Shah Rukh Khan. The $27m mill manufactures 30cm pipes and was unveiled by Khan in Jebel Ali Free Zone.
Conares's production exceeds one million metric tonnes (MT) each year, with the firm producing pipes since 2005 and rebar since 2011. The firm's pipe portfolio ranges in size from 1.27cm to 10.16cm, with Conares's pipe mills featuring an annual capacity of more than 200,000MT. The galvanising mill's capacity is over 40,000MT, and pipes at Conares are produced in circular, rectangular, and square sections.
Meanwhile, Conares's rebar business manufactures products spanning 0.8cm to 4cm, with the rebar mill's annual capacity exceeding 500,000MT. According to Conares's website, its rebar products have been used for projects such as Abu Dhabi Airport, Dubai Tram, Dubai Water Canal, and Dubai Mall.
Rahul Duragkar
Managing director, Emitech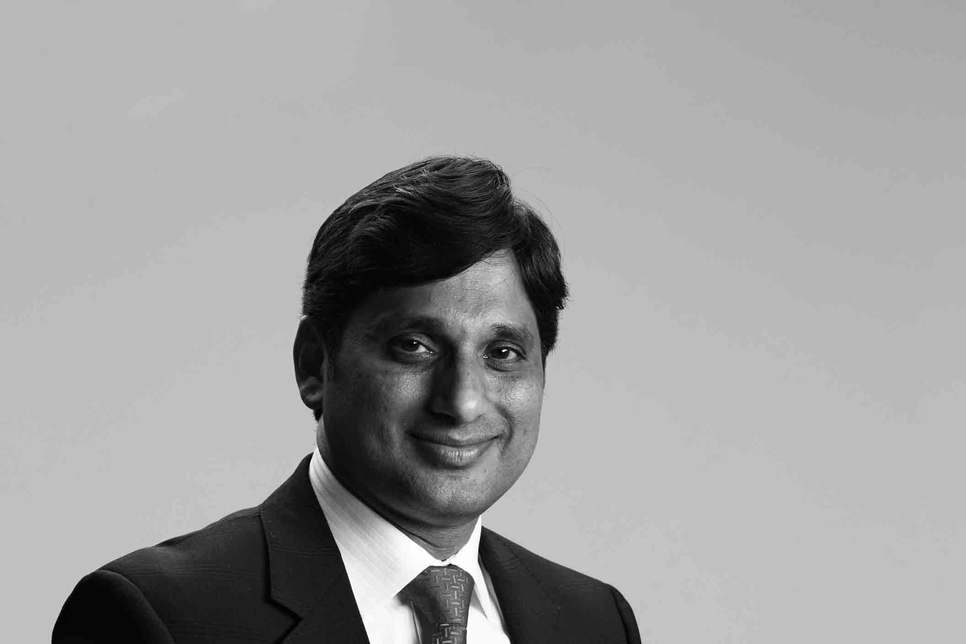 Market challenges related to labour costs and contract pricing have not stopped Emitech, led by managing director Rahul Duragkar, from holding on to its comfortable spot in the Middle East's MEP sector.
The contractor, which posted revenues of $18m in 2017, has worked on numerous UAE projects in the last 24 months, such as CSDPI Pharma Factory and Office, Club Commercial and Residential, and Autism Centre – Abu Dhabi.
In September 2018, Duragkar told MEP Middle East that the company hires 33 qualified MEP engineers, and is actively seeking work in Dubai, a market that he said outperformed its neighbours such as Ajman and Sharjah.
The managing director has spent seven years in his current role at Emitech, and holds a bachelor's degree in mechanical engineering from India's Visvesvaraya National Institute of Technology.
Prasad Galla
Managing director, RGI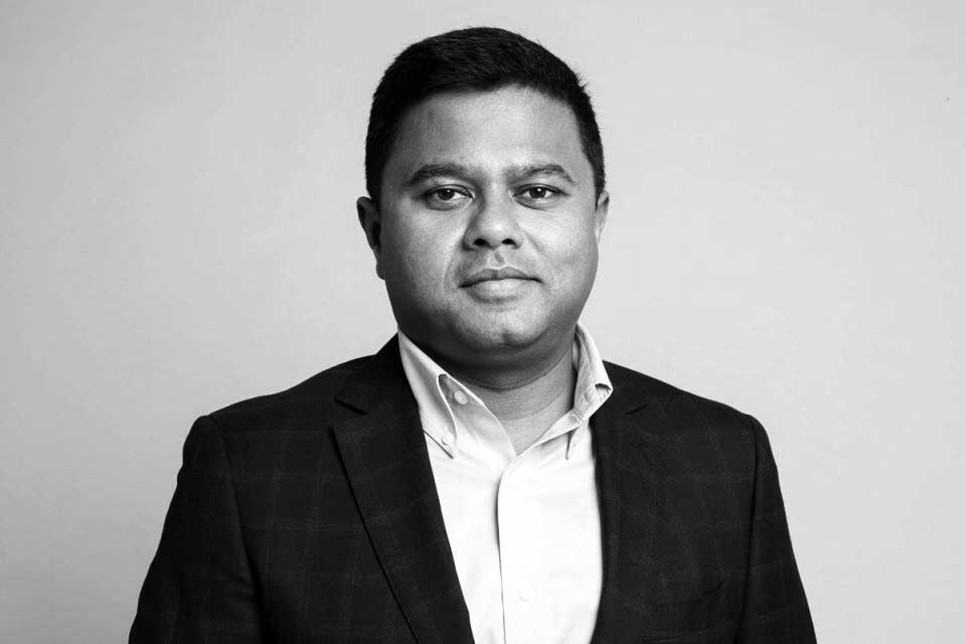 Despite being the leader of an infrastructure contracting outfit with a significant footprint in India and the Middle East, Prasad Galla appears to maintain a low profile.
RGI completed its first project in 1983, and has since expanded as an infrastructure contractor in India, Nepal, Bangladesh, and the UAE. Starting off as a contractor for small- and medium-sized projects in India, the firm now works on major manufacturing, cold storage, and distribution facilities in the UAE.
As of July 2018, RGI employed close to 1,000 employees across its engineering and industrial divisions. Its offices in the Emirates span Dubai and Sharjah, with plans also in the pipeline to open another one in Abu Dhabi, according to Arabian Business in January 2018.
According to its company profile on ProTenders, RGI's projects in the UAE include the Nesto Distribution Centre warehouse in Dubai Technology Park for Western International, and the extension of a warehouse for MGCO Food & Beverage Industries. The Nesto project was completed in 2018, whilst the 6,480m2 MGCO warehouse was expanded by 2017.
Additionally, RGI's website lists its portfolio as containing Camtech Manufacturing's 18,000m2 oil and gas facility in Jebel Ali. In India, the contractor has worked on projects such as the construction of NH 31 on East-West Corridor, which starts from Unnao in Uttar Pradesh, passes through Bihar, and ends with a link to SH 10 in West Bengal.  The firm has also worked on the Rengali Irrigation Project in Orrisa, which includes a dam, a lift station, command areas, and a power house, among other facilities.
Despite this steady success and growth, Galla, a native of the Indian state of Hyderabad, continues to seek RGI's expansion, and is said to have formulated a 'vision' for the company as well. In the run up to 2020, according to Galla's plan, RGI will expand into Oman, Africa, and CIS countries, according to Arabian Business.
CK Khanna
General manager – corporate, Bahwan Engineering Co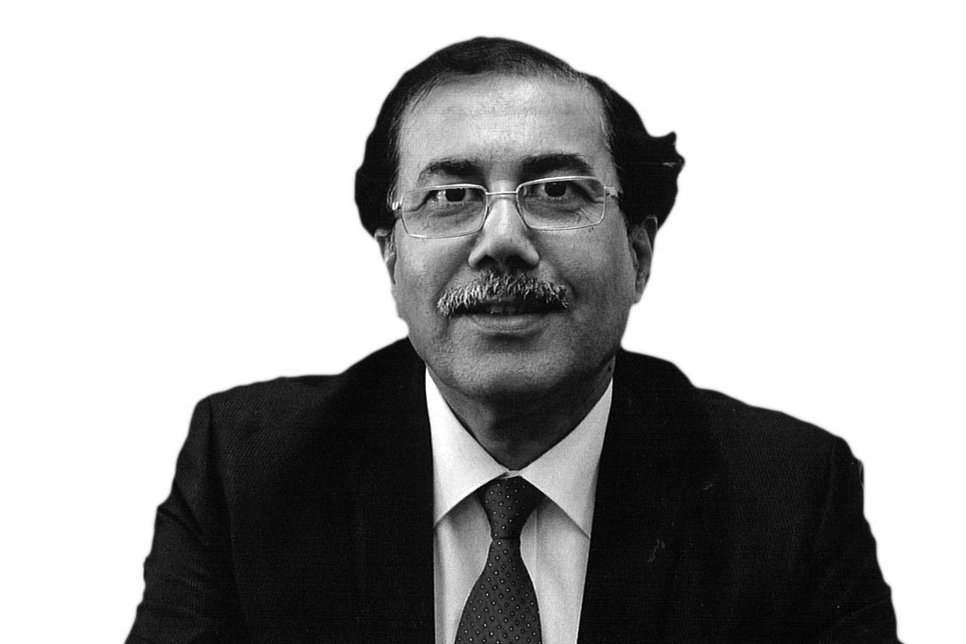 As a multi-service conglomerate, Oman's Suhail Bahwan Group Holding is among the GCC's most recognisable industry players both within construction and beyond it. 
Bahwan Engineering Company, also known as BEC, is one of its units that specialises in project management and construction work, with its portfolio including civil, mechanical, electrical, and instrumentation services for oil and gas, power, and industrial schemes.
Chander Kant Khanna, BEC's general manager for corporate, reports to BEC Group's vice chairman. BEC Group is the construction, product sales, and support services part of Bahwan Holding, which predominantly operates in Oman and the UAE.
With revenues exceeding $800m, BEC Group, according to Khanna as of June 2018, had a "health order book", with various MEP and related schemes in its core markets.
Among BEC's completed projects in Oman are MEP packages for the new Muscat International Airport, and an engineering, procurement, and construction (EPC) contract for a 400/220kV grid station at Ibri.
At the time of his inclusion in the 2018 Construction Week Power 100 list, Khanna said that the company was delivering MEP work for Mall of Oman, and an EPC contract for Sohar Desalination Independent Water Project.
According to Khanna's LinkedIn profile, his former employers include Voltas Limited, the Tata company with which he worked for four years in India. Khanna joined Bahwan in May 1983, and has been with the firm for close to 36 years. He holds a bachelor's degree in mechanical engineering from India's prestigious Delhi College of Engineering.
Devaki Khimji
Executive director, Al Tasnim Group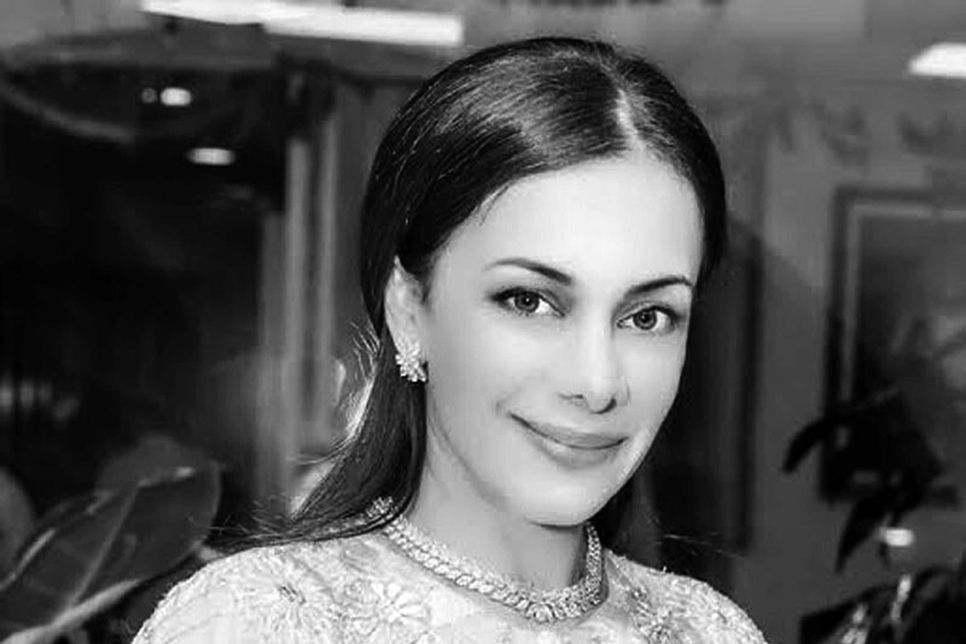 As one of the few women leaders in regional construction, Devaki Khimji knows a thing or two about success. Khimji, who was shortlisted for Construction Week Oman Awards 2018's Construction Executive of the Year honours, is executive director of Al Tasnim Group, a large conglomerate based in Oman.
In addition to her role at Al Tasnim Group, Khimji also oversees K11 Fitness Management (India), which she founded in 2004 and today hires 400 people across the country. Since 2007, Khimji has also served as director of Grip Technologies, and has worked at Al Tasnim since 2012, her LinkedIn profile shows.
Al Tasnim credits Khimji with the management and growth of its brand. Following her appointment at the company in 2012, Khimji restructured the group into "manageable divisions", Al Tasnim says on its website, adding that she is also responsible for the launch of new product lines at the firm.
Today renowned as a contractor worthy of the regional stage, Al Tasnim's project portfolio includes impressive projects such as The Royal Opera House, National Bank of Oman's headquarters, Al Mouj, Muscat, and the new Muscat International Airport in the sultanate.
Faizal Kottikollon
Founder and chairman, KEF Holdings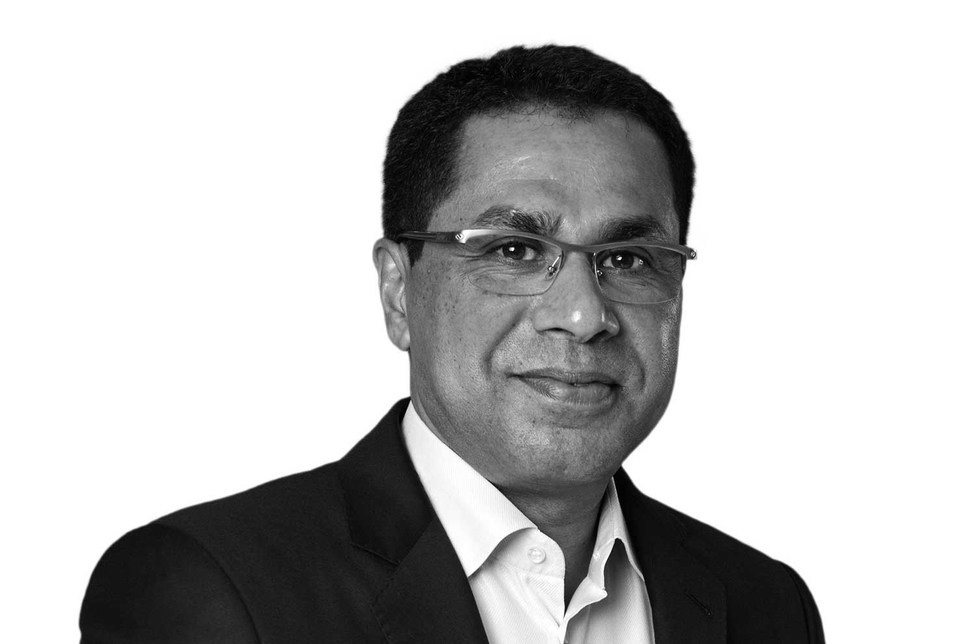 Few Indians are as familiar in the Middle East as Faizal Kottikollon, the Kozhikode, Kerala native that founded KEF Holdings and is a member of Indian Prime Minister Narendra Modi's Champions of Change for Infrastructure panel.
What started off as Al Ahmadi General Trading in Ajman in 1995 went on to become Emirates Techno Casting in Sharjah by 1997. The firm was sold to Tyco International for $400m in 2012, in essence kickstarting Kottikollon's rise into the global tycoon he is today.
The sale to Tyco spurred the launch of KEF Holdings, which specialises in offsite manufacturing technologies – popularly known as 'modular' or 'prefab' construction – and hires 1,500 employees. In January 2018, KEF Infra, a division of KEF Holdings, announced annual revenues worth $150m.
Meanwhile, Kottikollon, whose wealth as of November 2018 was estimated in billions, continues to chart the growth of KEF. In July 2018, KEF Infra merged with Katerra, backed by Masayoshi Son's Softbank, to form KEF Katerra, a global firm that was involved in the construction of Saudi Arabia's recently completed first-ever precast house.
Kottikollon, who studied engineering and pursued an MBA in Manipal, according to Indian news outlet Economic Times, is at the helm of a business that is expected to resolve challenges that unite construction industries around the world – be it the lack of affordable housing in India and the Middle East, or the growing needs of urbane, fast-paced construction in the US. In October, Faizal and Shabana Foundation – which Kottikollon co-founded with his wife – committed to the construction of 100 homes as part of the Rebuild Kerala initiative, after the South Indian state was ravaged by floods late last year.
Rajesh Kumar Krishna
Chief executive officer, Beaver Gulf Group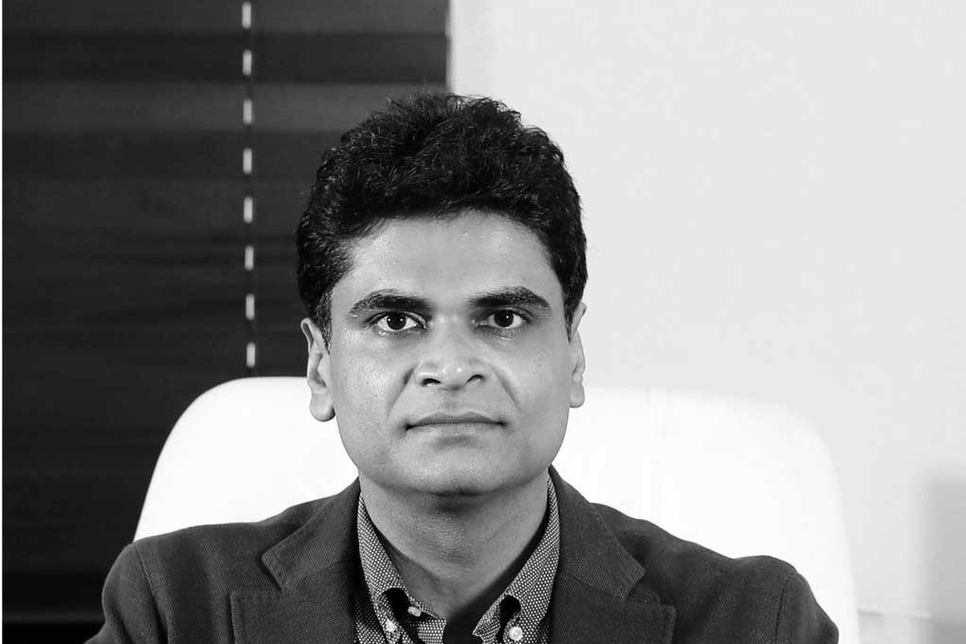 Few construction contractors in the UAE can claim to have grown as rapidly as Beaver Gulf Group's chairman and chief executive officer, Rajesh Kumar Krishna, has. The UAE construction conglomerate noted revenues of $175m between 1 February, 2017 and 31 January, 2018. In the corresponding period to 31 January, 2019, the figure was expected to hit $260m, taking Beaver Gulf tantalisingly closer to being a billion-dirham outfit.
In the decade since Krishna has held his current role, Beaver Gulf has worked on some of the most high-profile projects under way in the UAE. Between June 2017 and May of last year, the company completed more than 1,000 townhouses within Town Square's Safi and Hayat phases for developer Nshama.
The contractor is currently working on various projects for the UAE's Al Ghurair Real Estate, and Deira Waterfront Development LLC's eponymous project in Dubai. Krishna told Construction Week that Beaver Gulf would work on low- and mid-rise buildings within Phase 1's Plots 5, 7, and 8 as one of Deira Waterfront's construction contractors.
Krishna is an active member of the UAE's construction community, and has previously been a panellist at Construction Week's Leaders in Construction: UAE conference. In the last 12 months, Beaver Gulf's top boss has called for his contracting peers to adopt selectivity amid reducing market margins.
Michael Mascarenhas
Chief executive officer, Desert Group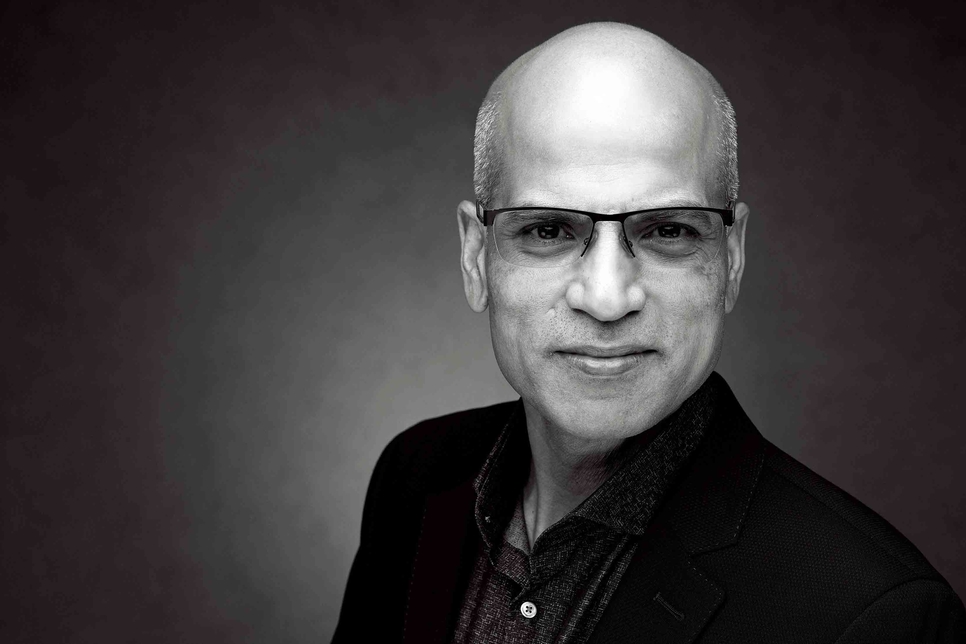 Few businessmen in the Middle East can match the presence and energy of UAE landscaping company Desert Group's chief executive officer, Michael Mascarenhas.
It is, perhaps, quite fitting that Mascarenhas, who grew up in the arid Indian state of Rajasthan, today leads a horticultural giant focused on water, nature, and sustainability. Mascarenhas, who hails from the town of Ajmer, has previously said that the Great Indian Desert, Thar, has greatly influenced his life. An art enthusiast, Mascarenhas' work experience spans over three decades in the aerospace, education, construction, and oil and gas industries.
As a business leader, Mascarenhas is particularly conscious of the significant of corporate social responsibility initiatives, and under his guidance, Desert Group has launched various programmes to work with special needs individuals in the region.
According to Desert Group's website, Mascarenhas is an alumnus of Saïd Business School and a certified member at the Institute for Corporate Governance, or Hawkamah.
Mascarenhas took over his current role in 2012, and is credit with the rise and expansion of Desert Group and its various divisions, including Desert Ink, Desert Landscape, Desert Golf, House of Flowers, and Dubai Garden Centre. His future plans, as he told Construction Week in October 2018, include the expansion of the Dubai-headquartered Desert Group into Saudi Arabia – a market that he would like the UAE landscaping company to "penetrate and conquer" – especially as the kingdom develops its $500bn (SAR1.9tn) Neom gigaproject.
PNC Menon
Founder and chairman, Sobha Group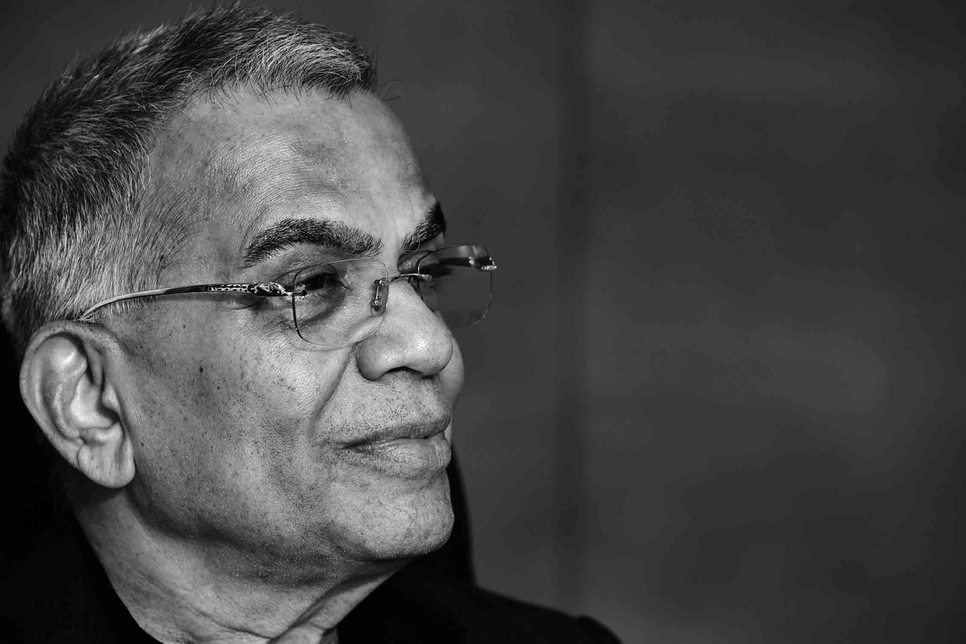 The first-generation entrepreneur that leads Sobha Group is undoubtedly one of most recognisable faces within the Indian community in the Middle East. The group's chairman and founder, PNC Menon, started his professional career by establishing an interior decoration firm with Oman's Brig Gen (Rtd) Sulaiman Al Adawi, named Services & Trade Group in 1976, working on projects such as the Sultan Qaboos Grand Mosque and Al Bustan Palace Hotel.
Since then, the Indian-born Omani billionaire has led the expansion of his business not only across the UAE, but also the Gulf and India. In the latter country, Sobha Developers was established in 1995, with the firm expanding to Dubai – its current headquarters – in 2003.
A native of Kerala's Thrissur city, Menon's firms today span global cities such as Brunei and Tanzania, with one of the units also listed on India's Bombay Stock Exchange.
Among the portfolio of Sobha Group – which is said to be named after Menon's wife – are UAE real estate schemes such as Sobha Hartland within Dubai's Mohammed Bin Rashid Al Maktoum City, and the $6.8bn Firdous Sobha in Umm Al Quwain.
Menon is also a philanthropist, and is the founder of Sri Kurumba Trust, which aims at improving the quality of life for residents of the Keralite villages of Vadakkenchery and Kizhakkenchery. In April 2013, he told Construction Week's sister title Arabian Business that he intended to eventually give away 50% of his net worth to fund charitable projects in Oman and India.
Gumeet Singh Nanda
General manager, Voltas Oman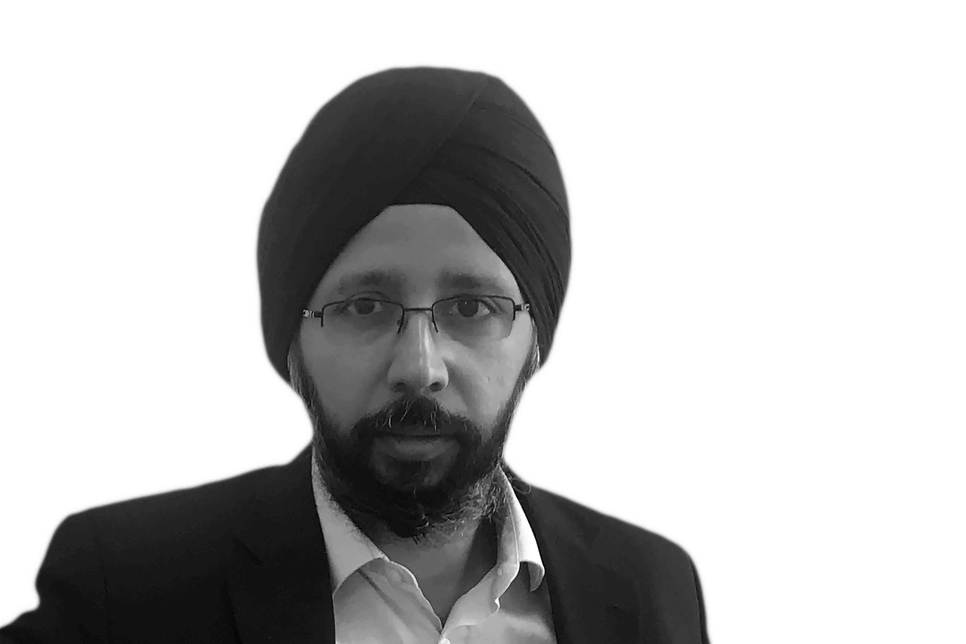 Leading a team of close to 1,000 is not easy, but Gumeet Singh Nanda, general manager of MEP contractor Voltas Oman and main contractor Lalbuksh Voltas Engineering (Lalvol), makes it appear a tad less complicated.
Nanda has held his role in Oman at Voltas Limited, the unit of India's Tata Group, since March 2016, prior to which he was general manager at Weathermaker Ltd, also a part of Voltas Ltd. He started working for Voltas Ltd in May 2007 at its Mumbai offices, before which he was an employee at Haier Appliances in New Delhi and Reliance Communications in Lucknow.
In Oman, Nanda and his team are involved on high-profile projects such as the Oman Across the Ages Museum in Nizwa, Al Araimi Boulevard Mall in Muscat, and a Mazoon Dairy project in Buraimi. Lalvol was named Contractor of the Year at the Construction Week Oman Awards 2018 in Muscat.
Nanda told Construction Week at the time of his entry in the 2018 Power 100 list that Voltas Ltd, the parent company of Voltas Oman and Lalvol, would invest $1m in technology to "control cost and time overruns, and improve productivity" at its Middle East offices.
A trained engineer, Nanda holds a bachelor's degree in electrical engineering from India's Nagpur University, and an MBA from the prestigious Indian Institute of Technology (IIT) Kharagpur.
Anil Pillai
Managing director, Airolink Construction Group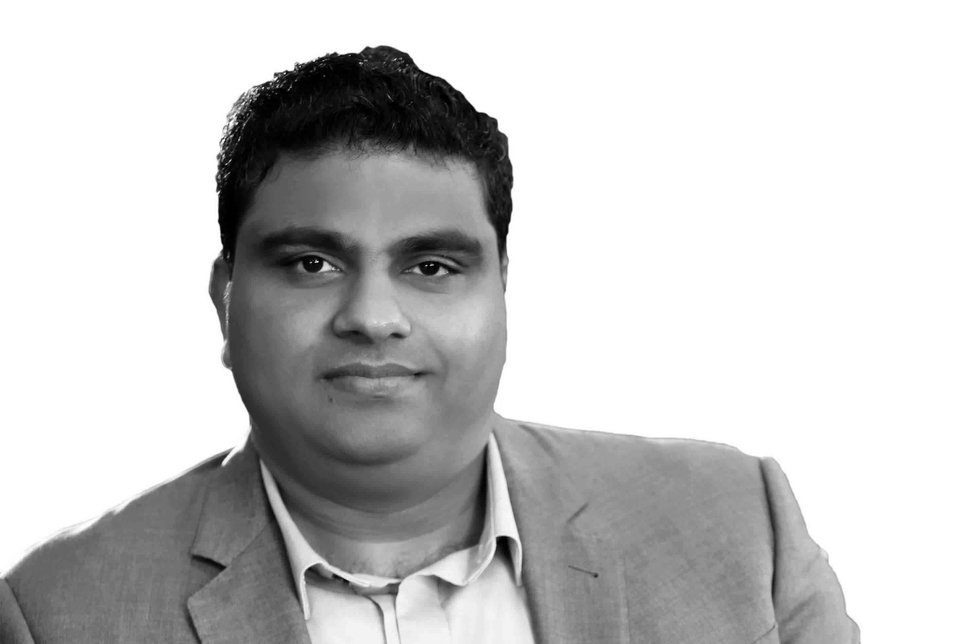 The UAE is among the Gulf's most active construction markets and home to numerous contractors of repute. One such firm that has quietly charted its growth over the years is Airolink Construction Group, which is led by its chief executive officer and managing director, Dr Anil G Pillai.
An active member of the local community, Pillai has served in his current position for the last 18 years, with Airolink employing close to 3,000 full- and part-time employees as of June 2018. Airolink Building Contracting was established in 2001 as an Irish company, and entered the UAE in 2008. The firm is also involved with projects in India, according to its website.
Among its key projects in the region include Roda Villa in Abu Dhabi; Dubai Heights Academy; and Roda Tower's refurbishment scheme in Sharjah. In October 2018, Airolink announced it had been awarded a contract to work on Al Wasl Community Mall in Jumeirah.
Airolink's Pillai, like many other Indians in the UAE and the Middle East, is proactively involved with CSR schemes in his place of work. In 2017, Airolink supported the UAE's first Hindu temple as it sought to "engage with and be good stewards within the local community".
Planned CSR programmes for 2018 included "exceeding all applicable labour laws and standards" as required in the UAE, and the development of a workforce community, replete with leisure and sporting facilities, for its Airolink staff. In December 2018, Airolink was awarded a certificate of appreciation by Dubai Police for its participation in a CSR event that led to the authority securing a Guinness World Record.
Ravi Pillai
Founder, RP Group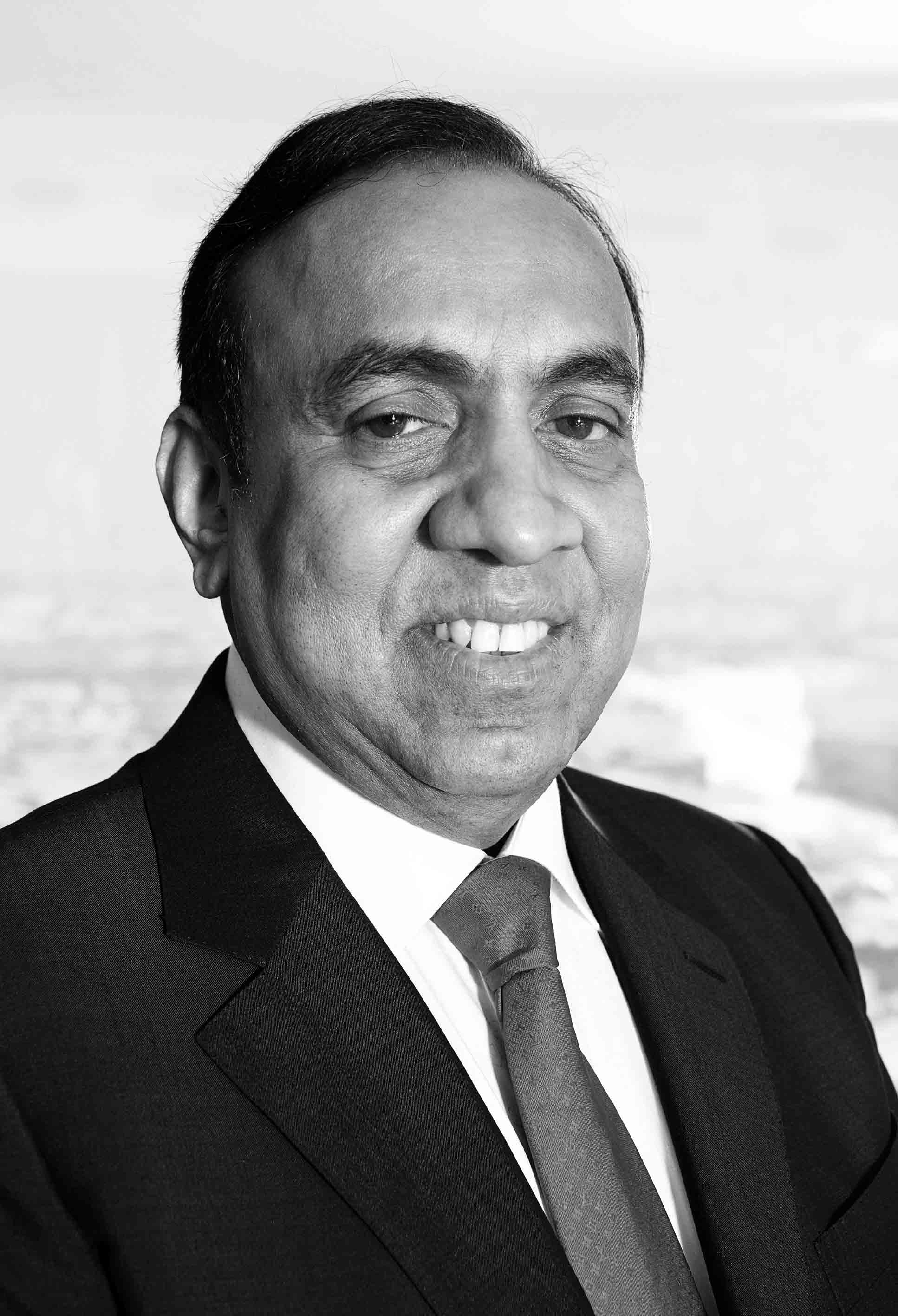 He's one of the richest Indians anywhere in the world, but Dr Ravi Pillai, founder and chairman of RP Group, is best known for his work as a real estate tycoon and philanthropist.
The Kerala-born businessman has led RP Group's portfolio to well over $25bn, spanning sectors such as construction, infrastructure, retail, hospitality, and healthcare. The Saudi Arabia-based conglomerate is also behind the Crowne Plaza Dubai Marina hotel, as well as two $1.5bn developments in Business Bay and on Sheikh Zayed Road.
In 2016, Pillai made the headlines when he promised around 3,000 Saudi Arabian unemployed workers "skilled in mechanical trade" could approach RP Group to explore employment opportunities. A year prior to that, Pillai was in the news for hosting one of his native Kerala's most expensive weddings, when his daughter Dr Arathi Ravi Pillai married Cochin native Adithya Vishnu. According to Khaleej Times, the wedding was attended by celebrities from the Malayalam movie industry, 'Mollywood', with the ceremony's marquee pandal built by 200 professionals in 75 days in a prefabrication model across Mumbai and Kollam.
Pillai told Arabian Business in January 2018 that he planned to expand RP Group across the Gulf and beyond, heralding a period of growth for the firm that is already among the largest employers of Indians in the Middle East.
Subhash Pritmani
Vice president, Semco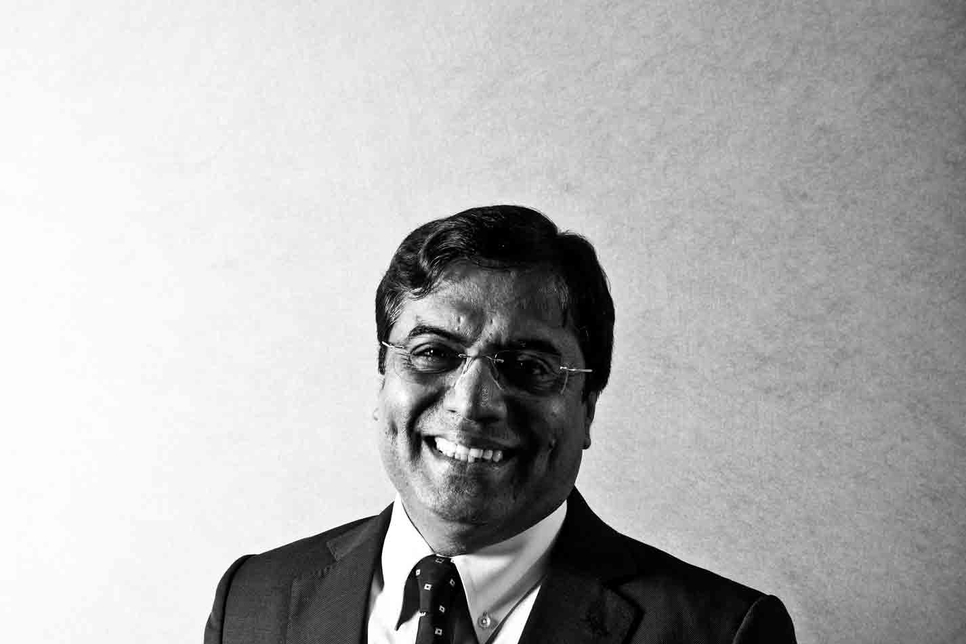 Subhash Pritmani is responsible for the operations of Al Sabbah Electro Mechanical Co (Semco) as its vice president and chief executive officer. Part of the Abu Dhabi-based Al Fara'a Group, Semco is a notable player in the UAE's MEP contracting segment, with its portfolio including work in the electrical, oil and gas, and plumbing and fire-fighting sectors.
Pritmani has over 30 years' experience in the construction industries of India, Saudi Arabia, Bahrain, Hong Kong, and Singapore, with his previous employers including Voltas Ltd, a Tata Group company. Pritmani's CV includes all types of projects – from airports to water treatment plants, and malls to tunnels.
Among his previous roles with Voltas is joint venture (JV) manager of Bahrain Electromechanical Co (Bemco), which was a JV of Voltas, Mohd Jalal & Sons, and Abdullah Buhindi of NIC Group in Bahrain. He has also worked as Riyadh branch manager of Saudi Ensas / Voltas Ltd, and in Mumbai, India, worked as project engineer at Batliboi & Co between 1981 and 1984.
Pritmani, a proponent of strong dispute resolution mechanisms for MEP contractors, holds a bachelor's degree in mechanical engineering from India's Jabalpur Engineering College, and has also studied marketing at India's Jamnalal Bajaj Institute of Management Studies.
Maghanmal Pancholia
Chairman, Maghanmal Jethanand Group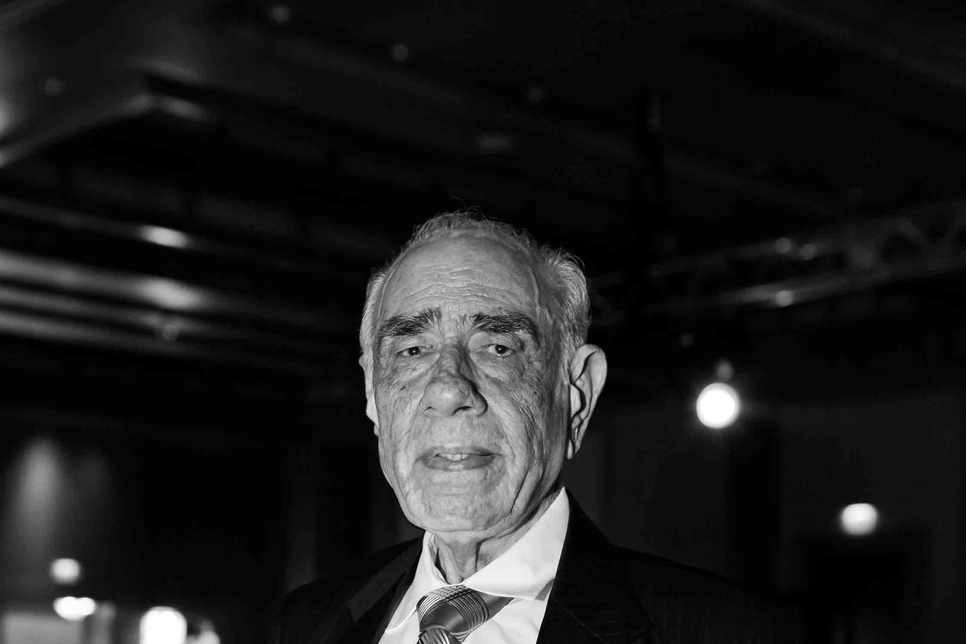 One of the UAE's oldest Indian residents, Maghanmal Pancholia – or Maghabha, as he is referred to by much of his fellow Thathai Bhatia community members – is among the pioneers of Indian businesses in the Middle East. His arrival to Dubai in 1942 predates the UAE's formation, and the years following his entry are marked as a period of simultaneous growth for both him and his new home.
Pancholia and his son, Lalchand, are involved with the management of the family-owned Maghanmal Jethanand Group, which was founded in 1942 in Dubai. The company's steel division was launched in 2006 by Ashwin, the son of Lalchand, in 2006. Structural steel items, such as mild steel plates and sheets; channels; beams; bars; and galvanised iron corrugated sheets make up much of its product offering at present.
Pancholia is also chairman of Arabian Trading Agency, a Dubai outfit founded by Parmanand Jethanand Pancholia. The family business established its roots in Dubai as a trader of pearls and foodstuff, and today trades as a major retailer in the city.
Between 1957 and 1960, Pancholia supplied electricity to the emirate of Dubai, and was in 1961 elected director of Dubai Electricity, which was founded by the late Ruler of Dubai, HH Sheikh Rashid bin Saeed Al Maktoum. Pancholia held this post until the organisation was nationalised around 1980.
Pancholia, who turns 95 this year, is viewed as a patron for the Sindhi community in Dubai. He founded Dubai's Indian High School in the 1960s, and served as its trustee and chairman until 1979. He is today the chairman emeritus of IHS Dubai. Between 1965 and 1980, Pancholia was part of the board of Dubai Chamber of Commerce and Industry, after being nominated by HH Sheikh Rashid. He is the founder and permanent trustee of Dubai's bustling India Club, and was elected chairman of Mercantile Hindu Community of Thatta (Sindh), Dubai, between 1978 and 2008.
Mohandass Saini
Chief executive officer – global, Shapoorji Pallonji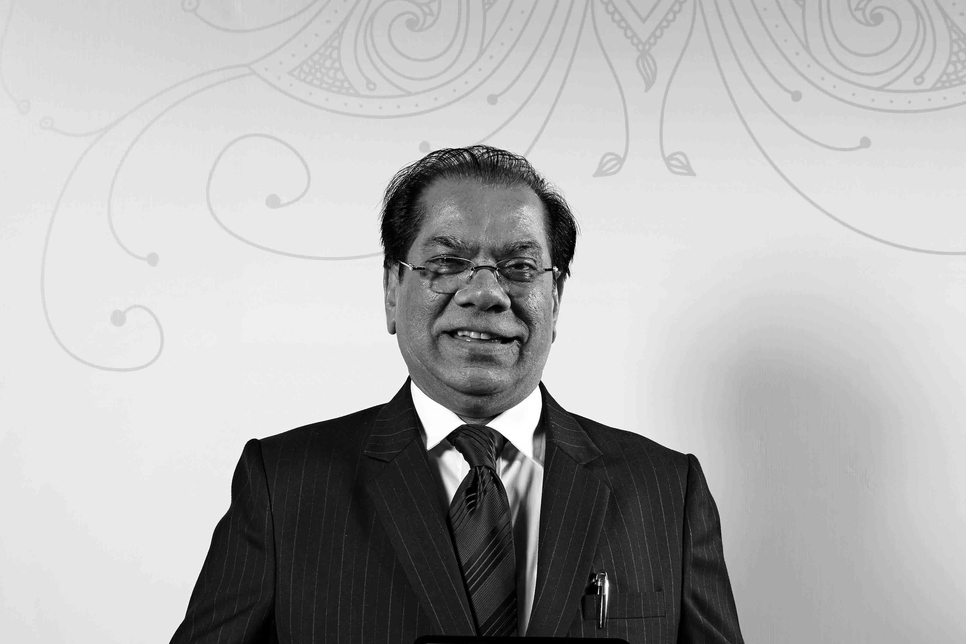 How do you take an Indian business heavyweight and turn it into a global giant? Just ask Mohandass Saini, chief executive officer of Shapoorji Pallonji International.
Saini has been with the contractor since 1985, and today manages its entire global portfolio, from the Middle East to the Americas. The Indian group – which has built Mumbai architectural landmarks such as the Reserve Bank of India, Bombay Stock Exchange, Brabourne cricket stadium, and Taj Intercontinental buildings – was founded in 1865. In the 1960s, the company also financed a Bollywood classic, K Asif's Mughal-E-Azam. However, it came to fore as a construction group after its ownership was taken over by Pallonji Mistry, who also owns around 18.4% of Tata Sons, associated with the enormous Tata Group. Cyrus Mistry, Pallonji's son, was chairman of Tata Group's unit between 2011 and 2016.
For Saini – a civil engineer trained at India's Thapar Institute of Engineering & Technology – the job is a busy one as the head of Shapoorji Pallonji International, the global unit of the Indian construction giant that has built numerous infrastructure and building assets, many of which are in the Middle East. Saini is also director of Minaean, an affiliate construction company of Shapoorji Pallonji. In November 2018, officials from Shapoorji Pallonji were part of a delegation sent by the Indian government to Saudi Arabia to explore work on the kingdom's largest projects, such as Neom.
In 2015, it revealed it was building the Al Abdul Karim Holding Tower in Dammam, Saudi Arabia, and in 2013 was appointed as principal contractor for Dubai Properties' Mudon homes. Its portfolio also includes work on Bloom Central in Abu Dhabi.
Rizwan Sajan
Founder, Danube Group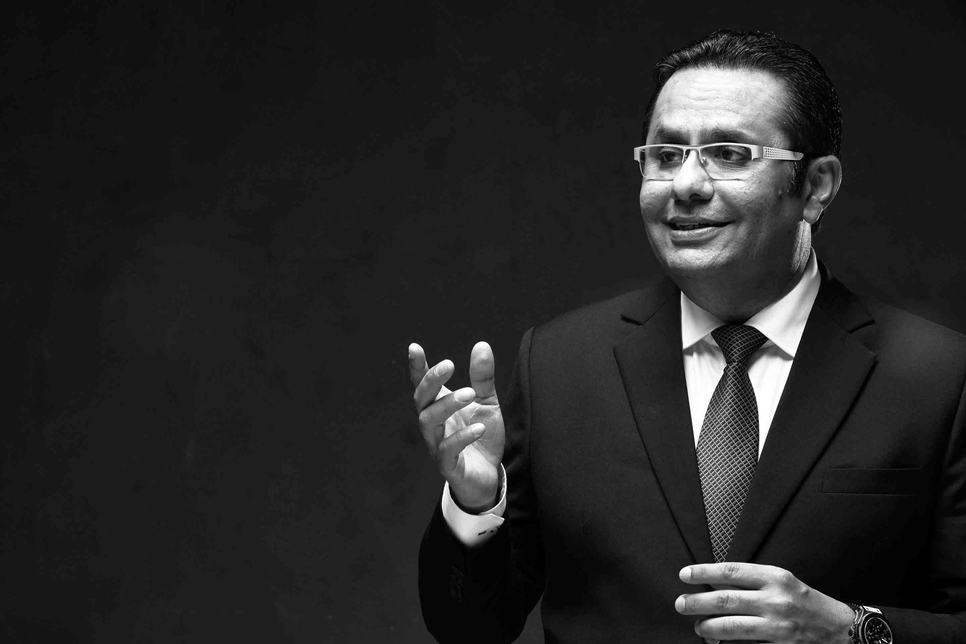 From his humble beginnings as an employee in Kuwait to the owner of a Dubai-headquartered building giant, Rizwan Sajan has come quite a long way. After he fled Kuwait in the 1990s amid the Saddam Hussein invasion, the Bombay native established Danube Building Materials as a trading firm in 1993, and has since grown the company into a diversified group offering, in addition to building products, home supplies and real estate.
Danube Properties launched its 10th property project in Dubai in March 2017, and in the same year handed over its $95.3m Glitz 3 homes in the city. Danube Home opened its largest showroom in May 2017 in Abu Dhabi, with the group's sales revenues climbing to $233m in 2017, as was revealed to Construction Week during Sajan's inclusion in the 2018 Construction Week Power 100 list.
Sajan is the patriarch of a close-knit business family, with his brother Anis and son Adel also involved with Danube Group. The millionaire is best known for propagating the 'affordable luxury' real estate trend in Dubai. Sajan is known to be a gracious host within the local Indian community – be it for his birthday party or his son's grand Bollywood-inspired cruise wedding – and is immensely popular with Indian celebrities from Bollywood and cricket, with actress Sushmita Sen and Indian men's cricket team captain Sunil Gavaskar having served as brand ambassadors for Danube Group's businesses in the past. Sajan's brother, Anis, owns cricket teams in the city, whilst Adel heads up Danube Home, the home interiors arm of Danube Group.
SN Subrahmanyan
Chief executive officer, Larsen & Toubro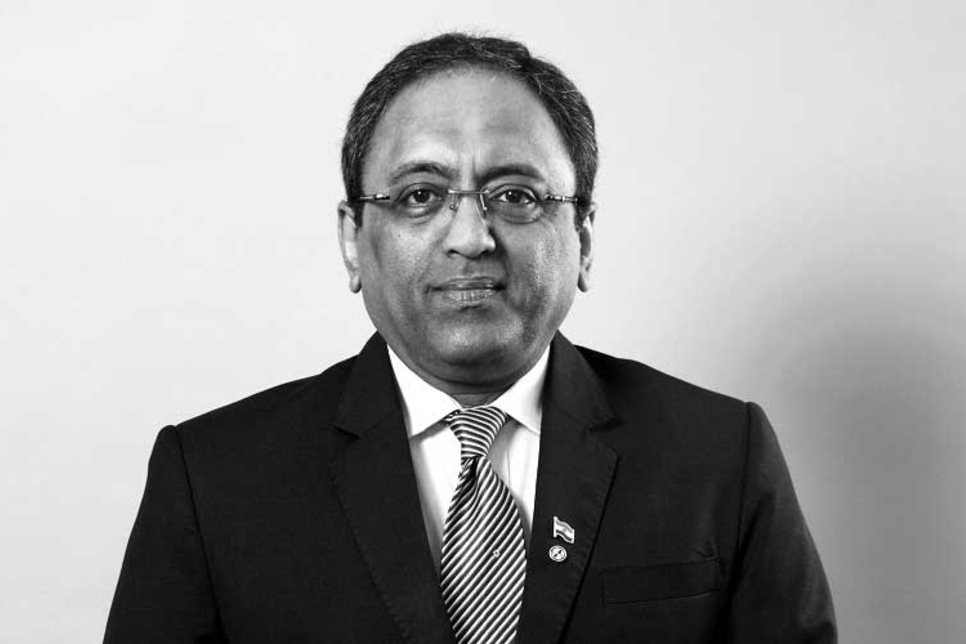 It isn't an easy job leading a billion-dollar conglomerate listed on India's Bombay Stock Exchange, but Larson & Toubro's (L&T) chief executive officer and managing director, SN Subrahmanyan, does the job well.
The Indian company is today one of the Middle East's top engineering, procurement, and construction contractors, and thanks to Subrahmanyan – or SNS, as he is often referred to – this growth looks likely to continue.
A strong supporter of digitisation, big data, and predictive analytics, Subrahmanyan has led L&T to several major project wins in the region, including in the UAE and Oman, as well as in Saudi Arabia. L&T is also working on Riyadh Metro, one of Saudi Arabia's top under-construction projects of this decade. L&T's power transmission and distribution business has completed 225 substations in GCC countries, with hundreds more under construction.
Subrahmanyan holds a degree in civil engineering and is a post-graduate in business management. He started at L&T in 1984 as project planning engineer, and is credited by the construction giant for establishing the firm as "a significant EPC player in the Middle East, Africa, and Asean", pushing forth the company's expertise in design and build projects as well as precast technology.