Etihad Rail unveils strategy for 'quantum leap' in UAE transport
New logo and long-term strategy unveiled by UAE organisation after securing Stage 2 funding in November 2018
Etihad Rail has outlined a set of strategic objectives for the 1,200km federal rail network under a new strategy and brand identity.
The UAE's freight and passenger railway will operate under the directives of HH Sheikh Theyab bin Mohamed bin Zayed Al Nahyan, chairman of Etihad Rail.
The new organisational strategy reflects the under-construction network's aspiration to be a "catalyst for economic growth" in the Emirates by supporting diversification and linking all of the UAE's major ports together.
It also aims to connect all urban and suburban communities to the country's centres of industry and commerce, and provide a reliable transport link for decades.
Progress is advancing at pace on the project, with the network's design for Stage 2, the 605km stretch from Ghuweifat to Fujairah already completed. Etihad Rail has also signed land lease agreements across the country to secure territory for the infrastructure project. This comes after the firm reached an agreement with the UAE Ministry of Finance and Abu Dhabi Department of Finance in November 2018 for a financial package for Stage 2.
Stage 2 will link the UAE to Saudi Arabia, passing through Mussafah, Khalifa Port, and Jebel Ali Port.
Five-year project management consultancy and engineering contracts have been awarded to cover the project's supervision. This will see tracks set up from Ghuweifat to Port of Fujairah. Jacobs and Egis respectively won engineering consultancy and project management consultancy contracts for the scheme.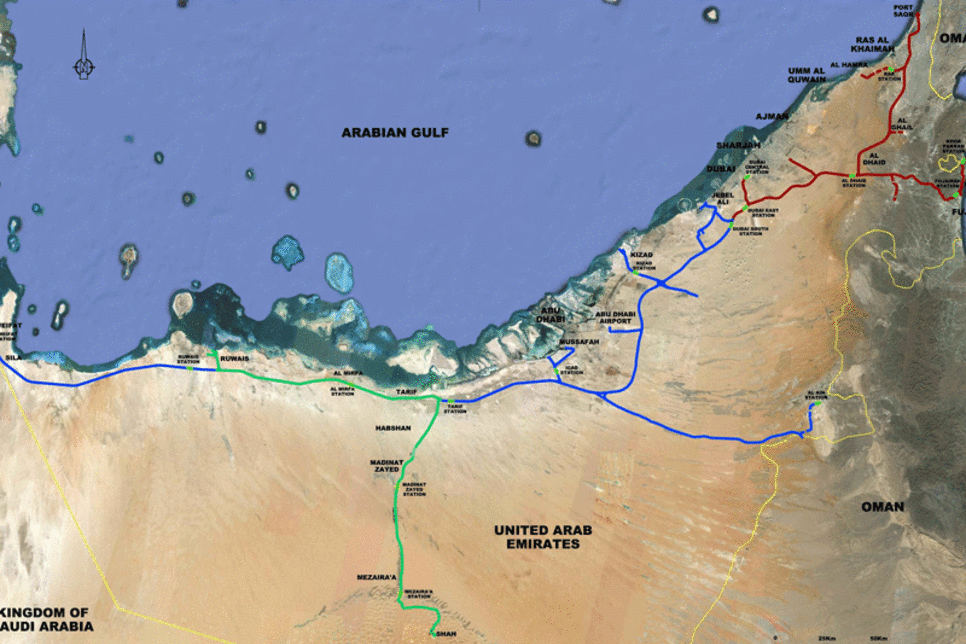 Stage 1 of Etihad Rail is already operational. The 264km route spans from Shah and Habshan and is transporting sulphur to Ruwais, Abu Dhabi.
Upon completion, the network will become a vital logistics conduct through which large volumes of construction materials from quarries can be quickly and cheaply transported.
New look
Etihad Rail's new and improved logo features red, white, and black colours with the name of the network written in Arabic and English.
"Bold colours show confidence and strength, highlighting the current developments and accomplishments, which translate into an important milestone in the progress of the national rail network," Etihad Rail said in a statement.
The new strategy includes short- and long-term objectives hinged on supporting economic growth, and these measures will be rolled out to maximise and share the benefits of the rail network with the Emirates.