Aramco signs oil and gas deals amid Saudi Crown Prince's China visit
Record-breaking JV formed for $10bn Liaoning petrochems complex and three MoUs signed for Zhejiang expansion
State-held giant Saudi Aramco signed two major Sino oil and gas agreements in Beijing amidst the official visit to the Xi Jinping-led China by Saudi Arabia's Crown Prince, Vice President of the Council of Ministers, and Minister of Defence, HRH Mohammad Bin Salman, days after visiting Pakistan and India. 
Saudi Aramco signed an agreement to form a joint venture (JV) with Norinco Group and Panjin Sincen, as part of which an integrated refining and petrochemicals complex will be built in the Panjin city of China's Liaoning province.
Separate memorandums of understanding (MoUs) have also been signed by Aramco to acquire downstream facilities in China's Zhejiang province.
IN-DEPTH: Saudi Arabia's pivot to Asia
The Liaoning JV agreement paves the way for the formation of Huajin Aramco Petrochemical Co, in addition to the 300,000 barrel per day (bpd) crude refinery. The project includes an ethylene cracker with the capacity of 1.5 million metric tonnes per annum (mmtpa), and a 1.3 mmtpa paraxylene unit. 
With the development valued in excess of $10bn (SAR37.5bn), Aramco's latest agreement is the largest Sino-foreign JV of all time, Aramco said, adding that it will hold 35% of the newly formed company, whilst Norinco and Panjin will respectively hold 36% and 29%. 
Aramco will supply up to 70% of the complex's needs for crude feedstock, with operations due to begin in 2024. 
The agreement also covers the establishment of a retail fuel business, and by the end of 2019, a three-party marketing JV will be formed to develop a retail fuel station network "in the target markets", Aramco said. North Huajin, Aramco, and Liaoning Transportation Construction Investment Group Co will make up the marketing venture. 
Aramco followed the announcement by signing three MoUs that will drive its expansion in Zhejiang, which it described as "one of the most developed regions in China".
The first MoU with Zhoushan Government will see Aramco acquiring a 9% stake in an 800,000 bpd Zhejiang Petrochemicals integrated complex in Zhoushan. Phase 1 of the project features a 400,000 bpd refinery with a 1.4 mmtpa ethylene cracker unit and a 5.2 mmtpa aromatics unit.
The remaining 400,000 bpd will be built as part of a Phase 2 expansion, which will also include "a deeper chemical integration than Phase 1", Aramco said. 
FULL COVERAGE: Crown Prince Mohammad Bin Salman in India
Rongsheng Petrochemical, Juhua Group, and Tongkun Group – all of which are also shareholders of the Zhejiang Petrochemical project – signed the second MoU with Saudi Aramco, which will enter a long-term crude supply agreement for the project.
In turn, Aramco will have access to Zhejiang Petrochemical's large crude oil storage facility to serve its Asian customers.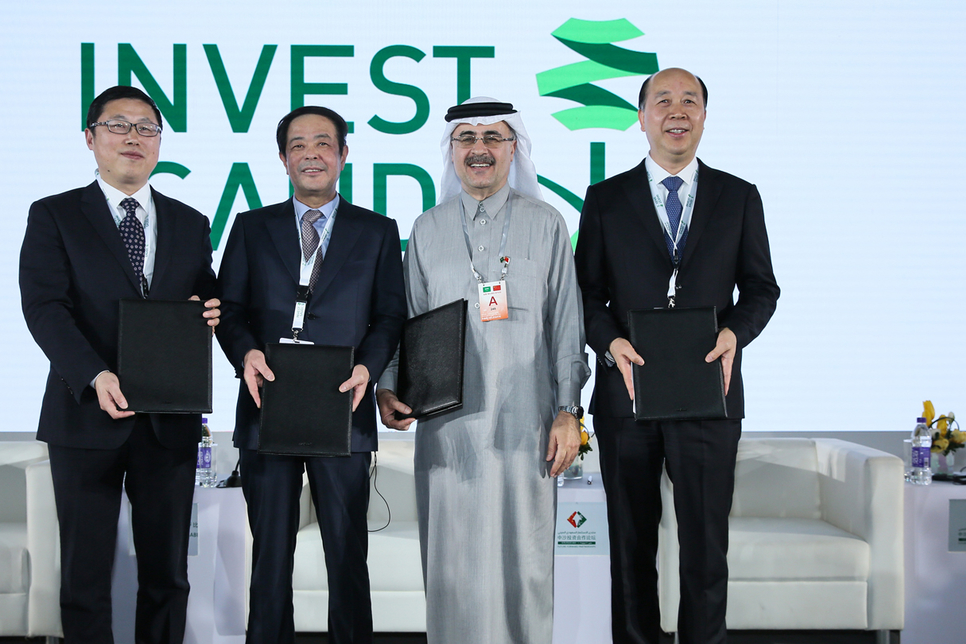 As is the case with the Liaoning agreements, Aramco's Zhejiang deals also include a retail fuel network. The third Zhejiang MoU will see the companies building "a large-scale retail network over the course of the next five years" in the Chinese province, Aramco said.
Eventually, the retail business will be integrated with Zhejiang Petrochemical complex "as an outlet for the refined products produced".
FULL COVERAGE: Crown Prince Mohammad Bin Salman in Pakistan
Commenting on both agreements, Saudi Aramco's chief executive officer, Amin Nasser, said: "Our agreement with Norinco and the Liaoning province is a clear demonstration of Saudi Aramco's strategy to move beyond a buyer-seller relationship, to one where we can make significant investments to contribute to China's economic growth and development."
Speaking on the three Zhejiang MoUs, he added: "The agreements demonstrate our commitment to the Chinese market and help enhance the strategic integration of our downstream network in Asia. They will further strengthen our relationship with China and the Zhejiang province, setting the stage for more cooperation in the future."