Exploring the future of UAE farming with Masdar City in Abu Dhabi
Masdar City's Yousef Baselaib explains how renewable energy growth can spur agro development in the Middle East
Food and water supply has always been something of a challenge in the Middle East, where lack of rainfall and a shortage of suitable agricultural land puts pressure on the resources that are available.
With growing populations across the region, food and water security is increasingly a pressing issue for governments, but now a project from Masdar City, Abu Dhabi's sustainable city, is aiming to create food and water from little more than sun and air, and old shipping containers.
Along with its projects for sustainable buildings, energy, and transport, agriculture has always been part of Masdar City's remit. Masdar held its first international competition for vertical farming nearly 10 years ago, in 2009, and executive director for sustainable real estate at Masdar City, Yousef Baselaib, explains that 'urban farming' was always part of Masdar's integrated master plan because the city is intended to be a prototype for all aspects of city living.
Masdar's initial agricultural projects did not immediately yield results, however, primarily because the technology involved was not developed enough, and the methods and technology were also not suitably adapted to the climate and conditions of the Middle East – very hot summers, coupled with high levels of humidity and dust.
We are waiting for batteries – if we can create this ecosystem, we can start to use our huge desert for agriculture.
Speaking to Construction Week's sister title Smart Cities Arabia, Baselaib says: "We stopped when we saw that the international market was not mature enough; it was not at the commercial stage. We did some piloting, but it was very expensive when it came to water consumption, power, and cooling."
One of the most important aspects of sustainability is that the technology is affordable enough to be practical, Baselaib adds. With water in particular being such a scarce commodity in the UAE, Masdar and its partners have had to rethink models and systems to get to a situation where they have prototypes and concepts that they believe can be turned into game-changing models of sustainable agriculture.
Masdar's efforts to develop 'smart' agriculture have been spurred on by the fact that Masdar City now has its first residential tenants. There are 1,500 people living in Masdar today, and this is expected to rise to 5,000 by 2020, so the city needs to develop new ways to meet their needs, including in terms of food supplies.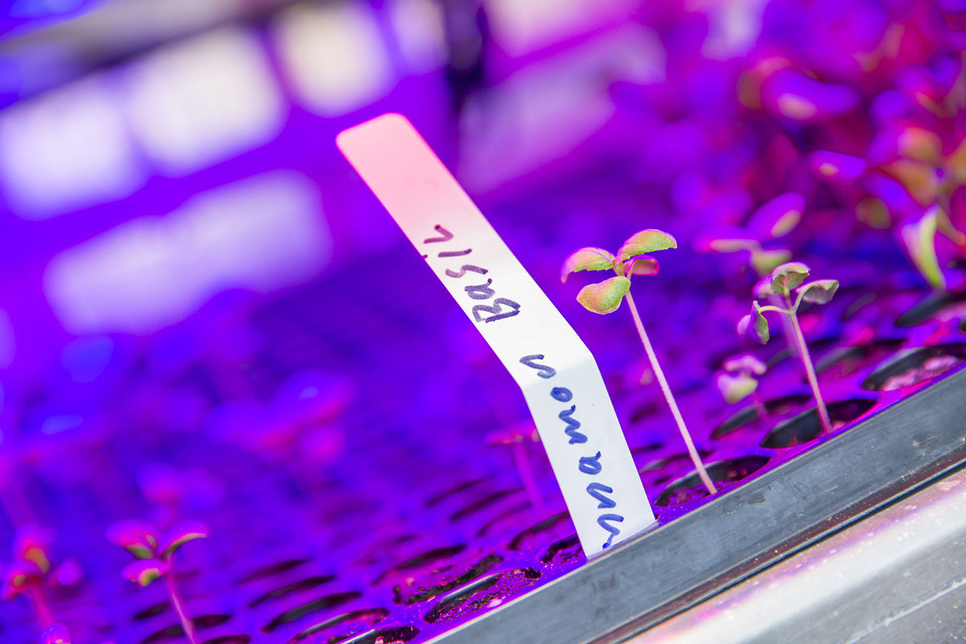 Masdar is also playing a role in supporting the national food and water security goals of the UAE. The firm has formed a strategic partnership with the UAE Office for Future Food Security, to develop initiatives that will make the most of precious resources.
"In our region, water is more important than oil. We do not have a lot of water sources, so conserving water and agriculture come together," Baselaib says. "We have to find ways to do more agriculture with less water wastage. All the buildings we have in Masdar City are already consuming 40% less water than conventional buildings. Water is the main driver for sustainability in our region."
Madsar has a number of different programmes that support this drive for more efficient agriculture. One of the main schemes is an initiative to create mobile, sustainable, automated farms inside steel shipping containers.
The basic concept is quite simple – take a vertical farming system, and install it in a converted shipping container, allowing it to be transported to wherever the farmer would like, or wherever there is space and where food is required. The container creates a closed environment, allowing for strict control of the lighting, temperature and carbon dioxide levels for optimal growing conditions, while the vertical, hydroponic farming methods – with crops 'planted' in vertically arranged sleeves – allows for the most efficient use of water and nutrient supplies.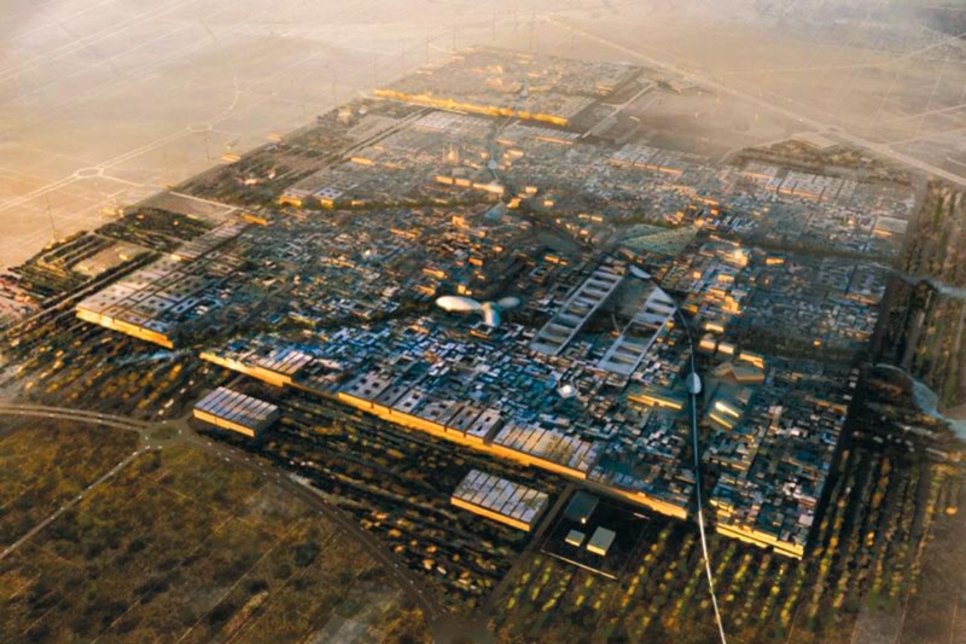 Masdar and its partner Madar Farms say each container can be made completely self-sustaining, using solar power for lighting and climate control, and water harvested from atmospheric humidity.
The production process will be fully automated, with minimal need for intervention – even the pilot project only needs tending once a week, Baselaib says. A mobile app will be used to alert the container's owners to any changes in status and let them know when it is time to harvest the crop.
With a completely closed system, Masdar says that once the containerised farms can be made economically viable, it will be possible to put the systems anywhere – to serve individual families in their own compounds, on top of buildings in the middle of the city, or even arranged in farms in the desert – with no need for any sort of connection other than a WiFi signal.
In our region, water is more important than oil. We have to find ways to do more agriculture with less water wastage
"The ultimate goal for us is to create sustainable farming off-grid," Baselaib says. "Today, we are 40-45% there – when I say 'off-grid', it can be implemented everywhere, even in isolated rural areas."
An important goal for Masdar is to create economically viable solutions, and many elements of the project contribute to that goal. Fifty percent of the materials used in the containers are recycled, and the systems can be constructed locally, Baselaib explains, reducing the cost.
By producing crops in a location that is much closer to the consumer, the containers will also reduce 'food miles' – the distance food is transported from the producer to the consumer, a cost that is normally factored into the price of the produce, and that also contributes to carbon emissions.
Currently, the containers can provide the equivalent of 1.8 acres of leafy greens. However, the project is working to improve the yield from each crop, so that commercial production becomes economically viable. In the future, Masdar hopes these containerised farms will support a whole ecosystem of new businesses around them, Baselaib says.
The solar technology needed to power the containers is already available, and Masdar has a system on trial to produce water from atmospheric humidity. The Source system from Zero Mass Water is able to extract up to 15 gallons of drinking water per day from the air, using a solar-powered system that requires little maintenance.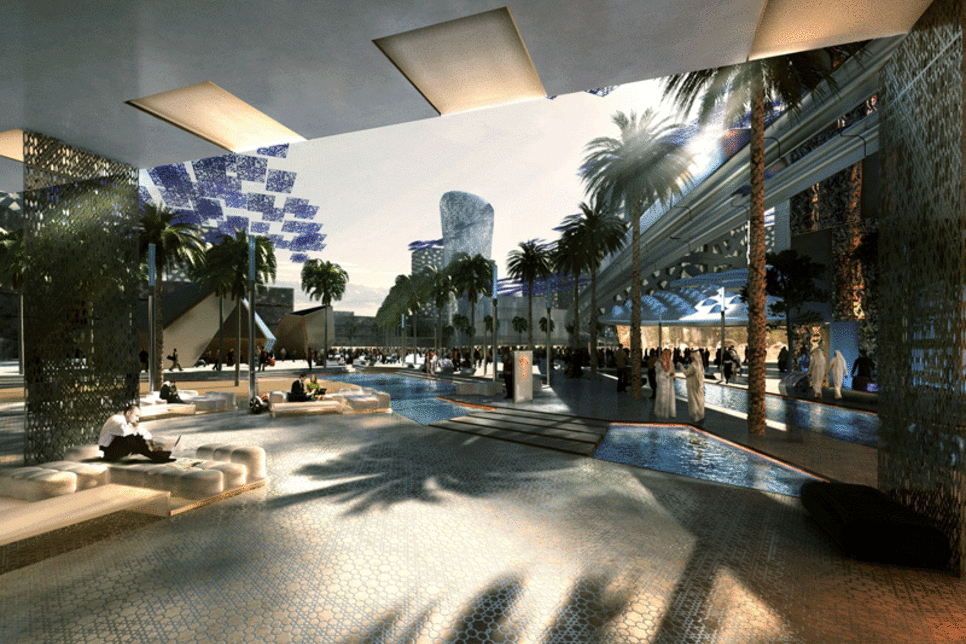 The main challenge that still needs to be addressed is a familiar one for sustainable projects, Baselaib says: "We are investing in harvesting water from humidity, which we have a lot of; we have power from the sun; and the only gap is for the storage of the energy, the batteries.
"The breakthrough [needed] for any further development and use of renewables is storage," he continues.
"Solar is not considered a baseline for any country, because it cannot work 24/7. Wind is changeable – you cannot predict the wind. But we can predict the sun, at least in our region, so that is why I believe, whether it is batteries for cars or batteries for agriculture, storage will be the breakthrough in the renewable age.
"We are waiting for batteries – if we can create this ecosystem, we can start to use our huge desert for agriculture."
Masdar is engaged in battery research with a number of companies and educational institutions, in various vertical sectors, Baselaib notes, adding that the containerised farm is not Masdar's only agriculture project. A pilot for outdoor vertical farming was presented at Abu Dhabi Sustainability Week in January, and Masdar is also planning a 10,000m2 greenhouse project.
The breakthrough [needed] for any further development and use of renewables is storage.
These additional agricultural projects are typical of Masdar's approach of working with commercial organisations, start-ups, universities, and other stakeholders, to find new solutions and tailor them so they will work in the UAE's climate, and developing them to a point at which they can be commercially viable for widespread deployment.
For the sustainable container farm project, Baselaib says ensuring commercial viability means fine-tuning the system and accounting for economic factors, such as the actual cost to the consumer of power and water. He believes, however, that the project can produce a commercial model within a year or two.
"The normal total cost of ownership of starting a new farm in the middle of the desert, to apply the infrastructure, it would cost a lot of money," he says.
"This [model] is easy to implement; it is cost effective, and would be competitive. This is always the aim – to make it competitive."
Editor's note: To receive a copy of Smart Cities Arabia, contact editor Mark Sutton on mark.sutton@itp.com.