PM Narendra Modi-led BJP commits $1.4tn to infra in 2019 manifesto
Trillion-dollar re-election plan focuses on road construction, metro expansion, and doubling port, airport capacities by 2024
India's Prime Minister Narendra Modi-led Bharatiya Janata Party (BJP), which claims to be the world's largest political party on its website, has committed to spending $1.4tn on infrastructure development in its 2019 manifesto, released as the party seeks re-election for another five-year term.
The trillion-dollar capital investments will be made until 2024 as part of a wider plan to drive India's economy to the $5tn mark. In its manifesto, BJP said that "anchoring inflation at 4% and cleaning up [India's] banking system" would contribute to driving down capital costs in the country, in turn encouraging greater capital investment.
The pace of construction of roads and railway lines has doubled.
BJP's ambitious infrastructure plan includes the development of "next-generation" facilities, such as gas and water grids, airports, and wayside amenities for the country's National Highway (NH) road network, in addition to information superhighways – also known as i-ways.
Plans include the establishment of suburban townships, urban centres, and five regional "centres of excellence" focused on urban issues.
MOBILITY PROJECTS
Also on the agenda is the launch of a nation-wide urban mobility programme to encourage the use of public transport, and enhance walkability and cycling. Cities will be incentivised to integrated public transport systems, including metro, train, and bus lines, with service providers from the private sector, such as "e-rickshaw services, and pedestrian and cycling infrastructure".
Road and metro construction may also pick up pace if BJP wins the majority vote and delivers its manifesto's promises, which include the construction of 60,000km of NH routes and doubling the size of the NH network by 2022; and metro connectivity across 50 cities.
Phase 1 of the Bharatmala road project – a 34,800km scheme that will cost around $77.3bn and is expected to boost mobility in India's North East region – will be completed "expeditiously", BJP promised, adding that the Bharatmala 2.0 project would be launched to support road networks at the state level. Additionally, the PM Modi-led party promised to "bring new technologies and designs in road construction, operation, and maintenance".
According to the BJP, India has already committed $1.4bn to launch a programme focused on clean, renewable energy and battery operated vehicles, and pledged to expand e-mobility in the country as well.
Various rail-related targets have also been set for 2022, with BJP promising to convert all viable rail tracks to broad gauge; electrify rail tracks; complete a freight corridor project; and equip all main railway stations with Wi-Fi by that year.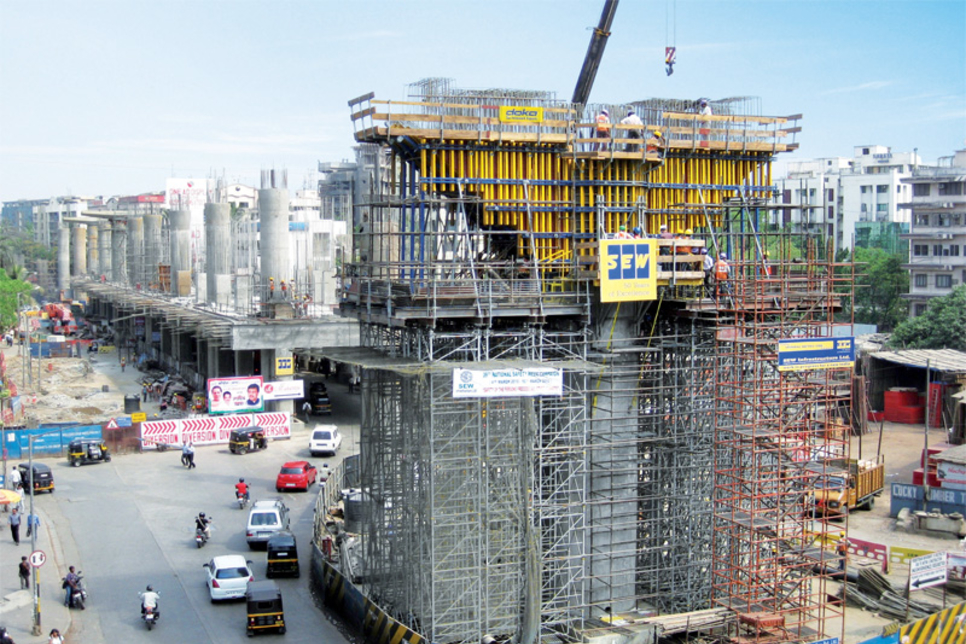 The PM Modi-led party said it would to double the number of functional airports in the next five years, up from its current number of 101. In the logistics sector, BJP promised to double port capacity by 2024, as well as upgrade infrastructure to connect coastal and hinterland areas. Villages and small towns that fall under India's Gram Panchayat governance model will be fitted out with high-speed optical fibre networks by 2022 to provide "telemedicine, tele-education, and agriculture-related advisories".
Commenting in the BJP manifesto for 2019, PM Modi said the BJP government had, since its election in 2014, filled India's "infrastructure gaps with speed and foresight", adding that 150 million homes were built by the government over the last five years.
He continued: "The pace of construction of roads and railway lines has doubled. India has now more efficient ports. 18,000 villages living in darkness till 2014 are now brightly lit thanks to rural electrification efforts. More than [260 million] homes have been electrified through the Saubhagya Yojana [programme]."