A guide to Ramadan 2019 for construction companies in the UAE
EXCLUSIVE: Experts share health tips, labour law guidelines, and tent business insights, and answer FAQs for the Holy Month
The ninth month of the Hijri calendar marks the beginning of the Holy Month of Ramadan around the world: according to the International Astronomical Centre, the first day of Ramadan 2019 is predicted to be 6 May in most Muslim nations; and, as Ramadan rules – from parking and school timings to social conduct related to food and drink – take effect in key construction markets, Construction Week hears from health, legal, and other construction industry experts to prepare your guide to Ramadan 2019. 
For instance, with the onset of Ramadan, offices in the UAE will see a reduction of at least two working hours across public and private sectors. Construction Week hears from industry experts on how to prepare your organisation on key business aspects during Ramadan – from labour law and policies to health and nutrition. 
IFTAR: HEALTH AND NUTRITION
Ramadan is the month of piety, charity, and blessings, and various construction and real estate companies ensure that their workforce is brought together for daily iftar meals during the Holy Month. Iftar is one of the two main meals of Ramadan, and refers to the breaking of the fast. As the UAE Government's website explains, Muslims traditionally break their fast by eating dates and drinking water.
The second meal is called Suhoor, which is consumed early in the morning before fasting.
Work productivity deteriorates in the long run if the labourers are offered food that is high in sugar or has excessive amount of spices.
As such, companies must bear some key considerations in mind whilst preparing iftar meals for their employees. Director of nutrition and lifestyle management at UAE healthcare giant Zulekha Hospital, Nafeesa Ahmed, tells Construction Week how nutrition should be managed during the Holy Month.
"Prolonged work under the sun eventually results in electrolyte loss due to dehydration, and in order to balance this, it is essential that employers include liquid items such as fresh juice, with no-added sugar and less or no preservatives, as part of the meals," Ahmed says.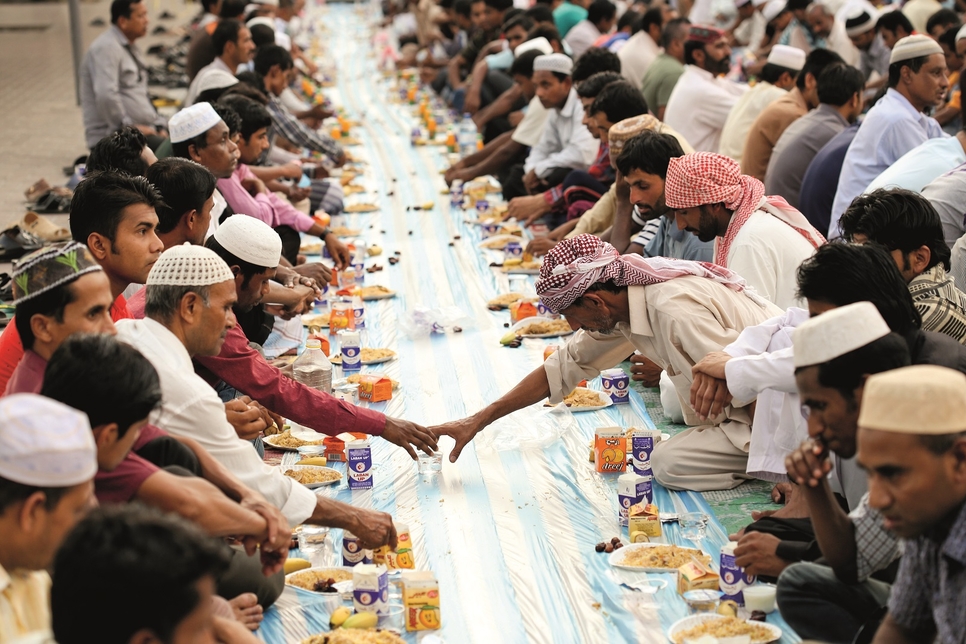 "Work productivity deteriorates in the long run if the labourers are offered food that is high in sugar or has excessive amount of spices."
Dates, milk, and bread are important parts of a typical iftari, as the meal is sometimes called. Ahmed explains why dates, in particular, are a healthy, nutritious option for construction workers during Ramadan: "Given the fact that the body is deprived of water, salt, and sugar for a long time, dates [support the rapid] assimilation of sugar into the body, which helps boost energy.
"For people within the construction industry – from blue-collar labourers to site supervisors and health and safety officers – high food intake right after breaking fast could result in uneasiness, such as severe gastric and digestion issues," she continues, adding that iftar meals must comprise measured portions of super-foods.
During the Holy Month and Eid, demand for semi-permanent structures in Saudi Arabia rises significantly as hundreds and thousands of Muslims visit the [Makkah Grand Mosque] for their yearly Hajj pilgrimage
According to the doctor, iftaris must include minimal portions of Asian and Arabic sweets; deep-fried snacks; and bottled juices with high preservatives and sugar. Instead, she suggested, it is advisable to include puddings or baked food items, as they are high in energy and low in carbohydrates.
During the Holy Month, companies should make necessary arrangements for their non-fasting staff by providing covered make-shift drinking facilities to ensure that they are constantly hydrated, Ahmed adds.
TEMPORARY CONSTRUCTION: RAMADAN TENTS
From royal gatherings to meetings comprising high-net worth individuals (HNWIs), and with companies in the public and private sectors, Ramadan majlis events are frequently held during the Holy Month. As such, these gatherings also drive the semi-permanent structure market in the region.
Senior sales manager at temporary structure specialist Losberger De Boer Middle East, Paul Machin, tells Construction Week that even though demand is high during peak event periods, and the firm receives a high volume of enquiries for its services, hotel owners and operators generally have tight budgets for temporary structures.
Machin notes that Saudi Arabia is a key GCC market where demand for temporary construction has spiked, with demand remaining high during the entire year as the country's tourism and entertainment sector expands. 
"During the Holy Month and Eid, demand for semi-permanent structures in Saudi Arabia rises significantly as hundreds and thousands of Muslims visit the [Makkah Grand Mosque] for their yearly Hajj pilgrimage," Machin says.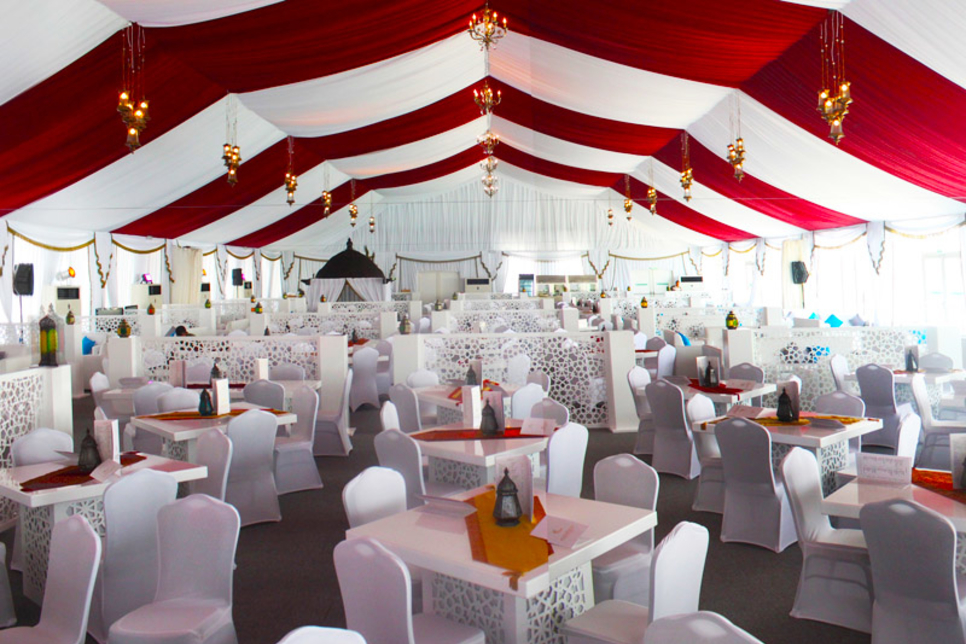 Losberger De Boer, Machin says, implements a thorough project management process to construct the quick-to-build structures, which are easy to assemble and dismantle.
The company uses aluminium integrated wooden floor systems, polyvinyl chloride (PVC) roofs and walls, and glass panels for its buildings. Summer months in the region tend to be quieter periods for the business compared to winter, when the region hosts more outdoor events, Machin says.
If anyone contravenes the Article 65, then authorities decide on the quantum of penalty based on the case.
"Saudi Arabia is clever when it comes to semi-permanent structures, since it hosts massive one-time events," he continues. 
In December 2019, Losberger De Boer announced that it had built the temporary pit lane structure for electric Grand Prix that took place in the kingdom's capital city, Riyadh. The German company also completed 15 structures for Saudi Arabia's entertainment mega-city Qiddiya in 60 days last September, and a VIP hub for the King Abdul Aziz Falconry Festival, held earlier in 2019. 
RAMADAN HOURS: LABOUR LAW
It is essential that professionals in the UAE are aware of the labour laws surrounding the Holy Month, partner at STA Law Firm, Sunil Thacker, tells Construction Week. 
He adds: "Article 65 [states that] maximum working hours for adult workers [should be] eight hours, and [for] employees working in commercial establishments such as hotels, restaurants, security operations, [this] can be increased to nine hours.
"During Ramadan, working hours are reduced by two hours for both Muslims and non-Muslims," adds Thacker.
"If an employer wants their employees to work more than the designated hours, then the latter can reach out to the labour ministry and register a complaint."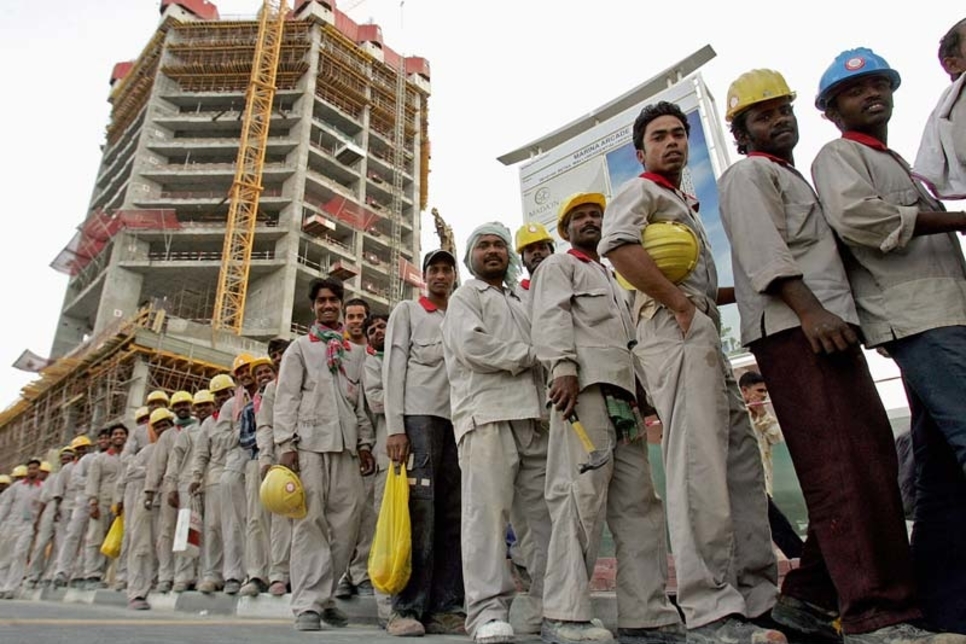 Non-Muslim professionals working within Dubai International Financial Centre are not entitled to short working hours, and employers can ask employees to work for regular hours even during Ramadan.
"However, the employers have to compensate the extra hours. If anyone contravenes the Article 65, then authorities decide on the quantum of penalty based on the case," stresses Thacker.
Article 1 of the Ministerial resolution No. 49/1 for the year 1980 states that jobs worked under the sun and outdoors should not exceed five hours. These jobs must also not be carried out beyond 12:30pm or resume before 4:30pm. 
"Dubai is far advanced in terms of regulatory measures and construction companies abide by the law to ensure saftey of their employees," Thacker says.
---
RAMADAN IN THE UAE: FAQs
When does Ramadan begin?
Ramadan arrives as per the Islamic lunar calendar, which has 354 days. Hence, it arrives 11 days earlier in every subsequent year of the Gregorian calendar. The UAE follows an official announcement about the first day of Ramadan from a moon-sighting committee in Makkah, Saudi Arabia.
Why is Saudi Arabia's announcement followed?
Makkah is considered the holiest city in the Islamic world. It is the birthplace of Prophet Mohammad (PBUH) and also the location where the Prophet Mohammad (PBUH) had his first revelation of the Quran. Because of this, the rest of the Islamic world follow Saudi Arabia's announcement.
Why is Ramadan based on the moon-sighting?
The Islamic calendar is lunar-based; each month corresponds to the phases of the moon and lasts either 29 or 30 days. The beginning of an Islamic month is determined by looking at the night sky and visibly sighting the slight crescent moon (hilal) that marks the beginning of the next month. Ramadan begins at the first sighting of the new crescent moon. Effectively the 30-day period is the entire moon cycle.
How long does Ramadan last?
Ramadan lasts for one complete moon cycle, which is usually 29 or 30 days. The moon sighting determines the duration. 
What is the correct way to offer Ramadan greetings?
People greet each other by saying 'Ramadan Kareem', which means 'Happy Ramadan'.
How is Ramadan observed?
Adult capable Muslims are required to fast from dawn until dusk every day throughout Ramadan. Those who suffer certain barrier such as illness and pregnancy are not obligated to fast as per health professionals' advice.
Those who were travelling may fast on different days at a later point. Children are not required to fast unless they have reached puberty, although many still do out of choice.
In addition to abstaining from eating, drinking and smoking, Muslims also should refrain from sinful speech and behaviour.
In addition to the regular five daily prayers, Muslim men and women perform Tarawih prayers daily after Isha prayers in mid-evening during the Holy Month of Ramadan.
During the last 10 days, many devoted Muslims spend the whole day in mosques, praying and reciting the Qur'an, in anticipation of the Laylat Al Qadr, the night of the first revelation of the Holy Qur'an. Reciting different chapters each day from the Quran is appreciated though out the month of Ramadan.
When do Muslims break their fast?
Fasting may be broken at sunset upon Maghrib call for prayers (Azaan). This occurs just after sunset.
How do Muslims break their fast?
Following the example of the Prophet Muhammad, peace be upon him, the fasting is broken with dates and laban (buttermilk) throughout the Islamic world.
What are the meals traditionally consumed during Ramadan?
There are two main meals in Ramadan; the fast breaking meal is called Iftar. Traditionally, Muslims break their fast by eating dates and drinking water. The second meal is called Suhoor, which is consumed early in the morning before fasting.
What is the Iftar Cannon?
Firing the Iftar Cannon, or Midfa Al Iftar is an integral part of the Islamic culture in the UAE and takes place in many regions across the country. It can be heard around 8-10 km away. It signals the moment when Muslims can break their fast and once fired. This tradition is known to people since the rule of the UAE's founding father, the late Sheikh Zayed.
Children in particular wait for the sound of the 'big bang'. They clap their ears in advance waiting in anticipation. To them, Iftar cannon is the most fun thing that happens during this month, apart from the sweets and other special meals and activities arranged for them. Members of the UAE military carry out this tradition with appropriate safety precautions.
What are Ramadan tents?
Setting up Ramadan tents is a fundamental practice in the UAE's tradition. It reflects the spirit of giving and sharing with people from different nationalities, social status and financial backgrounds who sit together to break their fast.
As the Holy Month approaches, many individuals as well as organisations in the country erect Ramadan tents that become an active hub for various religious and social activities throughout the holy month. Red Crescent Authority (RCA) and Khalifa bin Zayed Al Nahyan Foundation set up tents in various locations in the UAE to offer free Iftar meals. Tents are usually seen near mosques, in open spaces and at the entrances of some Emiratis' houses.
What is the appropriate Ramadan etiquette for non-Muslims in the UAE?
Non-Muslims do not have to fast in Ramadan. However, they are prohibited from eating, drinking, and smoking in public during the fasting hours. This includes chewing gum. Non-Muslims are free to eat and drink in the privacy of their own home, as well as in designated areas.
Additionally, please do not:
engage in any aggressive behaviour;
dance or play music in public although you may listen to music quietly with headphones;
wear inappropriate clothing in public;
swear, as blasphemy is considered extra offensive during Ramadan;
refuse a gift, or an invitation to join someone at Iftar.
The data presented above is sourced from the UAE Government's official website, the full version of which can be accessed here.