Dubai Police app's AI feature helps avoid traffic jams, nearby accidents
Drive Mode feature on the Dubai Police app offers alternative routes, and sends notifications about the status of roads
Dubai Police has announced a Drive Mode feature in its smart mobile application, which enables commuters to avoid traffic jams and nearby accidents.
The feature has been developed by a team in the General Department of Artificial Intelligence at Dubai Police, in line with the Smart Dubai Strategic Plan, according the government-run Dubai Media Office.
Commenting on the benefits of the feature, director-general of Artificial Intelligence (AI) at the Dubai Police, Brigadier Khalid Nasser Al Razooqi, said that the Drive Mode sends a notification to app users about the status of the roads, nearby accidents, alternative routes, and quicker ways to reach destinations during peak hours, especially by avoiding traffic jams.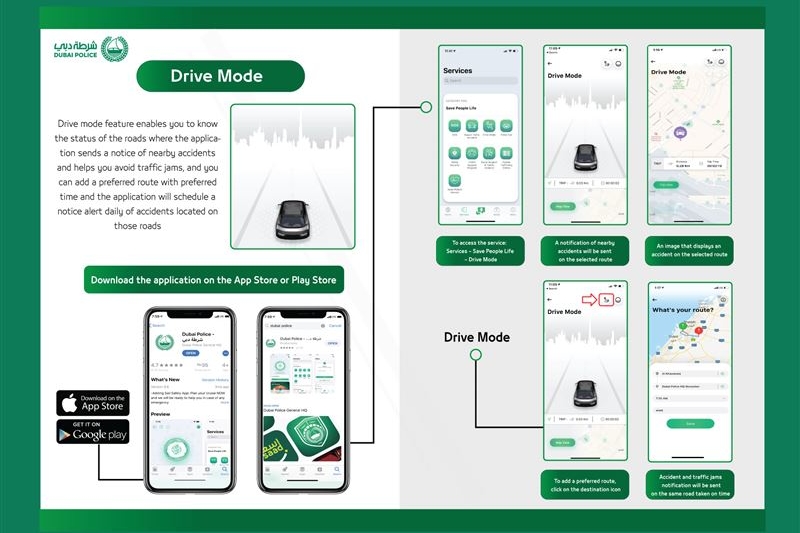 Al Razooqi added: "Drivers can add their preferred route with a preferred time and the application will schedule a notice alert daily of accidents located on those roads. The Drive Mode also benefits parents to avoid traffic during their commute from and to schools."
The feature is one of several important options being provided by the Dubai Police through its smart app to facilitate driving and spread happiness among the community.
"The public can also use the virtual reality technology to discover the most important places around them like police stations, hospitals, pharmacies, and payment centers through Dubai Police's smart app," Al Razooqi said.