PICTURES: Saudi Arabia Crown Prince visits Expo 2020 Dubai site
HRH Mohammed Bin Salman Al Saud was accompanied by HH Sheikh Hamdan bin Mohammed bin Rashid Al Maktoum
During day two of his visit to the UAE, Saudi Arabia's Deputy Prime Minister and Minister of Defence, Crown Prince HRH Mohammed Bin Salman Al Saud visited the Expo 2020 Dubai site alongside HH Sheikh Hamdan bin Mohammed bin Rashid Al Maktoum, Crown Prince of Dubai and Chairman of the Dubai Executive Council.
Sheikh Hamdan bin Mohammed and Prince Mohammed bin Salman also visited Al Wasl Plaza, located at the heart of Expo 2020 Dubai's 4.38km2 site, according to Dubai Media Office.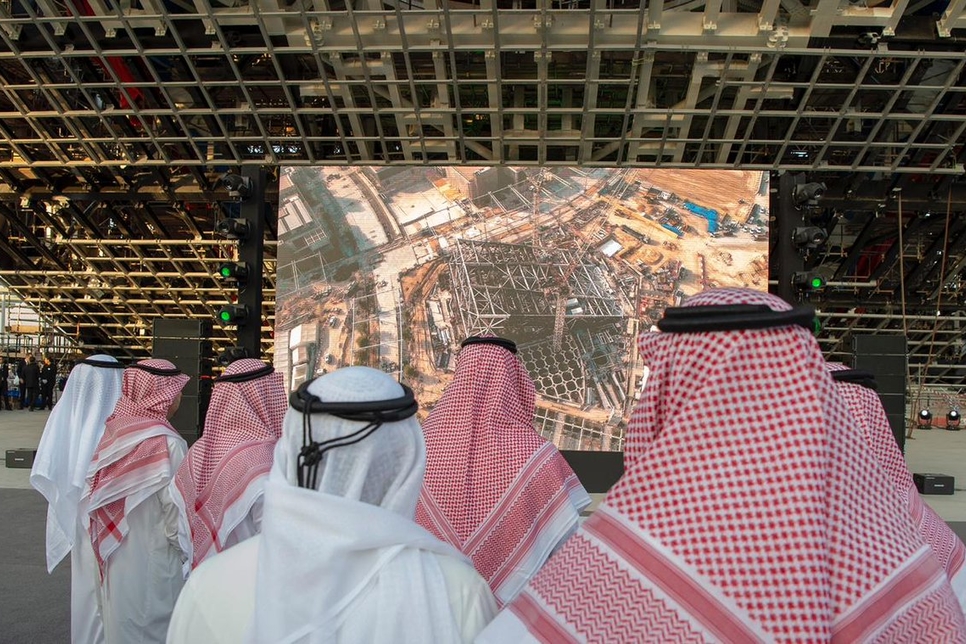 In a series of Arabic-langugage tweets, Dubai Media Office shared images of HRH Mohammed Bin Salman's visit, where he and HH Sheikh Hamdan were briefed on the global event, and the UAE and Saudi Arabia pavilions.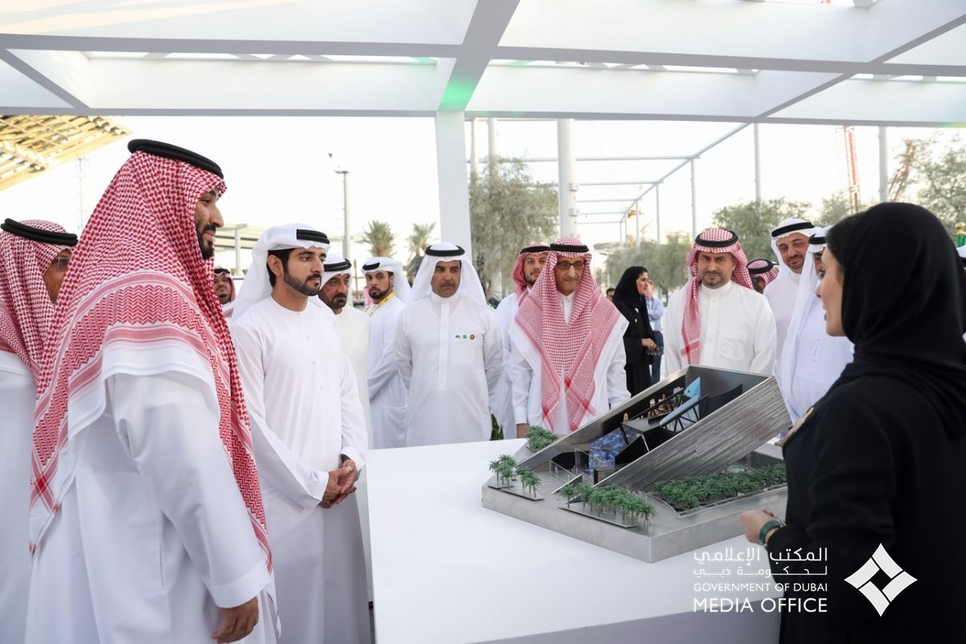 تشرفت اليوم بمرافقة ضيف البلاد العزيز أخي صاحب السمو الملكي الأمير محمد بن سلمان آل سعود في زيارة لمقر معرض اكسبو 2020 والذي نستضيفه في دبي العام المقبل بمشاركة 192 دولة.. فخورون بالدعم والحضور السعودي الكبير في هذا الحدث. pic.twitter.com/o094S7TbyN

— Hamdan bin Mohammed (@HamdanMohammed) November 28, 2019
Meanwhile, Saudi Arabia revealed the design of its national pavilion at the World Expo in April 2019. The design of the pavilion, which will be the event's second-largest after the UAE Pavilion, will feature a façade that "opens like a large window".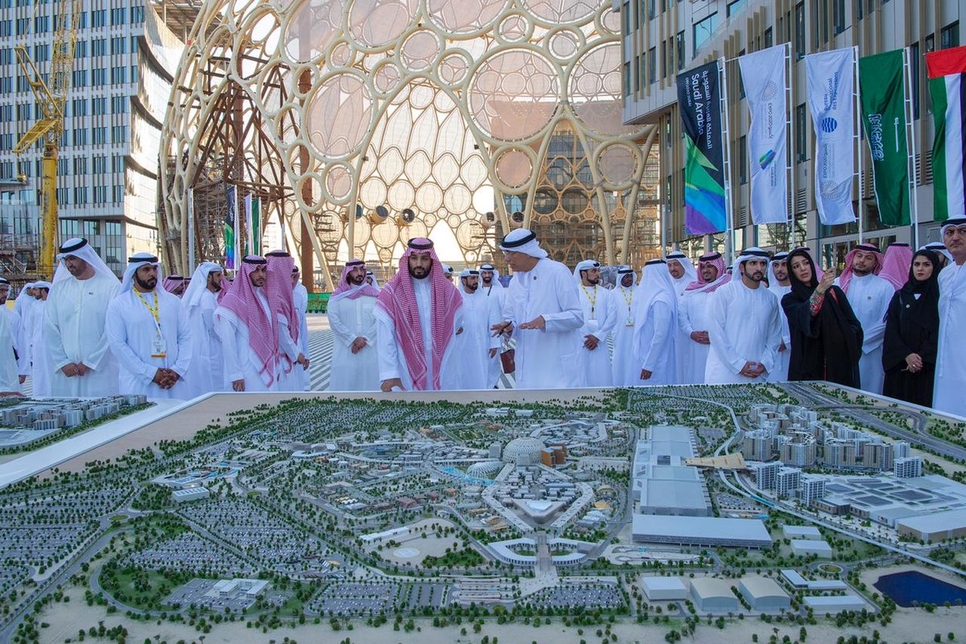 Crown Prince of Saudi Arabia was briefed by chief development and delivery officer at Expo 2020 Dubai, Ahmed Al Khatib during his visit to the site.
#عاجل
سمو #ولي_العهد يزور معرض #إكسبو2020 في #دبي.#واس pic.twitter.com/tYzLW9VToC

— واس الأخبار الملكية (@spagov) November 28, 2019
Construction works on the structure, which is designed by Boris Micka Associates, began in February 2019.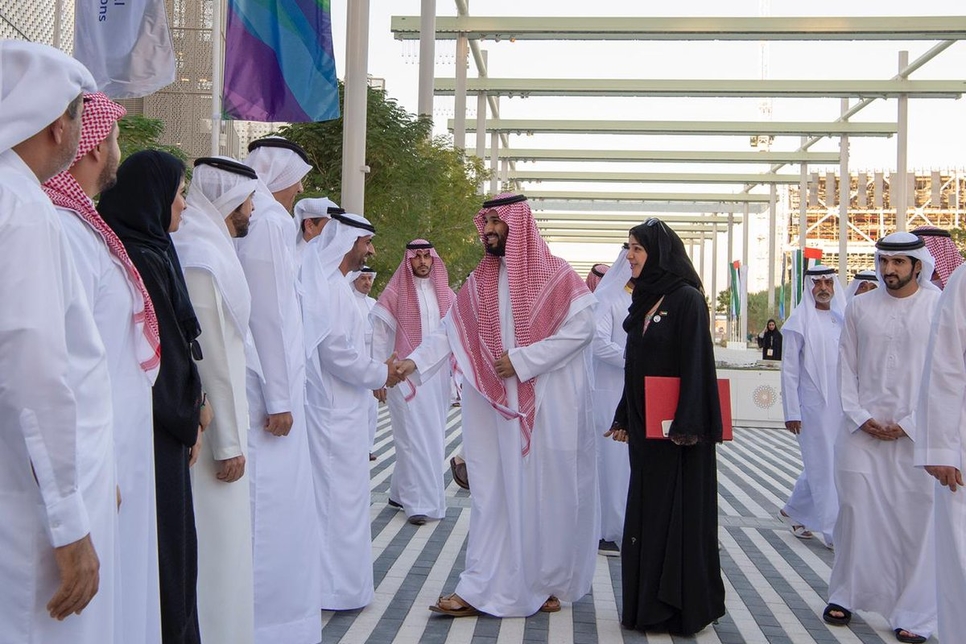 HRH Mohammed bin Salman also met the UAE's Minister of State for International Co-operation and director general of Expo 2020 Dubai, Reem Al Hashimi.