Building collapse at Almaarefa University in Saudi kills 2, injures 13
Spokesperson for Riyadh Region's Civil Defence said among the deceased were a Saudi citizen and an expatriate
In a building collapse incident at the Saudi Arabia's Almaarefa University in Diriyah, two people have been killed and 13 others were injured, as clearing operations continue at the site.
The university is located on the western outskirts of Riyadh, according to the Saudi News Agency (SPA).
In an Arabic-language tweet, the Almaarefa University said: "The outer wall of the university building and the roof of the external parking lots were subjected to collapse."
إعلان أولي:
تعرض السور الخارجي لمبنى الجامعة وسقف المواقف الخارجي إلى انهيار مما نتج عنه احتجاز اثنان من موظفي أمن الجامعة وباشرت فرق الدفاع المدني والجهات المعنية إلى الحادث وسنوافيكم بأبرز المستجدات.
نسأل الله السلامة للجميع

— جامعة المعرفة (@AlMaarefa) December 17, 2019
Speaking about the incident, Civil Defence spokesman of the Riyadh region, Lt Col Mohammed El Hammadi told the SPA that Search and Salvage crew of the Civil Defense rushed to the scene to evacuate the victims and help the people who might be trapped under the debris.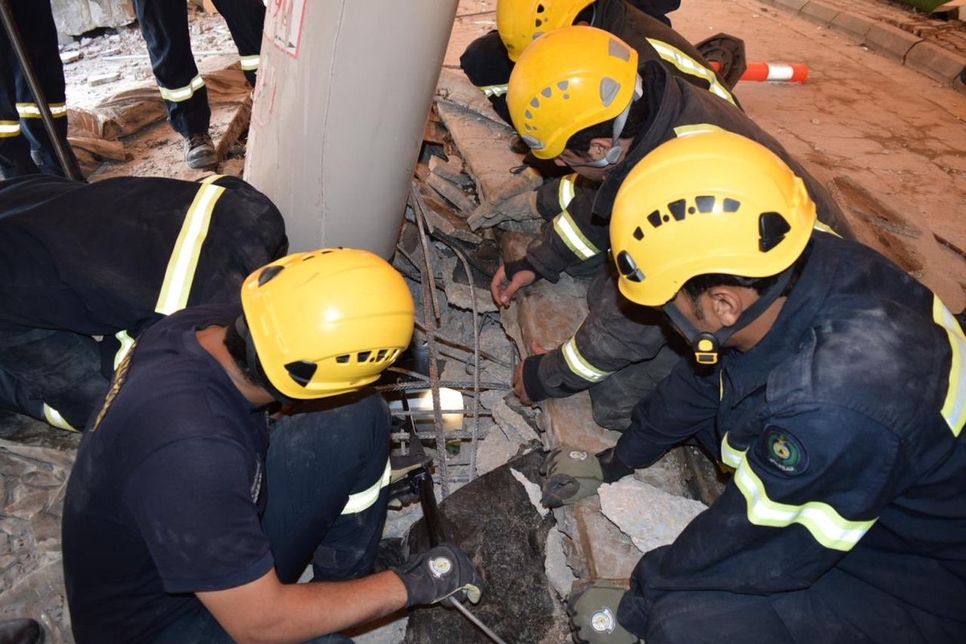 El Hammadi added that among the deceased one person was a Saudi citizen, while the other one was an expatriate. He said that ten of the 13 injured were discharged from hospitals. Work continued to remove the rubble to ensure nobody had been missing.
Meanwhile, the Saudi Red Crescent sent 16 emergency teams to assist with the rescue.
الدفاع المدني بمنطقة #الرياض وفاة شخصين وإصابة 13 شخصا في حادثة مبنى جامعة المعرفة، خرج منهم 10 أشخاص سالمين. pic.twitter.com/vHVKR09oJl

— الدفاع المدني السعودي (@SaudiDCD) December 17, 2019
According to a statemen released by the Saudi Civil Defense on its official Twitter account it said that the incident happened at 1:28PM on Tuesday afternoon.