Empower reports 8.3% year-on-year increase in net profit to $237m
The district cooling service provider reached more than 1.2 million people, with 1,180 buildings benefitting from its services
The UAE's Emirates Central Cooling Systems Corporation (Empower), touted as the world's largest district cooling service provider, has reported a net profit of $237m (AED 870.5m) in 2019, indicating an increase of 8.3% year-on-year.
In it's latest financial report, the company stated that it has achieved a total revenue of approximately $544m (AED2bn) in 2019, an increase of 7.9%, compared to the previous year.
The district cooling service provider reached a customer base of more than 1.2 million, providing more than 1,180 buildings with its services, the firm confirm in its financial report.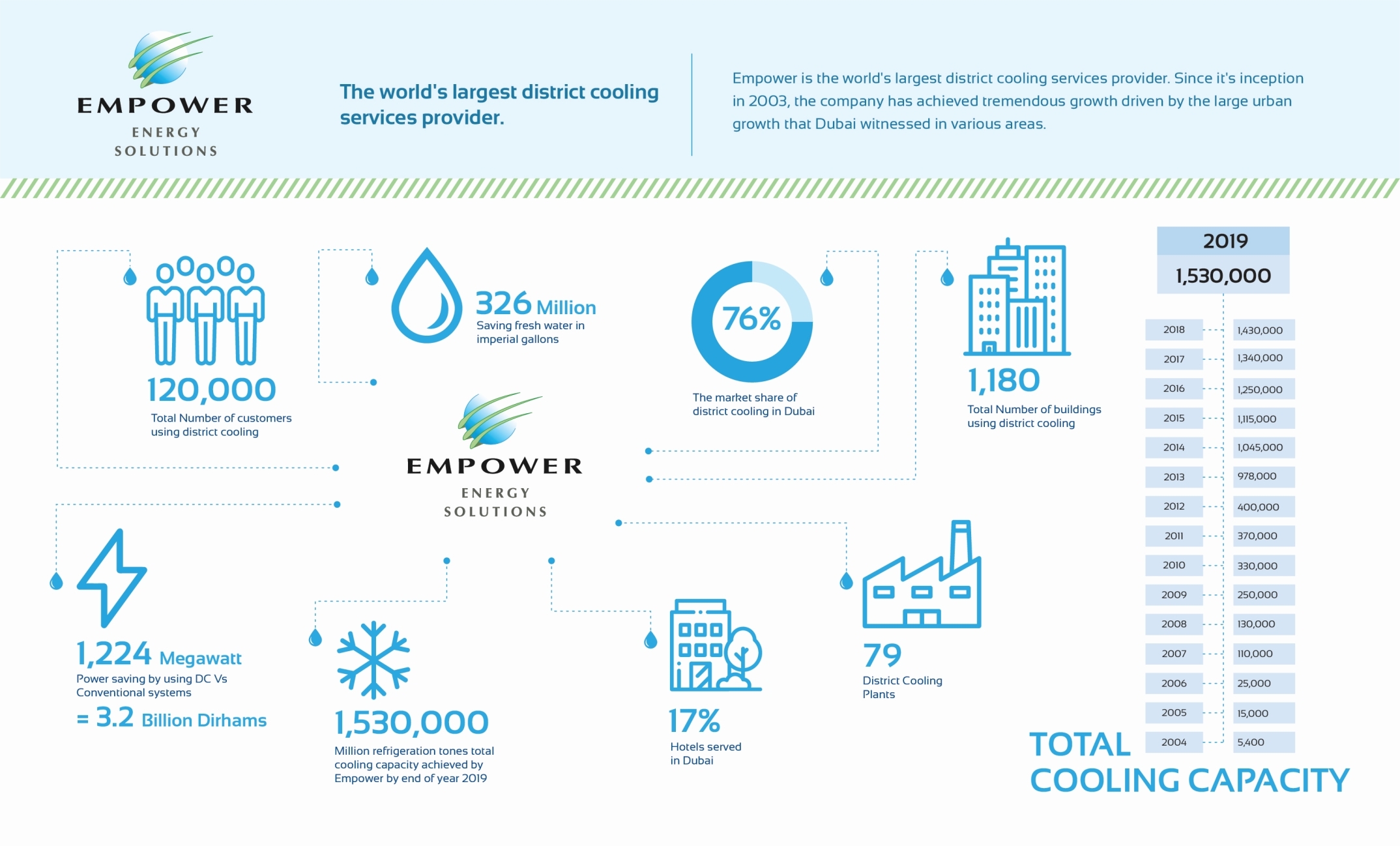 Commenting on Empower's financial results at the Annual Financial Results Conference, chief executive officer of Empower, Ahmad Bin Shafar, said: "Empower has recorded a significant expansion in the number of district cooling plants, district cooling pipeline networks, customer base, and number of buildings connected with our district cooling services in 2019. Empower achieved total electricity savings of 1,224MW, worth approximately $870m (AED3.2bn) in 2019."
The total cooling capacity reached 1.53 million RT in 2019, covering projects such as Deira Waterfront, Bluewaters, Jumeirah Group, Jumeirah Beach Residence, Dubai International Financial Centre, and Business Bay, among others.
Empower's recent notable projects and operations include the pilot operation of the world's first unmanned cooling plant at Jumeirah Village Circle, Dubai, with a total cooling capacity of 50,000RT in 2019.
The firm's Barsha Heights permanent cooling plant is also operational, with a total cooling capacity of 31,250RT.
Empower also won a contract worth approximately $53m (AED197m) to begin construction on its district cooling plant in Dubai Production City, with a total capacity of 47,000RT.
In addition, the firm's employee base has risen to 764, of which 15% are Emirati, including 48% Emirati women and 52% Emirati men. UAE nationals also makes up 40% of higher managerial positions, indicative of the company's commitment towards gender equality and diversity in its work culture.