Six workers die in Kuwait's Al Mutlaa Residential City incident
Kuwait Fire Service Directorate said that a sand wall collapse led to the death of the six workers out of 10 working at the site
In a construction site incident in Kuwait Al Mutlaa Residential City project, six workers of the 10 at the site were killed and three were injured, when a sand wall collapsed on them on 12 February 2020, the Kuwait Fire Service Directorate (KFSD) revealed. 
According to the Kuwait News Agency, following the incident, rescue teams from KFSD continued to lift the injured, who were trapped under the sand rubble at the construction site.
In a statement in its official Twitter account, the Public Authority for Housing Welfare (PAHW) confirmed that the incident happened on Tuesday afternoon, with the authority having immediately began work alongside other relevant authorities to rescue the injured.
تتعامل حاليا فرق الإطفاء مع حادث انهيار رملي وقع على عدد 10 عمال في مشروع المطلاع السكني ، وقد تمكنت فرق الإطفاء من انتشال 6 اشخاص 3 منهم على قيد الحياة و3 متوفين ، فيما تواصل فرق الانقاذ عملية البحث لاخراج 4 محشورين تحت الرمال pic.twitter.com/CFtl6UcAou

— الادارة العامة للإطفاء (@OfficialKfsd) February 12, 2020
PAHW said that the injured were taken to the Jahra Hospital. In December 2019, Construction Week reported that an operations and maintenance contract for 15-storey Jahra Hospital was awarded to Seoul National University. 
Following the incident, Kuwait's Minister of Public Works and Minister of State for Housing, Dr. Rana Abdullah Al-Faris visited the site and ordered for the formation of a committee to investigate the incident, Kuna reported.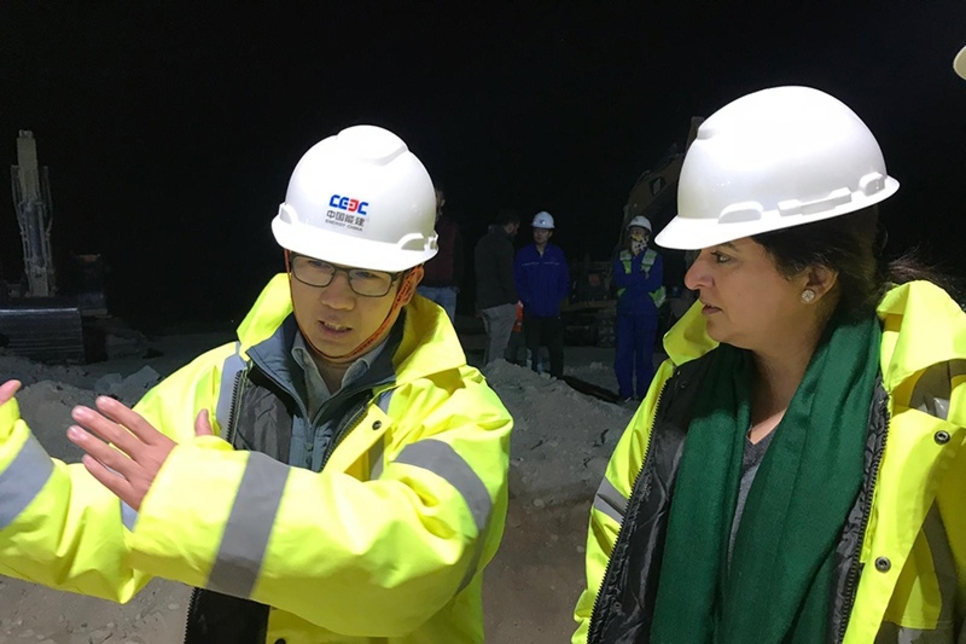 The minister stressed the need to "complete investigations swiftly inorder to uncover any shortcomings and to hold the responsible official accountable in the event of negligence".
Kuna quoted a statement from PAHW that said that the minister also stressed the need to submit a "detailed report" on the incident that reveals the cause of the incident in order to prepare necessary legal measures to be taken against the ones responsible.
تحديث على عمليات البحث عن المفقودين في حادث الانهيار الذي وقع بمدينة المطلاع السكنية:
تم العثور على شخص متوفي لتصبح حصيلة المتوفين جراء الحادث حتى هذه اللحظة الى 4 أشخاص وجاري البحث عن 3 آخرين في عداد المفقودين pic.twitter.com/T2w5WiqXFb

— الادارة العامة للإطفاء (@OfficialKfsd) February 12, 2020
PAHW said that the further activities at the site will be halted, however stressed that the incident will not affect construction activities at other sites of the Al Mutlaa Residential City.
In a 2017 statement on its website Chinese contractor, China Gezhouba Group Company (CGGC) said that it was awarded a contract to work on South Al Mutlaa Residential City project.