"Data-driven building ops are the top commercial real estate priority"
CRE 3.0 will enable asset performance optimisation, and centralised and real-time management, at an enterprise scale
Facilities management (FM) technology startup Facilio Inc, which claims to be the world's first unified Internet-of-Things (IoT), artificial intelligence (AI), and machine learning (ML)-enabled data-driven enterprise platform for facilities operation and maintenance, has cited data-driven building operations, tenant experience, and energy management as the top priorities for commercial real estate (CRE) owners in its report titled 2020 State of CRE Operations 3.0.
Facilio has labelled the next era of data-driven operations and maintenance in commercial real estate as 'CRE 3.0', marked by a three-pronged industry focus on data extraction out of siloed building functions; data aggregation on a portfolio-central platform; as well as use of modular apps to perform data-driven operations, which stresses the need to act on operational data to enable predictive portfolio operations.  
The report finds 60% of maintenance spend is on hard services, with at least 20% savings anticipated by combining predictive analysis with automated resolution.
Commenting on the move from CRE 1.0 to CRE 3.0, the founder and chief executive officer of Facilio, Prabhu Ramachandran, says: "Buildings are a powerhouse of data. The automation driven upgrade of commercial real estate assets, of a few decades ago – labelled CRE 1.0 – was focused on embedding buildings with hardware that delivered improved services and enhanced performance.
Ramachandran adds: "CRE 2.0, the recent adoption of appropriate technologies, consisted of CaFM and other software suites, designed to act as point solutions for property management, maintenance, energy management, occupant applications, etc.
"This new decade will see the rise of CRE3.0 - a data-driven model in commercial real estate operations, which is now making it possible to optimise asset performance and achieve centralised and real-time management, at an enterprise scale."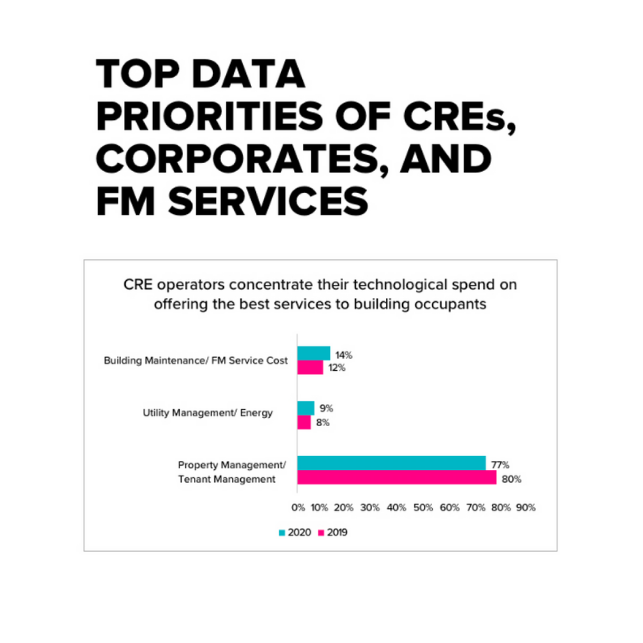 The report also touches upon the current state of operations and the priorities of CRE owners across the Middle East, US, and India markets, and highlights the growing demand for data-driven operations to drive operational efficiencies.
It identifies an opportunity for technology to optimise operational spend; calls for maximising efficiency, energy management, and customer experiences as a top CRE priority; and emphasises the need for CREs to unify and harness operational data at an enterprise scale.
According to the report, 77% of CRE owners cite tenant experience as a priority, and have allocated 39% of their operational spend to enhance that experience.
Meanwhile, energy ROI is also claiming importance, with 65% of operational expenses geared towards data-driven energy enhancements, the report states.
In addition, the CRE 3.0 report also reveals that connected building portfolios and a coherent end-to-end view of workflows and processes is set to become the norm in 2020, and onwards.
In the Middle East, a rise in the number of properties coming to market, as well as the emergence of new segments, regulatory reforms, and a smart city vision are driving a major transformation in the industry.
Ramachandran concludes: "As we move into a new decade of change and evolution, it is increasingly clear that CREs need to focus on leveraging technology to boost building performance, secure maximum uptime, and provide seamless tenant experience across portfolios."