Aldar announces $27.2m support package for stakeholders
The developer has announced programmes that are aimed at supporting its residents, tenants, customers and partners
Abu Dhabi Securities Market-listed (ADX) real estate developer ALDAR has announced programmes worth $27.2m (AED100m) aimed at supporting its residents, tenants, customers and partners.
Through the programmes, ALDAR will focus on several initiatives: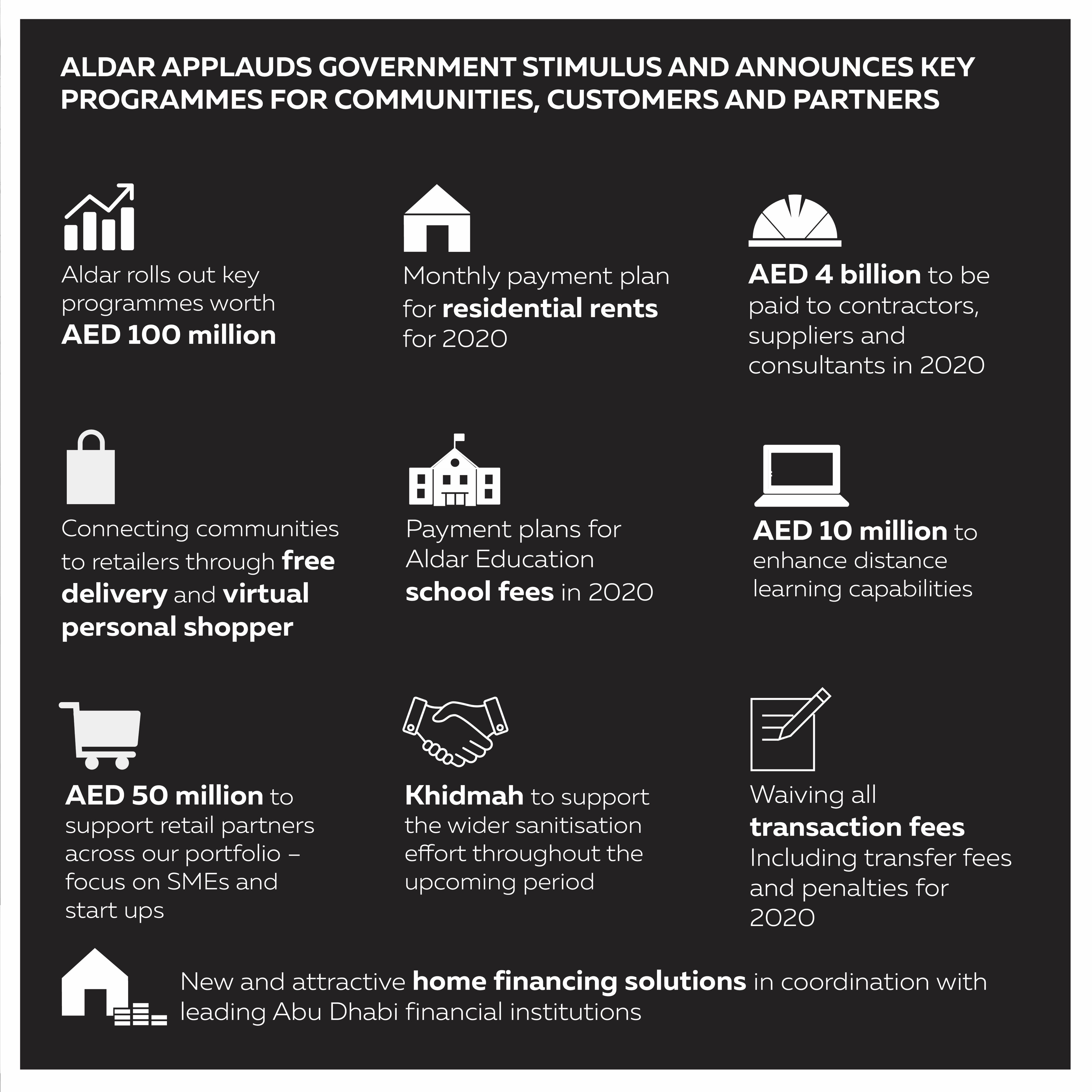 Ensuring tenants and residents' satisfaction
The developer has announced that it will provide tenants with monthly payment plans to support and ease rental commitments until the end of 2020.
In addition, ALDAR has made available the option of free delivery and virtual personal shopper programmes, ensuring that residents are connected to retailers.
Timely payment to contractors, consultants, suppliers
The developer is also focusing its efforts towards the allocation of $1.08bn (AED4bn) towards the timely payment and fulfilment of its commitments to its contractors, consultants and suppliers.
It also aims to reaffirm its commitment to its shareholders by recommending to pay dividends of $310.3m (AED1.14bn).
Relaxing education fees burden
Parents of students within the developer's Aldar Education portfolio will be provided with monthly payment plans that will help ease school fee burden for the current academic year. In addition, the developer is committing up to $2.72m (AED10m) to enhance distance learning capabilities across its education network.
Waiving off administrative fees
Transfer fees, late payment fees, and administrative fees — which are applicable during 2020, and associated with transacting with the developer — will be waived off.
Enhanced sanitisation efforts
ALDAR's Khidmah, which is a facilities management and home maintenance firm, will focus its energies and services on supporting enhanced sanitisation, and will offer discounts to customers for maintenance and disinfection services in their homes and offices throughout the upcoming period.
Speaking about the support package, chief executive officer of ALDAR, Talal Al Dhiyebi, said: "The schemes we are launching will help ensure that we emerge from this period together in a position of strength and resilience. The underlying fundamentals of our market remain uniquely sound and we believe that we have the resources to see ourselves through the coming period."
In light of the COVID-19 outbreak, the company has initiated remote working, postponed business travel, limited personal travel and reduced external meetings in line with its commitment to protecting the health and wellbeing of all its employees and guests.
ALDAR is continuously reviewing regulations in place and preparedness plans, which include higher levels of sanitisation across its communities, office buildings, shopping malls, hotels and schools in line with World Health Organisation and Department of Health guidelines.