Can advanced tech address the challenges of real estate sales?
OTR Ltd head of comms, Derek Williams, on how VR/AR is reshaping traditional real estate and consumer choices
This summer, the UAE's real estate seems to be regaining its former momentum. With the confirmed 60% real estate market growth this June, we might soon be witnessing an impressive comeback to the pre-COVID-19 figures.
More good news that brightens the bigger picture is mortgages becoming more available to the first-time purchasers, reducing the down payment needed to acquire the first property, resulting in developers not having to postpone ongoing projects.
Surprisingly, even the delay of Expo 2020 Dubai could also become a positive spur, giving the real estate market players more time to find investors and buyers for available residential units and commercial property well ahead of the half-a-year-long mega-event that is forecast to draw over 25m international visitors.
Yet, only those who survive the current situation will be the ones to reap the benefits of future profits.
With uncertainty dominating the market, it's especially essential to start taking action today, promoting your projects to the right people at the precise moment, supporting them with the advanced technology that lets them interact with your property, instantly and remotely.
From cloud-based building information management systems to replacing physical experiences with the virtual and augmented reality (VR/AR), the newly emerging tech-platforms are reshaping traditional real estate, and their choice is massive.
Picking the right path on your own might be tricky, as you need to balance the ambition with reality, and the resources are not infinite.
Substantial expertise is critical here. Partnering with long-standing VR real estate professionals, such as OTR, means committing yourself with the right approach and the right strategy that is functional for a particular purpose.
We know how to de-risk the implementation of advanced tech and put it into practical use, extending the frontier of the next-gen expertise from a digital concept to a physical application.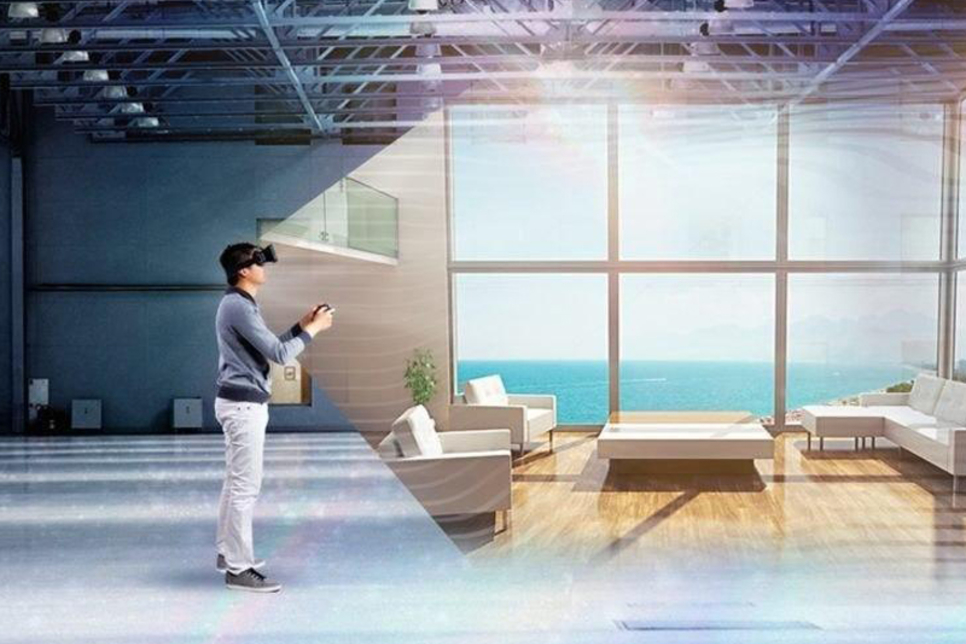 Discover the new sales horizons and better investment opportunities with VR/AR
Avoiding embracing the digital landscape is something that real estate agents can no longer afford.
Post-lockdown reality means you may get out of business for offering just a handful of photos available on your website and trading platforms.
Nothing can replace a property visit, even when the visits aren't an option. The sensation of being physically present in a place to become your future home or workplace, feeling the air of opportunity and inhaling its vibe is invaluable.
The best thing about VR is that it can be implemented at the very early construction stage, including delivering precise simulations of the future facility on the basis of 2-dimensional drawings only.
We add our own research, investigate the future location to deliver unparalleled immersion and precision, including interactive furniture, decorations and the real-time window view, the grounds, lobbies and elevators, to name a few.
OTR's VR team has developed an extensive portfolio of solutions that deliver that immersion.
Panoramic 360 videos that make your properties stand out
The most straightforward and affordable option is to enhance your website with a panoramic tour, based either on the 360 real footage or drawn carefully from scratch by CG artists.
It transforms complicated aspects of property acquisition into playing an engaging video game on a computer or mobile device screen.
Walking through virtual floors, and looking out of virtual windows, your clientele will sometimes even travel in time if the building has not yet been completed, with purchasing the property becoming their long-awaited final prize.
Full immersion of VR tours that expand your outreach
The next level are VR goggles or headgear-based projects, for prospective buyers to enter the immersive environment, filled with light, exclusive fabrics, and furnishings, and interactive objects, accessible directly by extending your hand no matter what continent.
Moreover, everyone observing a virtual reality real estate prototype will interpret what they see more or less in the same way, allowing the agent to guide them via the most productive pattern.
Even when distributed geographically, your buyers can share the same virtual space, visit with their families and friends, and interact with each other as digital avatars.
VR tours for web that expands your outreach
Should you wish to avoid the need to use VR gear for any reason, OTR can come up with an augmented reality solution accessible via tablets and phones.
It creates an overlay of objects in the space that don't physically exist by creating, replacing, and enhancing what you have with genuine and realistic exterior and interior designs, allowing prospective buyers and investors to discover the properties full potential before they can see it.
Enhance your traditional advertising materials with AR
For office-based agents, we deliver the tools that help expand the limits of 2D printed media. With a small and simple software, agents and clients can get a three-dimensional AR model of any residence or facility of their interest towering from a standard leaflet.
They can interact with that ''almost-present'' sensation, browsing various info, comparing numerous localities, and making informed decisions.
Your clients who own smartphones can become a "magic window" opening up into the highly immersive engaging reality of their future homes and offices.
Scalable, rotatable, and observable from multiple angles, the AR models can be interacted with in multiple ways, inspiring confidence and forming a distinctive competitive edge.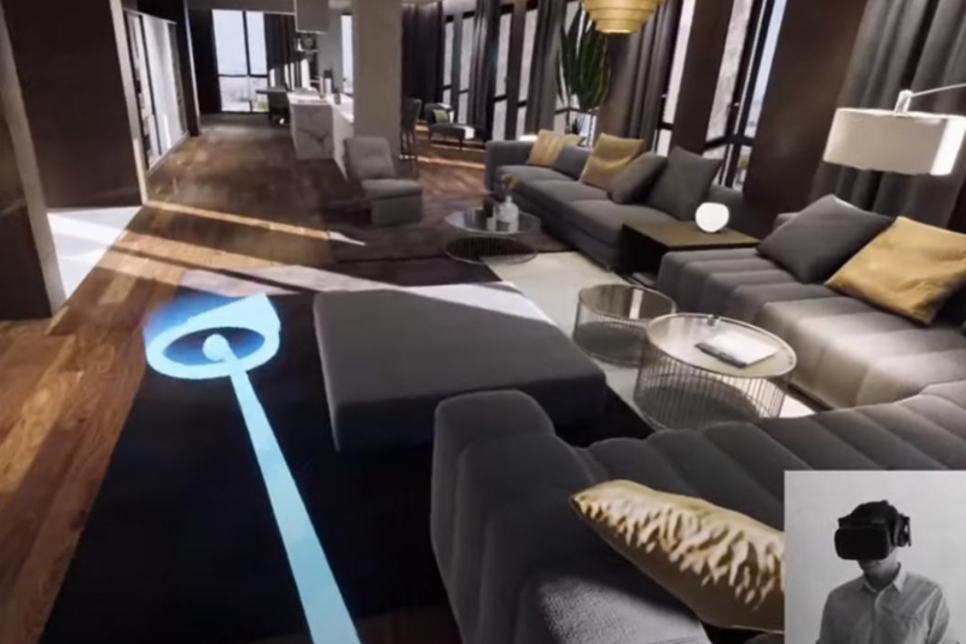 Change it as you go — augmented reality applications for property visits
Don't miss a chance to try AR capabilities during agent-guided tours. With a single tap on their smartphone, an agent can change the marble flooring to oak wood, shine lights, and replace furniture, letting the empty walls sparkle with their future grandeur.
It is simple to add the digital equivalent of "sticky notes" or infographics, visible while navigating through a construction site or a newly built facility.
What makes AR/VR for real estate applicable today?
Well, it works, as according to the recent research published by the National Association of Realtors, 77% confirm that staging future property's layout resulted in increased sales.
Add to the picture 97% prospective buyers who search online before getting in touch with the seller.
OTR's can confirm this with our recent experience of delivering a comprehensive VR real estate simulation for an upscale residential building.
Complete with the proprietary emotion analysis system, the solution translated into a powerful tool for the sales team. It helped select the right customer-facing approach resulting in a 76% boost of their monthly apartment sales.
The customers are affected by market uncertainty like never before, and the introduction of compelling, immersive experience is the way to provide them with the security they desperately need.
It also optimises expenditures as everyone's number one concern, allowing to save on travel, visits, printed media, and advertising, impressing your tech-savvy clients and improving profitability.
With UAE's 80% real estate transactions attributed to non-residents, non-local sales have always been a thing to consider, and with COVID19, the travel sanctions have escalated it even further.
These days it's not just about the travelling/accommodation costs, but about the very ability to travel between countries.
Both VR and AR can become a bridge between the customer and the seller, accessible instantly from any corner of the world, delivering truly global outreach.
According to consulting experts, real estate companies that possess virtual imagery, 360 virtual reality tours have reported overwhelming customer interest during the lockdown.
At OTR Ltd, we have extensive expertise in real estate VR/AR projects. From high-rise buildings and commercial facilities to cozy townhouses and the most luxurious mansions, we are there to build it, virtually, offering a fantastic competitive advantage that proved exceptionally efficient against the modern challenges.
We value that our partners are always ready to go the extra mile to deliver the solution that fits their targets precisely.
This is why we offer the Construction Week readers a complimentary initial consultation and deliver the proof of concept and the labour cost estimate free of charge.
Join OTR today and let us deliver highly immersive and indeed breathtaking experiences helping you re-emerge as a hi-tech real estate market player, growing stronger and becoming an outstanding formidable force to reshape the new reality.
For more information, go to: https://otr.eu/vr-sales-development/