OTR Ltd on addressing HSE hazards on-site with VR
The firm's head of comms, Derek Williams, discusses the Beirut tragedy and why you should implement VR at the earliest possible stage
Even with most of 2020 behind us, the uncertainties continue to stir.
The explosion in Beirut on Tuesday 4 August 2020 shocked the world. Early reports suggest that a fire at a fireworks warehouse might have ignited a large quantity of ammonium nitrate, a chemical widely used as a component in construction blasting.
The possible reasons for ignition named by Lebanese channel LBCI included welding work on a hole in Warehouse 12. The port's manager, Hassan Koraytem, verified that the work was indeed conducted on the door that day.
It's still too early to come up with any conclusions before we read the final report. However, every day it becomes increasingly apparent that the terrible aftermath is a continuation of a full-length sequence-of-events.
For years we've been learning that critical accidents do not occur out of the blue, becoming the consequence of actions performed or non-performed, inadequate security measures, and insufficient training, when even small things may pull the trigger.
These factors combined may lead to a blast, sometimes a literal one. For Lebanon, the outcome looks like the complete loss of the country's principal port marking, regrettably, the beginning of darker times ahead, including food, fuel, and medical supplies shortages.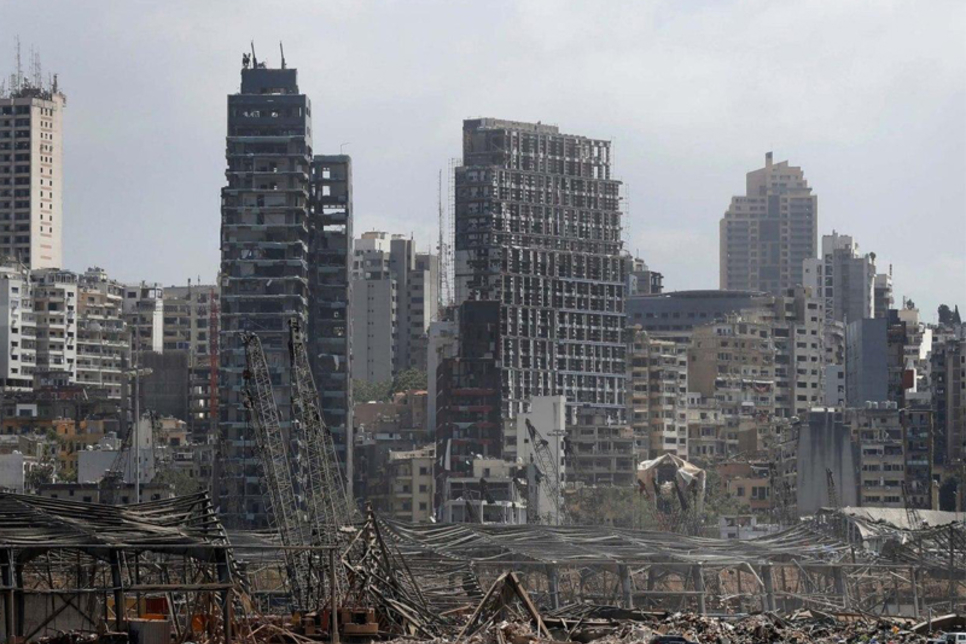 High-risk industry professionals understand that accidents like that might be somewhere around their own corner. Construction is inherently dangerous. Inexperienced workers form possibly the most considerable threats, as unknowing blunders may put everyone at risk.
No longer is it acceptable to send employees to fire-risk welding jobs or make them climb on unsafe scaffolding at dizzying heights and advise them to stay safe. Keeping them safe is their employer's responsibility because, essentially, it's the hirer playing the dangerous game where their profits, reputation, and human lives are at stake.
Updated as they are, traditional safety drills are no longer sufficient for larger projects and international teams, with viable safety improvements coming more from technological progress than anything else.
AR and VR have already marked a new era in reinforcing the traditional procedures, offering a comprehensive, immersive approach, relying on embodied cognition.
With companies like OTR Ltd, you'll be finding the easiest way to approach that era in a fast and cost-efficient way, maintaining a recurring state of vigilance with the number-one way to avert accidents.
 Keep saving while saving lives
The bottom line of traditional safety procedures is cost. The conventional approach incurs extra payments on purchasing training materials, paying coaches' salaries, and hiring safety inspectors to monitor the jobs conducted.
By closing the entire site, engaging costly engineering professionals running training and safety drills, the amount spent increases proportionally.
With VR, cost-savings penetrate all aspects of construction planning and training programs.
Implementing VR at the early stage means you are in control of the construction site, in every aspect from materials stored to people who work there.
VR visualisations and AR tools, compatible with professional BIM toolkits, form an effective way for construction professionals to discover the design flaws before they find their way into the final technical drawings.
With VR training, you get an immersive work environment with no need to physically recreate the facility, travel long distances, hire mentors, or put the ongoing construction site to a halt.
Offering comprehensive VR solutions in architecture, construction, and engineering, OTR Ltd will help you on every stage of your construction journey, from planning to team training.
A great example is our recent project for VR emergency and fire-safety drills, promoting safety on hundreds of facilities nationwide.
Join us today and get ready to eradicate the possible losses by preparing the teams for the "unforeseen that always happens," delivering accident-free environments and saving lives in the long-term.
Communication that matters
With the increased number of developers hiring a foreign workforce to keep the costs even lower, communication is sometimes hindered even within a single unit. That results in the inability to make sure even the most critical messages are perceived by all the team members as intended.
Direct discussion of the day's goals and activities will cut down on surprises that could cause bodily harm, yet this may become harder than it sounds because of language barriers.
VR tools by OTR Ltd helps you develop a universal language understood by everyone. No words, no hard to read text, only visuals that simulate a realistic, almost tangible environment with clear and concise sets of action patterns the trainee has to replicate.
Clear and concise communication with everyone makes the project go by faster and helps keep each person informed.
Zero-risk preparation with four times better retention
Historically delivering excellence in construction safety training has entailed creating massive, costly, and roughly similar environments, complete with the same threats you are targeting, making training a hazard in itself.
Staged in secure danger-free locations, OTR's Virtual Reality answers many security pain points essential in the natural process making it 100% safe drills within the perfect environment resulting in 80% info retention.
With enough spread of VR training tools, all construction sites can maximise their safety practices to achieve that elusive 100% accident-free rate finally.
At OTR, we are providers of simulation software, forecast and visualisation systems, and VR/AR systems for training and assisting with safety.
We pride ourselves on maintaining meticulous expertise of anything relating to virtual reality and are delighted to assist with any related services. Have any inquiries or want to learn more about how we can improve your safety experience, don't hesitate to contact us.
For more information, go to: https://otr.eu/vr-learning-training-development/