KSA's SEC raises $1.3bn in first green sukuk on international markets
Divided into two tranches of $650m (SAR2.438bn) each, this is the largest green sukuk issue in the MENA region in 2020
The Saudi Electricity Company (SEC) has completed the subscription to the first green sukuk issue in the Kingdom of Saudi Arabia – the first double-chip issue in the RegS format – divided into two tranches, with maturities of ten and a half years, bearing a value of $650m (SAR2.438bn) each, bringing the total value to $1.3bn (SAR4.876bn).
The company – which is the largest electrical service facility in the Middle East and North Africa region – has also announced its intention to hold meetings with investors in preparation for a possible international green sukuk offering.
Following a promotional campaign that was attended by major international investors in Hong Kong, Singapore, the United Arab Emirates, and the United Kingdom – during which the company organised a global telephone conference with the participation of more than 70 fixed-return investors – the investment status of the Saudi Electricity Company and the ambitions of the company's sustainability strategy and specifications were presented.
The launch of the issuance was announced 10 September, and the company's issuance of green sukuk was successfully completed on the same day with a coverage rate close to four times, and requests from more than 267 investors exceeding $5.2bn (SAR19.5bn), from international financial institutions.
This issuance of $1.3bn (SAR4.876bn) is the first green sukuk issuance from the Kingdom in the international markets, and it is also the largest green sukuk issue ever issued from the Middle East and North Africa region in 2020.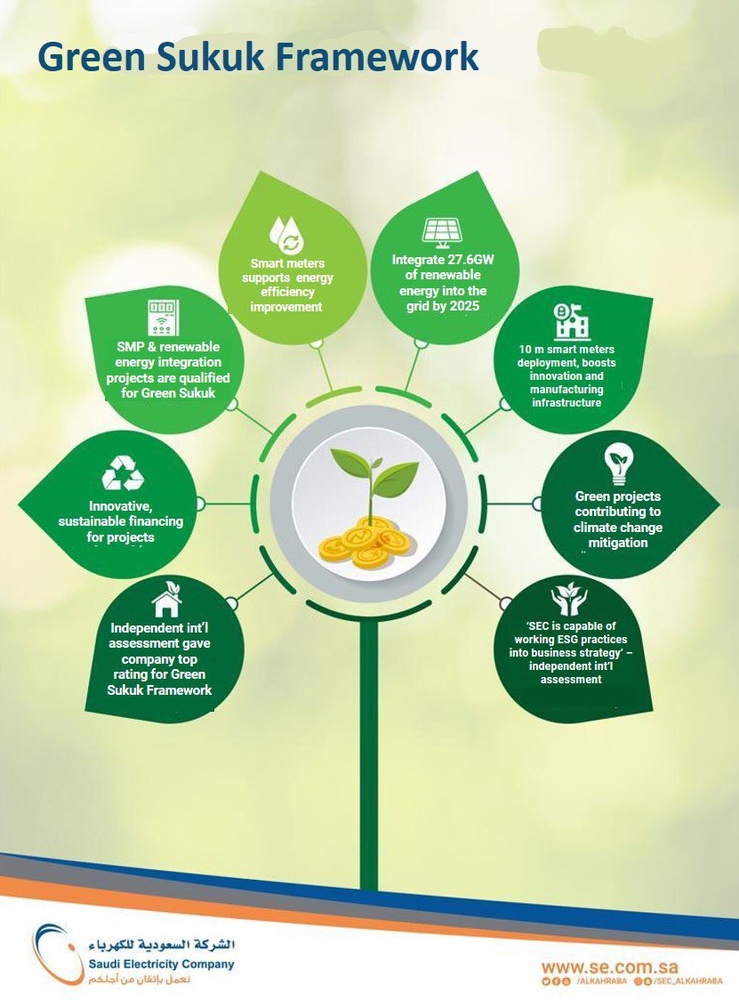 In light of the numerous debt instruments proposals from many exporters from emerging markets as well as from among the Middle East countries, the Saudi Electricity Company was able to attract the required momentum and develop investors' desire to issue it as a green sukuk category, which helped attract a new class of sustainable investment investors.
The chief executive officer of the Saudi Electricity Company, Fahd Al-Sudairy, emphasised that the launch of this issue is consistent with the company's strategy to diversify its sources of financing and the growth of its investor base in international markets, which also supports the company's aspirations to finance its projects.
The offering attracted more than 267 international investors in 22 countries around the world, confirming the confidence of international investors in the strength of the kingdom's economy and companies, according to the state-run Saudi Press Agency.