Exploring worker welfare at Expo 2020 Dubai's construction site
VP of worker welfare outlines Expo 2020 Dubai's HSQE policies, and how they impact its contract procurement process
Expo 2020 Dubai is one of the Middle East's largest construction projects at present. Already, 190 countries have confirmed their participation for the event, which will be the Middle East, Africa, and South Asia's first World Expo when it opens its doors on 20 October, 2020. Critical to its preparations is the construction work that is currently under way at its 4.38km2 site in Dubai, where thousands of workers are building the structures that will go on to become the architectural and infrastructural highlights of Expo 2020 Dubai.
As Emma Seymour, vice president of worker welfare at Expo 2020 Dubai points out, the health and safety of these people is the organisation's "number one priority". In this exclusive article for Construction Week, Seymour outlines the measures implemented by the Expo 2020 Dubai organising team to ensure that worker welfare is adequately delivered at the megaproject's site.
We all deserve to live and work in a safe and healthy environment, which is why Expo 2020 Dubai, with the support of governmental and construction partners, is committed to advancing worker welfare and health, safety, quality, and environment (HSQE) standards for everyone involved in the next World Expo.
To achieve this goal, we have implemented world-class policies, standards, and processes that protect and support our workforce's health, safety and wellbeing as we work together to build this spectacular global destination. In collaboration with our partners and UAE federal entities, we are working to ensure the health, safety, dignity, and welfare of everyone helping to deliver Expo 2020 Dubai. With approximately 40,000 workers expected to be active on our 4.38km2 site during peak construction, it is vital that we all live and breathe the same values.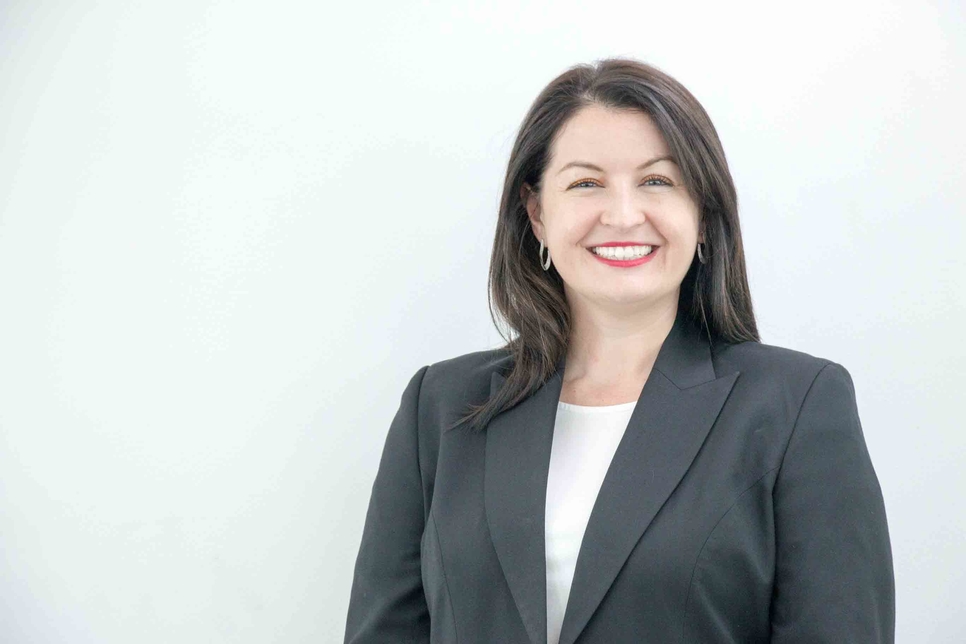 We currently have 10 main contractors and approximately 200 subcontractors working on our site. More than 60 million work hours have already been completed, and this figure is expected to rise to about 130 million by the time we finish the build. To offer some perspective, this is approximately 50 million more than the number of hours completed ahead of the opening ceremony of the London 2012 Olympics.
Expo 2020 is coordinating hundreds of projects, and working with more than 200 partners and international participants to create a site that can accommodate 25 million visits between October 2020 and April 2021 – equivalent to welcoming the population of Australia through our gates in only six months. Despite this massive scale, construction is well advanced and we are on track to deliver the region's first ever World Expo on time and within budget.
Nevertheless, we cannot afford to lose sight of our number one priority, which is to ensure that the people working behind the scenes to turn the UAE's expo vision into reality continue to be safe and healthy. Our dedicated Worker Welfare team is made up of sector and regional specialists who are passionate about making sure we keep this promise, and they have devised a robust strategy to ensure the Expo 2020 Dubai family is well looked after.
More than 60 million work hours have already been completed, and this figure is expected to rise to about 130 million by the time we finish the build.
We call this strategy 'Better Together' because collaboration is the only way to ensure world-class HSQE and worker welfare standards. By sharing knowledge and making continuous improvements side by side with our delivery partners, we have an opportunity to protect the wellbeing of workers not only today but also in the years to come.
Better Together is based on 'Care', 'Respect', and 'Pride' – core values that permeate the entire Expo 2020 Dubai ecosystem. These commitments come from the very top, ensuring that all expo employees and every organisation we work with share the same goals.
Building on these essential values, our Worker Welfare Policy contains 10 key principles that are aligned with international guidance on workers' rights, including the International Labour Organization (ILO) and the United Nations (UN).
Specifics covered include procurement pre-qualifications; employment practices such as wages and working hours; accommodation facilities; and the quality of transportation. These standards are designed to ensure that all delivery partners who work with us take responsibility for their employees, making sure they are properly protected and cared for.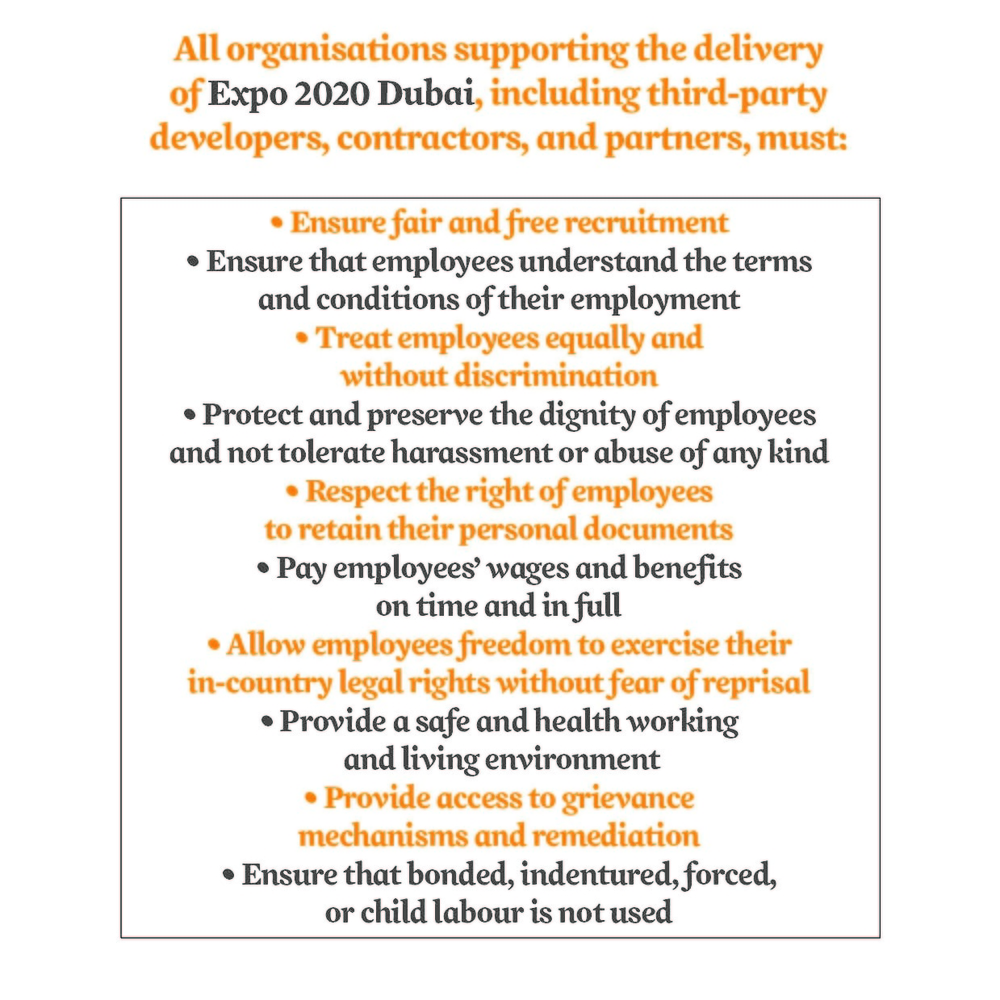 In addition to incorporating UAE law, our comprehensive assurance standards include an extra 117 requirements that are bound into every Expo 2020 Dubai contract. Half of these additional standards relate to employment practices, while the other half link to workers' accommodation and management practices. For example, contractors are required to provide free WiFi for workers.
Our Worker Welfare team regularly monitors and audits contractors and third parties working on the Expo 2020 Dubai site. We have also brought on board several internationally renowned bodies to support oversight, including the UK's Health and Safety Executive (HSE), risk consultancy Control Risks, and audit firm PwC. 
Before a company can even bid for a contract at Expo 2020 Dubai, it must complete a detailed questionnaire about its worker welfare practices. Once invited to tender, the firm must agree to an accommodation audit and inspection of its headquarters by Expo 2020 Dubai's Worker Welfare team.
Within three months of a contractor starting work on the expo site, it is audited again. From this point, all companies must submit regular status reports and undergo monthly project reviews, and in-depth audits are conducted every six months to ensure that standards are maintained. Expo 2020 Dubai does not award contracts to companies that cannot commit to these requirements.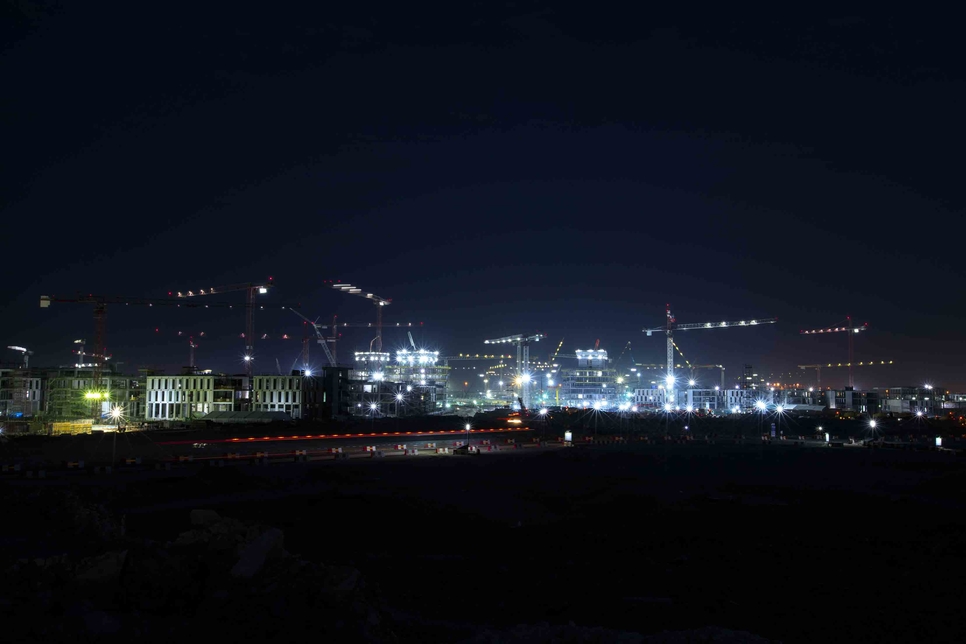 To ensure that we lead from the front, Expo 2020 Dubai holds quarterly leadership meetings with the CEOs of our main contractors, and we host a Worker Welfare Forum every two months to track progress, discuss issues, and share knowledge with these companies.
Our HSQE policy, meanwhile, is implemented through a risk-based approach, which delivers focused assurance activities, ensures compliance with legal requirements, and strives for global best practice based on six pillars: leadership, communication, competency, engagement, reward and recognition, and continuous improvement.
The six pillars of our HSQE policy form the foundation of Expo 2020 Dubai's delivery vision because, as its name suggests, the Better Together strategy is all about collaboration. We see HSQE and worker welfare as a constantly evolving joint venture, and the achievement of best practice should be celebrated wherever possible.
This is why, in December 2018, Expo 2020 hosted its first ever Better Together Awards, an event that highlighted the many achievements of our delivery partners in creating an exceptional work environment. A total of 125 entries were submitted across 12 award categories, which recognised the initiatives, individuals, and organisations that are helping us to raise the benchmark for HSQE and worker welfare.
Expo 2020 Dubai does not award contracts to companies that cannot commit to [its HSQE] requirements.
Awards were presented for the contractor and consultant of the year, as well as for initiatives that have driven HSQE and worker welfare progress. Trophies were also given to a variety of construction professionals, ranging from workers to supervisors and project managers.
Our Worker of the Year Award was won by Al-Futtaim Construction's Majid Lal Miah, who is working as a carpenter within Expo 2020's Mobility Thematic District. A team player who leads by example, Majid has demonstrated his ability to communicate HSQE and worker welfare concerns in multiple languages, and is always willing to contribute to team activity briefings.
Majid is the perfect example of someone who is playing an essential role in maintaining and improving Expo 2020's on-site standards but, fortunately for us, there are thousands of other people working equally hard to deliver the next World Expo safely, securely, and efficiently.
Through our collaborative approach, we aim to positively influence the wider operations of our contractors and other stakeholders working on the Expo 2020 Dubai site, causing a ripple effect that helps to advance standards throughout the industry for years to come.
Ultimately, this is the true power of Expo 2020 Dubai. By uniting thousands of people in the pursuit of a common goal, it has the potential to make millions of lives better – and change on this scale is only possible when we work together.