First Emirati women firefighters meet Crown Prince of Abu Dhabi
The first batch of certified Emirati women firefighters met with HH Sheikh Mohamed after graduating from a Sharjah training course
The first batch of certified women firefighters in the UAE recently met HH Sheikh Mohamed bin Zayed Al Nahyan, Crown Prince of Abu Dhabi and Deputy Supreme Commander of the UAE Armed Forces, at Qasr Al Bahr Majlis.
Congratulating the Emirati women on their graduation from a firefighting course in Sharjah, Sheikh Mohamed said: "The UAE woman is always proving her worth in performing all the national tasks assigned to her, excelling herself in fulfilling her responsibilities and meeting her obligations."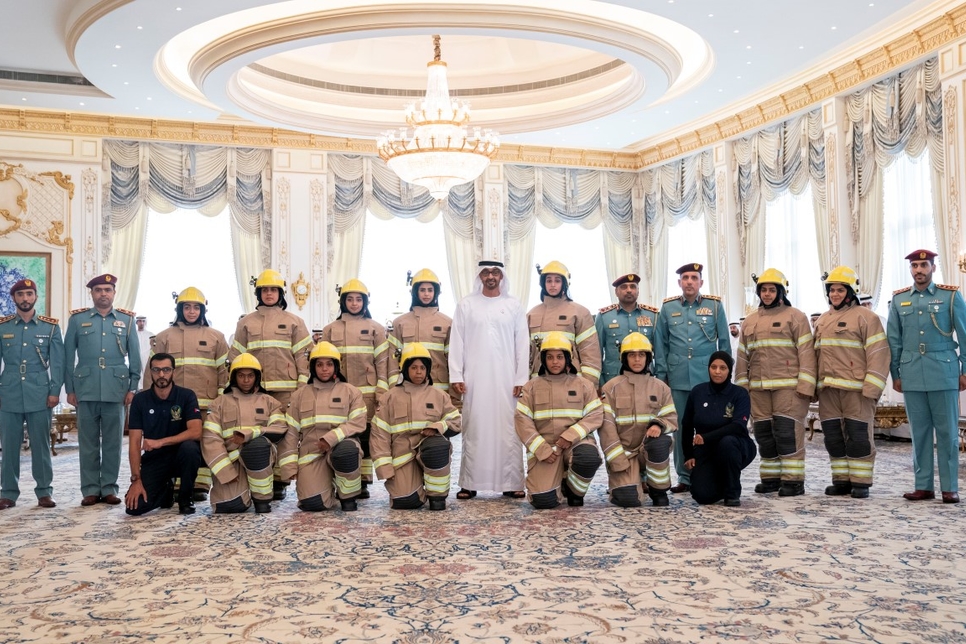 The women firefighters passed a foundation and vocational training course, which included training at the Police Academy in Sharjah and the Civil Defence Academy.
Group and team-building activities were also implemented to foster social involvement, and the professionals were trained on key safety domains.
"The UAE, under the leadership of President HH Sheikh Khalifa bin Zayed Al Nahyan, set women's empowerment on top of the country's national priorities, with women now being true partners and contributors to the national developmental drive and strategic plans for the nation's present and future," the Crown Prince of Abu Dhabi added, according to UAE state news agency, Wam.
محمد بن زايد يستقبل المنتسبات إلى دورة الإطفاء التأسيسية النسائية الأولى ويبارك خطوتهن في خدمة الوطن والمجتمع. pic.twitter.com/GxSUzjYaji— محمد بن زايد (@MohamedBinZayed) April 8, 2019
Also present at the meeting were HH Sheikh Tahnoun bin Mohammed Al Nahyan, Abu Dhabi Ruler's Representative in Al Ain Region; HH Sheikh Sorour bin Mohamed Al Nahyan; HH Issa bin Zayed Al Nahyan; HH Sheikh Nahyan bin Zayed Al Nahyan, Chairman of the Board of Trustees of Zayed bin Sultan Al Nahyan Charitable and Humanitarian Foundation; and HH Lt General Sheikh Saif bin Zayed Al Nahyan, Deputy Prime Minister and Minister of the Interior.
HH Sheikh Khalid bin Zayed Al Nahyan, Chairman of the Board of Zayed Higher Organisation for People of Determination; Sheikh Nahyan bin Mubarak Al Nahyan, Minister of Tolerance; and Sheikh Hamdan bin Mubarak Al Nahyan also attended the meeting.