Top causes of global construction fatalities, and how to avoid site risks
Insights from agencies such as ILO on common factors linked to global construction deaths and how they may be prevented
The United Nations' International Labour Organisation (ILO) has found that 2.8 million year worker deaths are reported globally each year, with more than 6,500 fatalities recorded every day from work-related diseases, and 1,000 from occupational accidents – construction workers are, unfortunately, not fully immune to these risks. 
Even as health and safety mechanisms are digitising and evolving – and their implementation is being supervised with greater focus – construction site injuries are not entirely avoidable, since human error and equipment failure remain areas wherein vulnerabilities may seep in despite the highest worker welfare processes being followed. 
According to ILO data, the greatest causes of mortality around the global labour market are circulatory diseases (31%), work-related cancers (26%), and respiratory diseases (17%).
In this article, Construction Week rounds up the top risk factors that lead to fatalities at construction sites around the world, and how these can be avoided. The data in this article has been produced based on insights shared by key health and safety agencies such as ILO, and is aimed at increasing awareness about onsite health and safety in the global construction sector.  
According to the UN's ILO, these are the top causes of deaths on construction sites as of April 2019: 
Falls
Electrocution
Crush injuries
Caught-between injuries
Crane collapse
Fires
Asbestos, ionising radiation, and cancer-causing chemicals
Slips and trips
Exhaustion
Heat strokes
Please note that this list has been based on publicly available information about construction health and safety around the world.
1. FALLS
Falls are among the most common causes of deaths on construction sites, and include incidents suc has falling off scaffolding, ropes, or ladders.
Risk avoidance tip:
Construction site falls are commonly caused by poorly organised fall protection covers, in addition to loose guard rails and not using safety harnesses when working in scaffolds. Site workers and supervisors must ensure these mistakes are avoided to ensure fall-avoidance. 
2. ELECTROCUTION
Electrocution is typically caused by workers coming in contact with overhead power lines and wiring without appropriate gear. In fact, working close to machines, equipments, and tools that are connected to power lines may also be fatal due to the lack of circuit interrupters. 
Risk avoidance tip:
Site supervisors must ensure workers are not approaching these machines until they are appropriately geared up.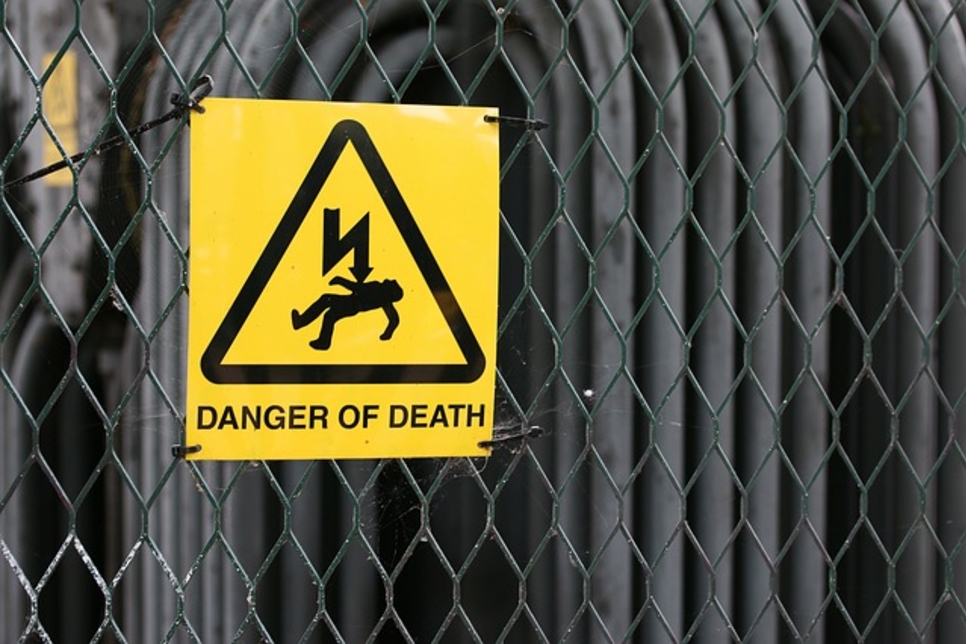 3. CRUSH INJURIES 
Another common cause of fatalities at construction sites are incidents where debris from buildings, or even slabs of the structure, falls on workers.
In the past, construction sites around the world have also unfortunately seen situations of building materials such as cement, sand, and steel falling on workers due to poor installation. 
Risk avoidance tip:
While high-quality installation is the first step to avoiding such accidents, safety helmets are also essential to ensure that, in the event of a building component falling down, critical head injuries are avoided by site staff. 
4. CAUGHT-BETWEEN INJURIES
In the past, global construction sites have seen incidents of limbs getting stuck between the components of various construction equipment. These injuries are called caught-between, or 'caught in between', incidents. 
Such issues may be caused by, for instance, the use of a hammer, with a fingernail or finger getting damaged in the process, or more serious incidents of workers getting caught between heavy equipment such as tractors or loaders. 
Risk avoidance tip:
For manual and power tool users, it is important to imbibe a culture of health and safety to ensure that workers are carrying out their tasks in a measured and careful manner. Additionally, all site equipment must be linked with telematics software so that operators can contribute to avoiding risks related to other workers or equipment on site. 
5. CRANE COLLAPSE
Crane collapses are perhaps among the most commonly reported causes of construction site fatalities, and can occur if the equipment has not been installed or fitted out correctly.
Additionally, crane collapses may also cause damage to human and material assets in the construction site's surrounding area. 
Risk avoidance tip:
Improper crane installation can be avoided by ensuring that contractors and operators are compelled to use software that can provide critical insights about motion detection, anti-collision, and so on. 
At times, construction site fires may be caused by the carelessness of workers or supervisors. Fires may start or spread due to the prominence of items such as fuel and wood on site. Additionally, welding equipment, if left unattended near combustible materials, can also contribute to a site fire. 
Risk avoidance tip:
Spreading a culture of health and safety awareness is key to ensuring construction site workers and supervisors can not only avoid mistakes that lead to site fires, but also watch out for and monitor potential risk areas.
Contractors must make sure that their site is protected against other potential causes of fires, such as faulty electrical wiring and exposed power lines.
7. ASBESTOS, IONISING RADIATION, AND CANCER-CAUSING CHEMICALS
The European Agency for Safety and Health at Work, according to ILO, indicates that the most telling
health effects of nanomaterials have been found in the lungs, with evidence of oxidative stress,
inflammation and tissue damage, fibrosis, and tumour generation.
In addition, nanomaterials are also found to translocate from the lungs into the blood stream, to be taken up by secondary organs including the brain, kidney and liver, among others. Finally, some types of carbon nanotubes can lead to asbestos-like effects.
Developed countries appear to have a higher proportion of work-related mortality from cancers, which according to ILO is found at 50%.
Risk avoidance tip:
Improper masking gear could result in risks such as the inhalation of smoke or harmful gases at the construction site. Moreover, breathing in construction dust for a prolonged period of time could lead to fatal lung diseases. 
Construction employers and operators must make sure that they are secured in proper personal protective equipment (PPE), such as masks, gloves, and eyewear, in order to avoid the harmful effect of air-borne nanomaterials and chemicals. 
8. SLIPS AND TRIPS
According to Workplace Health and Safety Queensland, there are various factors that contribute to the risk of slips and trips. Slips usually occur when there is a loss of grip between the shoe and the floor. 
Trips occur when a person's foot hits a low obstacle in the person's path, causing a loss of balance. Often, the obstacle is not easily visible or noticed. 
Risk avoidance tip:
Poor lighting and distractions such as unfamiliar or unexpected loud noises, or extreme environmental conditions, such as extreme cold or heat, can impact a person noticing slip or trip hazards in their path.
Adequate light levels without glare or shadowing is required to highlight potential slip or trip hazards. Other distractions, like those mentioned, should be minimised as much as possible.
Trips can be prevented by good housekeeping practices; ensuring the floor surface is in good order such as being free from holes, uneven surfaces, curled up linoleum, or carpet edges; avoiding any changes in floor surface level, or if this is not possible, highlighting these changes; and providing adequate storage facilities, according to Workplace Health and Safety Queensland. 
9. EXHAUSTION
Considering the labourious work that is involved with construction sites, fatalities may be caused due to exhaustion and stress.
Overwork can also lead to sleep deprivation and fatigue. 
Risk avoidance tip:
Work shifts must be allocated from the mobilisation stage of the project, and employers must mandate that supervisors enforce these work timings. 
10. HEAT STROKES
According to ILO, heat-related health risks can cause heat stroke, heat exhaustion, poorer chemical tolerance, fatigue, poorer cognitive function, increased risk of injury or safety lapses, altered responses to exposure to chemical and biological hazards, dehydration, increased burden of respiratory and cardiovascular diseases, cataract, skin and eye cancer, and weakened immune function. 
Risk avoidance tip:
Heat risks are worsened if, for example, worker rest areas have poor ventilation or lack cooling systems.
Additionally, workers involving heat-generating processes must wear PPE, which if workers do not use correctly, can open them up to multiple types of health risks. 
Site supervisors must also make sure that their staff is not engaged in field work during peak heat hours, such as afternoons, when temperatures grow to high degrees.