Inside a Dubai MEP company's modular design factory in Jebel Ali
BK Gulf's modular division seeks to revamp local MEP industry with pre-engineered components
Factory-produced, pre-engineered mechanical, electrical, and plumbing (MEP) units that can be delivered and assembled are an advanced form of construction methodology.
Dubai-based BKG Modular Systems, a division of BK Gulf, is at the forefront of modular construction and the company claims it is the UAE's leading supplier dedicated to the off-site fabrication of MEP services.
BKG Modular Systems has been producing bespoke MEP services modules and modular wiring solutions for the UAE market, for clients such as Abu Dhabi New York University, Dubai Opera House, and The Dubai Mall.
Modular systems division manager at BK Gulf, Robbie Nelson, takes Construction Week on a guided tour of BKG Modular Systems' factory in Jebel Ali Industrial Area to show how the company is transforming the MEP market.
At the moment, we're producing 1,200-1,400 modules in a month – and that's just for our standard corridor riser modules.
"During peak times, we have about 350 people including fabricators, engineers, and administration staff in the facility," Nelson says. "Everything you see within our module has been developed from the consultant's design, through coordination and 3D modelling. We are producing exactly what is there in the detailed model. The whole factory is a controlled environment."
BK Gulf's Modular Systems Division was established in 2008. The 7,000m² factory can produce up to 1,800 modules per month.
"At the moment, we're producing 1,200-1,400 modules in a month – and that's just for our standard corridor riser modules. In addition to that, we have a 15,000m² galvanised iron ductwork [facility]. We also have modular wiring production, and have recently started the fabrication of pre-insulated ductwork."
All of the company's capabilities were demonstrated in the delivery of the Address Downtown Dubai's refurbishment project, which saw 1,035 multiservice modules manufactured and installed in 26 days, to complete 15 floors of the building. Nelson says that the demand has pushed the firm to boost its production capacity.
READ: How modular MEP systems can benefit Middle East construction
"We've increased our production substantially over the past four years. We've gone from producing about 5,000 modules in 2013 for a single project with a single contractor, to currently producing more than 12,000 modules for up to seven different projects simultaneously."
The factory has 10 production lines, which produce, assemble and check multiple modules at a time.
"We have preparation areas for plumbing systems, electrical containment, chilled water, and insulation. Since our fabrication drawings are produced from a 3D model, we provide individual detailed drawings and cutting lists to the preparation [teams]. These pre-prepared sections are then placed in the preparation racks for final assembly," he says.
People are looking for alternative methods for delivering projects and prefabrication is one of them.
The facility also has a modular wiring workshop. "Modular wiring is a plug-and-play installation for all lighting and small power circuitry downstream of the distribution board. We have wiring looms, which are pre-wired conduits, with male and female plugs attached.
"We take the traditional design for a project, pre-measure the wiring lengths, fabricate it to the exact length, and add the plugs. The cables are then referenced and tested. This will also include the final fix items, such as switch plates, sockets, and luminaires, which are all pre-wired with the corresponding plugs."
State of play
Nelson says the prefabrication market in the region is improving rapidly. "I think the market is partly driven by the complexity and competitiveness of the Middle East. The Middle East – and the UAE especially – is well known for iconic projects, but time constraints around such projects are tight. People are looking for alternative methods for delivering such projects and prefabrication is one of them.
READ: Modular construction can reduce waste on site
"There's a common misconception that prefabrication only fits a certain model that's repetitive, and that it has to be a square building. However, we find that in all sorts of projects – especially here in the UAE – the buildings have unique designs," he explains.
"In the past, we have executed projects such as Al Bahr Towers in Abu Dhabi, which are twin cylindrical towers, for which we prefabricated whole corridors."
Nelson continues: "For the Dubai Opera House, we modularised sections of MEP and installed them. So, we're able to bring the benefits of off-site manufacturing to any type of installation."
There's a common misconception that prefabrication only fits a certain model that's repetitive.
It is important to understand the extent to which an MEP module can be modularised, Nelson adds. He says that that the firm is "always trying to improve and extend the level of prefabrication in a project".
"Initially, we started with ductwork, pipework, and electrical containment modules," he explains. "That's grown over the past 10 years – now we've included modular wiring as part of our capabilities, and we are including fan coil units with valve packages and electrical connections.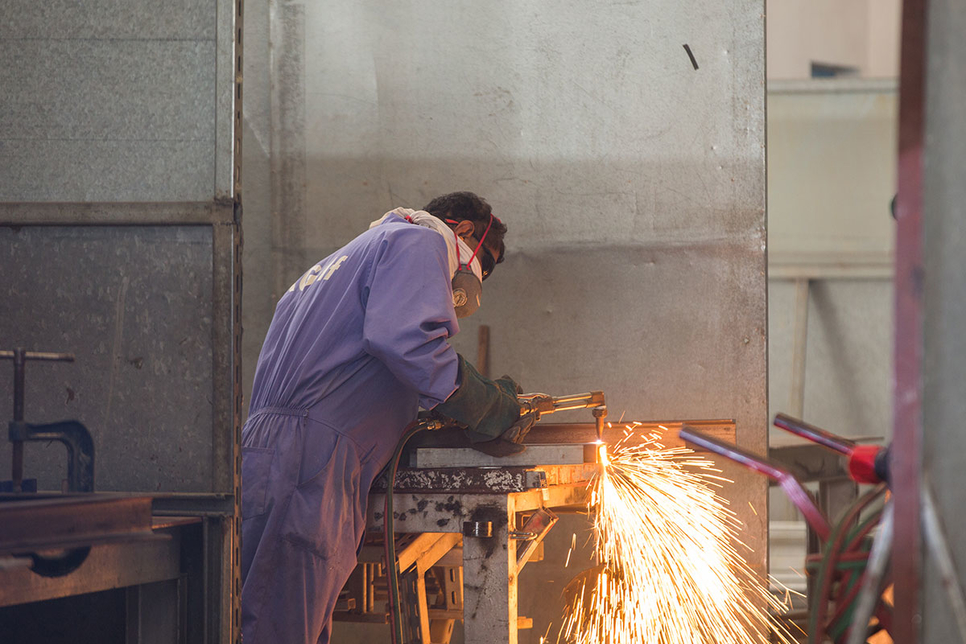 "We're looking to incorporate some parts of the building structure," he adds. "For example, the top of the heads of corridor walls will be part of the module. We hope to include different parts of the building structure as the modular system develops."
We are able to reduce the dependencies that he has on the main contractor.
The extent to which modularisation can be used on a project largely depends on the end client. "The clients are all aware of off-site manufacturing. They're aware of the benefits it brings to their projects," Nelson says.
"One of the things that I think we can bring with our experience is the level [to which modularisation] can be taken. The more we can incorporate it, the more benefits we can bring to the site from an off-site manufacturing point of view," he adds.
READ: McDermott says modular construction can benefit petrochemical plants
The key aims of any prefabricator or off-site manufacturer are to increase quality, efficiency, and productivity; to slash waste; and to improve health and safety. Nelson says prefabrication provides these benefits to the building industry.
"We provide benefits to both the MEP sector as well as the contractor. On the design side, we are adding a lot of details to the 3D model when it comes to manufacturing and installing any MEP services. We maintain their design – what is modelled and what is drawn is what is being produced.
"Typically, in a traditional build, you can end up doing something that wasn't intended by the designer. That can either compromise the performance of the system or increase the final maintenance [cost] for the client."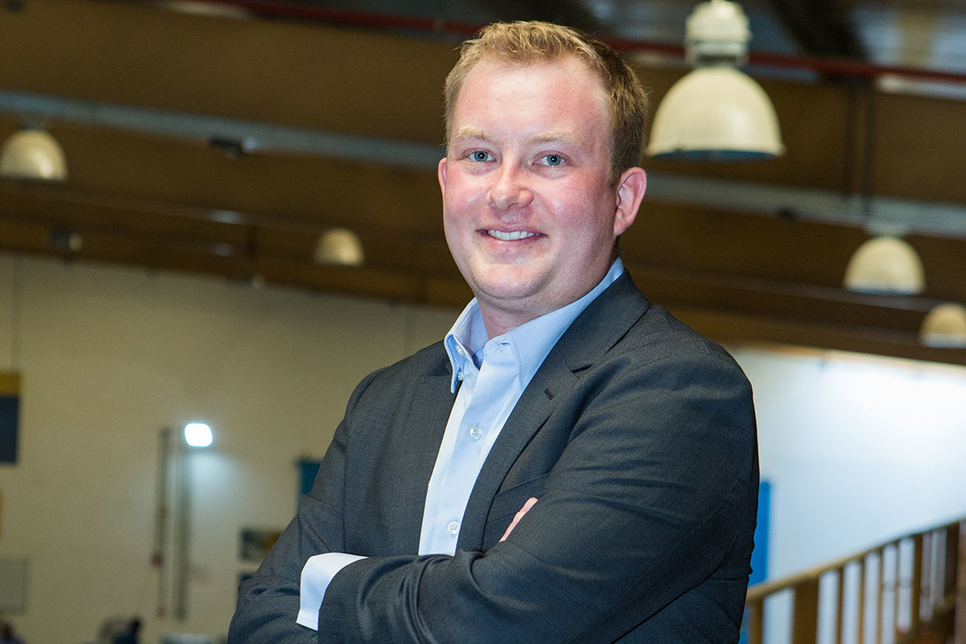 He continues: "We provide benefit to the [MEP] contractor in a much more straightforward way. We are able to reduce the dependencies that he has on the main contractor.
"When you're building traditionally, you're waiting for the walls to be built. We can produce corridors and risers, all before the structures are even built."
This parallel construction methodology allows the main building structure to be erected in tandem with the off-site fabrication of MEP services, reducing dependencies and potential delays.
When it comes to quality, BKG Modular Systems has a stringent process, according to Nelson. It has an in-house quality assurance department that monitors and reviews materials coming in, and the final product going out. There is a three-stage inspection for every module that is produced.
"Quality is at the heart of everything we do," Nelson says. "We ensure that in our production lines, we have the space available to produce full corridors so they can be seen, verified, and measured, both by us and by the client. This is done to ensure what we're giving to the end client is of the highest quality, and that the module will fit first time."
Nelson admits that, despite the advantages, one of the challenges of prefabrication is early engagement. "The earlier we can be engaged in a project, the more lead time we have for coordination, procurement, fabrication, and delivery. When we get involved at a later stage, there's a bit more catching up to do."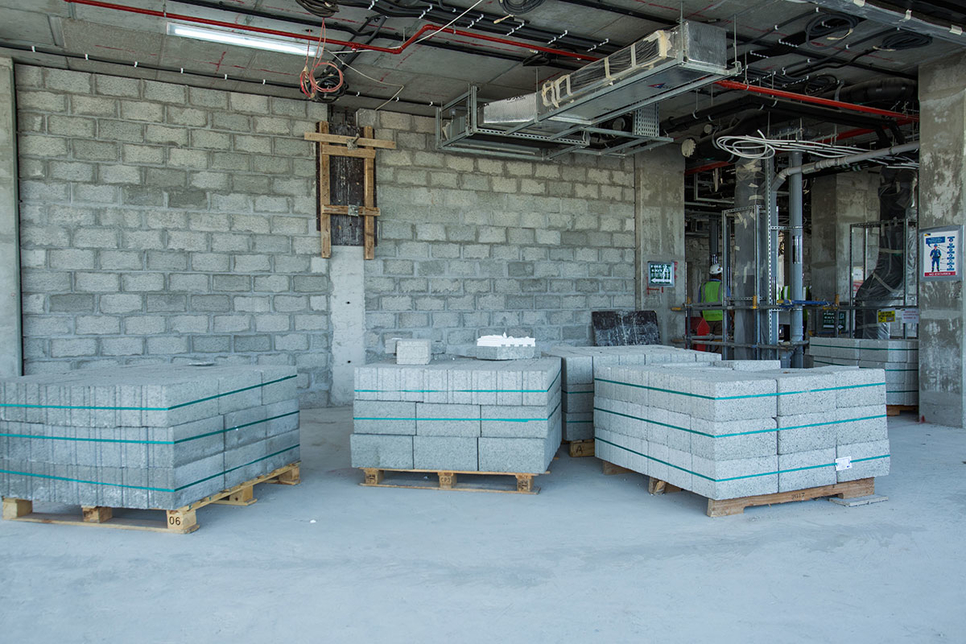 Logistics is another challenge. "Rather than shipping individual small components to a project, we're shipping huge modules that can sometimes weigh up to a couple of tonnes. Logistics is something we look at closely.
"With the experience we have in the team, we produce specific logistics plans for projects or clients, on how we're going to physically deliver the modules and how we are going to coordinate," says Nelson.
READ: Prefabrication to build world's largest sports mall
A growing number of MEP engineers in the region are aware of the prefabrication changes taking place, and for the past decade, BKG Modular Systems has worked with a range of clients, consultants, and engineers dealing with prefabrication.
"The positive thing I'm seeing now is that the people who have worked with us in the past are actually coming back to using prefabrication. They've seen the benefits that prefabrication has brought to their projects, and they've witnessed new ways to use it."