Smart Dubai taps Arup to explore happiness in built environment
MoU inked to study how built environment can contribute to community happiness in tech-driven smart cities
London-headquartered consultancy Arup entered an agreement with Smart Dubai in December 2018 to support the UAE emirate as it seeks a smart city transformation.
Smart Dubai and Arup's memorandum of understanding (MoU) was signed on 16 December, 2018, and paves the way for collaborated research into how the built environment can contribute to community happiness and wellbeing, particularly in light of a smart city model driven by technology. 
Smart Dubai has never regarded technology as an end in itself, but rather a means to make life easier and more enjoyable.
Arup has conducted "extensive research" into community satisfaction using its multidisciplinary city planning and design expertise, according to Dubai Media Office. The 20-week agreement comes in light of the UAE city's 'Happiness Agenda', which focuses on making Dubai the world's happiest city, and is overseen by Smart Dubai. Findings from this research will be publicised in 2019, officials have confirmed.
Phase 1 of the three-stage project will include a 'research blending and gap' analysis, as part of which Arup and Smart Dubai will collaborate on "evidence-based research". Arup's contribution will cover design, environmental, and social considerations, whilst Smart Dubai's inputs will highlight smart city experiences.
Stage 2, titled 'Happiness Framework for the Built Environment', will entail Arup and Smart Dubai hosting internal workshops to discuss the outcomes of Stage 1 and Dubai's happiness framework. At this stage, both organisations will also expand on the opportunities and benefits of "considering happiness through place, community, and city design", Dubai Media Office said.
In the final stage, Arup and Smart Dubai will develop 'Happiness Assessment Tool Options', which refers to "implementable options of innovative tools that assess happiness in the built environment". These concepts will be shortlisted based on varying criteria, after which a Swot analysis – exploring the strengths, weaknesses, opportunities, and threats of each option – will be used to "create the optimal Happiness Assessment Tool", Dubai Media Office reported.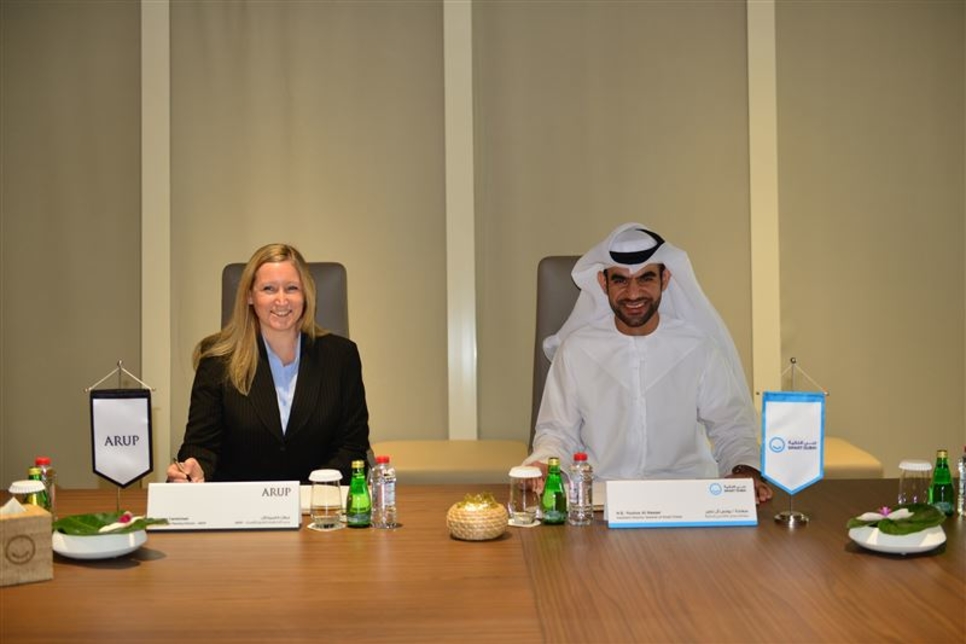 Commenting on the MoU, Smart Dubai's director general, Her Excellency Dr Aisha Bin Butti Bin Bishr, said the agreement reiterated the emirate's ambition to become "a world leader in smart cities" and related advanced technologies – and much more. 
"While we are indeed on a mission to transform Dubai into a world leader in smart cities and advanced technologies, Smart Dubai has never regarded technology as an end in itself, but rather a means to make life easier and more enjoyable for the citizens, residents, and visitors of the emirate, and to spread happiness among them.
"Smart Dubai is the entity officially entrusted with overseeing the Happiness Agenda, which is a ground-breaking, science-based approach that measures the happiness of individuals in the city and builds on that to design and implement initiatives that serve people and make them happier. We have already launched several successful initiatives that have raised the city's score on the Happiness Index to 90% in 2016. We are now aiming for an ambitious 95% by 2021."
Arup's Middle East planning leader, Joanne Carmichael, said the agreement with Smart Dubai "builds upon an extensive amount of research Arup has already done in this field". 
She continued: "The collaboration between both entities will bring in their complementary expertise to focus on answering a key question for the emirate and push forward the Happiness Agenda, which promises to be useful for everyone working in the built environment."