Global mining giants pick autonomous trucks to cut costs
Autonomous truck-makers in the spotlight as costs mount and efficiencies decline for mining companies around the world
Global mining companies are adopting unmanned vehicle fleets to increase safety and boost efficiency while moving large quantities of materials. In November 2018, the Komatsu Front Runner autonomous haulage system (AHS), which allows the unmanned operation of ultra-class mining trucks, achieved a milestone: moving more than two billion tonnes of surface material in the copper, iron ore, and oil sands industries.
Since its first commercial deployment in 2008 at Codelco's Gabriela Mistral copper mine in Chile and at Rio Tinto's iron ore mine in Australia, the Komatsu AHS has experienced exponential growth in cumulative production, breaking the one billion-tonne mark in 2016 and the 1.5 billion-tonne mark in late 2017. This was accomplished with more than 130 autonomous trucks in operation to date.
At present, the Front Runner AHS operates around the clock, hauling copper, iron, and oil sands at seven sites on three continents. An additional 150 trucks will be deployed to the Canadian oil sands over the next seven years.
Also in November last year, Caterpillar reported that its mining trucks fitted with the Cat Command system had reached the one billion-tonne haulage milestone. Trucks equipped with Cat Command respond to shovel calls, move into position, haul materials to dump points, and report for maintenance, all without an operator on board.
Caterpillar deployed its first six commercial autonomous trucks in 2013, and its fleet has now grown to more than 150, with six different mining companies in Australia, South America, and North America using the vehicles. The current Cat autonomous truck fleet comprises Cat 793F, Cat 797F, and Cat 789D, with respective payloads of 227t, 363t, and 181t.
Commenting on the milestone, product manager at Caterpillar Mining Technology, Sean McGinnis, said: "In the process of hauling one billion tonnes, the autonomous trucks travelled nearly 35 million kilometres, with no lost-time injuries attributed to Cat autonomous haulage. Hauling commands have demonstrated how safety can be enhanced by eliminating truck operating errors and by reducing the number of people working in the active mining area."
Mining companies worldwide – particularly those in Chile, Australia, and Canada – are making the transition from manned to unmanned truck fleets. Autonomous haul trucks are operated by a supervisory system and a central controller instead of a driver. They use pre-defined GPS courses to navigate haul roads and intersections, and to determine the locations, speeds, and directions of other vehicles. Implementing autonomous haulage means more material can be moved efficiently and safely, creating a direct increase in productivity.
UK-based metals and mining corporation Rio Tinto is the world's largest owner and operator of AHS trucks, and has long been a proponent of using automation in the mining industry. At the beginning of 2018, Rio Tinto's fleet of autonomous haul trucks achieved the milestone of moving one billion tonnes of material at its iron ore mine in Australia.
Mining sites, given their high vehicle utilisation rates, are ideal for testing new autonomous technology. The industry can reap the safety and productivity benefits of automation.
On average, each autonomous truck at Rio Tinto's mine was estimated to have operated for 700 hours longer than conventional haul trucks during 2017, with 15% cuts in load and haul costs. No injuries have been caused by the automated haul trucks since their deployment. As a result, the pace of automation across Rio Tinto's iron ore business is accelerating, and the company plans to increase its autonomous truck fleet from its current 80 units to more than 140 by the end of 2019.
Last year, Rio Tinto also deployed the first automated, heavy-haul, long-distance rail network in the world. The $940m Auto Haul programme is focused on automating trains transporting iron ore to Rio Tinto's port facilities in the Pilbara region of Western Australia. The average return distance of these trains is 800km, with the average journey cycle, including loading and dumping, taking 40 hours. Locomotives fitted with Auto Haul software feature on-board cameras that allow constant monitoring from the company's operations centre. All public rail crossings on the network are also fitted with CCTV cameras.
Brazil-based metals and mining company Vale plans to operate its Brucutu mine exclusively with autonomous trucks in 2019. During six years of research and testing, seven trucks were used to transport iron ore from the mining front to the processing plant, alongside six other traditionally operated vehicles. Based on the data it has collected, Vale expects to increase its equipment lifespan by about 15% and reduce fuel consumption and maintenance costs by 10%.
LOOKING TO THE FUTURE
Rio Tinto is exploring the use of smaller trucks for more flexibility in operations. The company is testing an autonomous transport system developed by Scania at its Dampier Salt operations in Western Australia. The first phase of the trial started in August 2018 and involves a Scania XT 8x4 autonomous tipper truck working separately from Dampier's active operations.
During this initial stage, a safety driver rides in the vehicle to observe the truck's performance and, if necessary, intervenes. In subsequent phases, additional autonomous Scania trucks will be added to develop vehicle-to-vehicle awareness and intelligent fleet supervisory controls.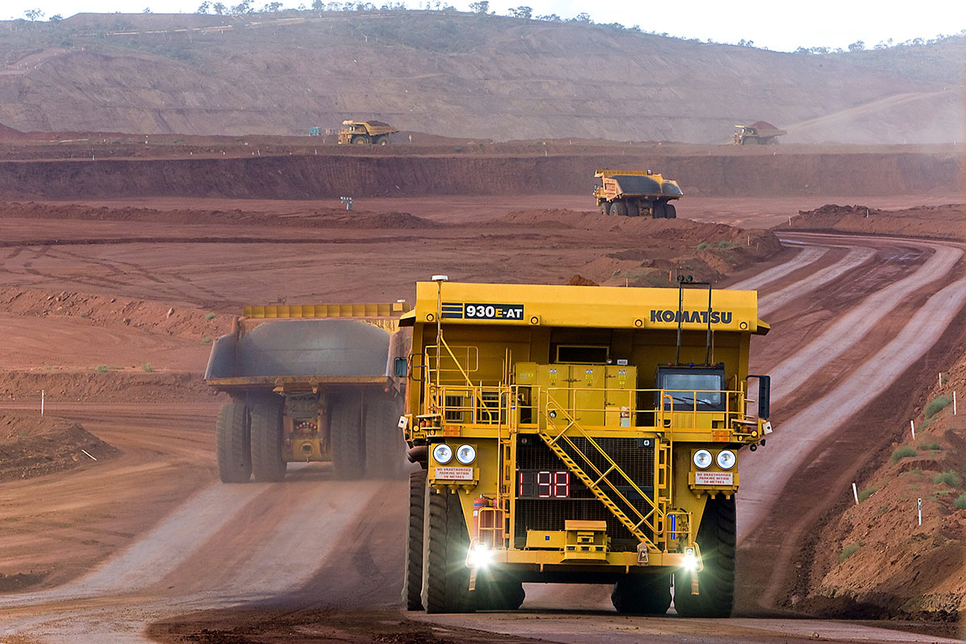 Head of productivity and technical support at Rio Tinto, Rob Atkinson, said: "We have seen automation create safer and more efficient operations in our business and this is a next step in evaluating options for delivering further improvements through the use of technology. We are trialling this technology in trucks that are smaller than our traditional haul trucks. This has the potential to give us more flexibility in the way we operate in a number of areas across Rio Tinto."
READ: Emaar, Dubai's RTA to carry out study on self-driving vehicles
Head of Scania Mining, Björn Winblad, added: "Mining sites, given their high vehicle utilisation rates, are ideal for testing new autonomous technology. The industry can reap the safety and productivity benefits of automation, and the experience gained here will be instrumental in developing fully autonomous solutions for other transport applications. It is very encouraging to note that the truck has been performing in a safe manner and in accordance with expectations with regards to the operations."
The benefits of autonomous trucks can be enhanced by using wireless networks with high-availability, seamless mobility, world-class quality of service, and the ability to support multiple applications and services simultaneously. As a result, the industry is now moving away from less predictable wireless technologies and towards private, long-term evolution (LTE) networks that offer improved security, greater capacity, and better overall performance within a multi-application environment.
PLAYING A SUPPORTING ROLE
Komatsu's Front Runner AHS was recently qualified to operate on private LTE mobile broadband technology. This is the mining industry's first AHS enabled to run on private LTE in commercial operations.
The firm completed a year-long qualification programme at its proving grounds in Tucson, Arizona, testing the Front Runner AHS on Nokia's Future X infrastructure.
Komatsu's global officer and president and chief executive officer of modular mining systems, Luiz Steinberg, said: "This industry milestone represents a key step in Komatsu's exploration of private LTE. We are firmly on our way to helping the industry move the next billion tonnes of material with autonomous technology. We have come together with Nokia to further this vision of delivering increased value to the mining industry."
Commenting on the Komatsu operation, president of Nokia Enterprise, Kathrin Buvac, added: "Private LTE is a key element in the Nokia Bell Labs Future X architecture to help industries such as mining create an intelligent, dynamic, high-performance network that increases the safety, productivity, and efficiency of their business. [By] engaging the mining automation market with Komatsu, [we aim] to further highlight the benefits of Future X for mining companies as a strategic advantage in their operations."
READ: China's Iconiq Motors to test autonomous vehicle prototype in UAE
The 10-year safety and productivity record of the Front Runner AHS in various mining environments has also driven Komatsu to accelerate the pace of its AHS deployment. The company is now working with industry stakeholders towards the standardisation of interoperability between Komatsu and other autonomous vehicles.
Elsewhere, Norway-based mining company Brønnøy Kalk AS is testing Volvo autonomous trucks to transport limestone from an open pit mine to a nearby port. The hub-to-hub concept for Brønnøy Kalk consists of limestone being transported by six autonomous Volvo FH trucks on a 5km stretch through tunnels between the mine itself and the crusher.
Going autonomous will greatly increase our competitiveness in a tough market.
The testing of this process was carried out during 2018, and it is expected to become fully operational by the end of this year.
The agreement involves Brønnøy Kalk investing in a total transport service and paying for every tonne delivered. The autonomous Volvo FH trucks are managed by the operator of a wheel loader.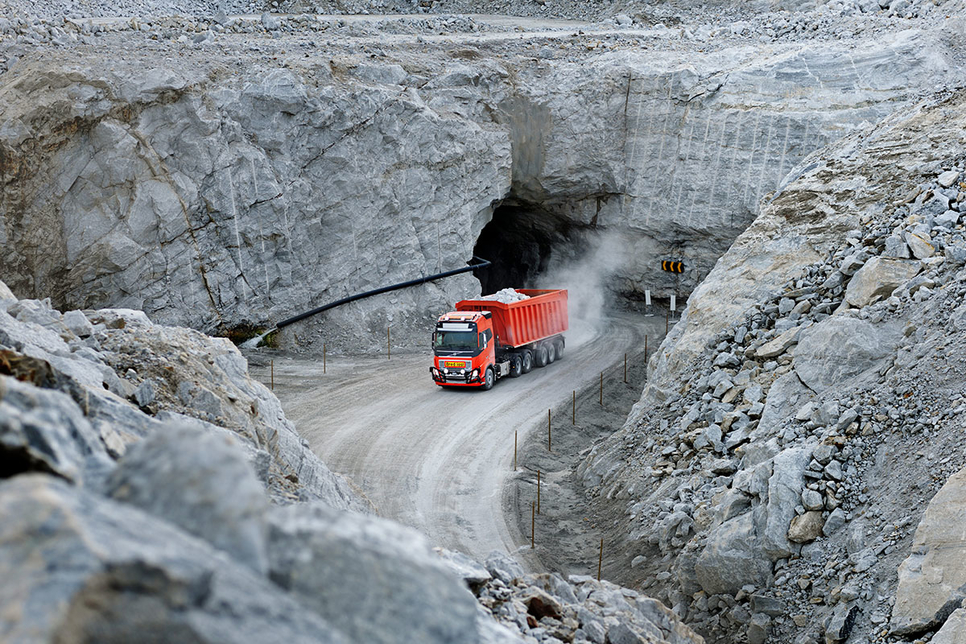 Managing director of Brønnøy Kalk, Raymond Langfjord, said: "Going autonomous will greatly increase our competitiveness in a tough market. We are continuously looking to increase our efficiency and productivity long-term, and we have a clear vision of taking advantage of new opportunities in technology and digital systems."
The director of autonomous solutions at Volvo Trucks, Sasko Cuklev, added: "By working in a confined area on a predetermined route, we can find out how to get the best out of the solution and tailor it according to specific customer needs. This is all about collaborating to develop new solutions, providing greater flexibility and efficiency as well as increased productivity."