Inside Amazon's largest global campus in Telangana, India
PICTURES: Details revealed of new campus in Hyderabad that required 18 million man-hours and has 290 conference rooms
American e-commerce company Amazon, led by the world's richest man, Jeff Bezos, has opened the first campus building that it fully owns outside the US – as well as its largest facility – in Telangana, India's 11th largest state that was formed in June 2014 with Hyderabad as its capital.
The only Amazon-owned campus outside the US, which will house 15,000 employees – nearly one-fourth of Amazon's 62,000-strong workforce in India – was inaugurated by Telangana's Minister of Home, Prisons, and Fire Services, Mohammed Mahmood Ali.
With a construction area of 27.8ha, the Amazon building has been designed in line with its "exacting" global standards.
Amazon's new campus in Hyderabad includes 86m-tall buildings that can be accessed by 49 high-rise elevators that "can move at the speed of one floor per second".
The complex includes a helipad; destination control systems to manage elevators that "can move 972 people simultaneously"; 290 conference rooms; an all-day cafeteria; showers; prayer rooms; and quiet rooms.
In a statement, Amazon said its new India building contains more than 2.5 times the steel used by Eiffel Tower, measured by weight; includes 110km of fire protection conduit; and has one conference room seat for every 3.25 workstations, which the firm said was "higher than the global ratio of 1:5".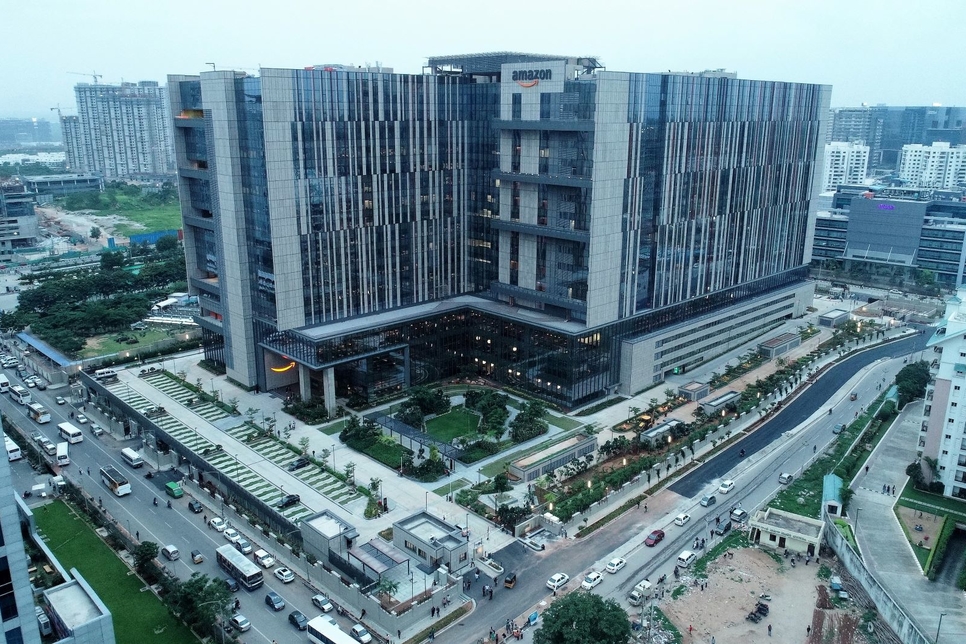 Amazon laid the foundation stone for the campus on 30 March, 2016, the company said in a statement. 
Around 2,000 workers were on site every day for 39 months to build the complex, which required 18 million man-hours to complete.
The new complex in Hyderabad features 300 trees across its grounds, with three specimen trees more than 200 years old, with an 850,000-litre water recycling plant also part of the campus.
Commenting on the launch, Amazon's vice president of global real estate and facilities, John Schoettler, said: "The infrastructure has been designed as per Amazon's exacting standards, to foster inclusion and a sense of belonging among all Amazonians, including colleagues with special needs.
"Comfortable and flexible workspaces encourage creativity, productivity, and collaboration, which are key tenets of Amazon's work culture.
"This is Day One for us in India, and we look forward to creating an environment where diverse contributions are welcomed and innovation encouraged for the long term."