VIDEO: Khansaheb on truss-lifting for Viva City's Sport Society
UAE contractor reveals the crane operations that were deployed to lift the 170-ton truss for the Dubai project's roof
Details have been revealed of the truss-lifting operation carried out by UAE construction contractor Khansaheb to form the main roof of Viva City's Sport Society – planned as the world's largest sports mall when it launches in Q1 2020 – in Dubai's Mirdif neighbourhood.
In a video shared by the contractor on its LinkedIn page, Khansaheb Civil Engineering's contracts manager, Darren Cook, explains how the truss-lifting operation was implemented in summer 2019.
"We placed an order with our subcontractor, Galadari Steel, in October of last year, and we really have been planning this lift since that time," he says.
"Since the turn of [2019], we've been getting in-depth with the complexity of the lift."
Cook explains that since the start of 2019, Khansaheb was engaged with activities such as selecting the right crane for the project, implementing lift plans, and carrying out risk assessments.
"We selected a 1,250 ton (t) Terex crawler crane, which is complete with 450 t of counter-balance, and is one of the largest cranes in the UAE," he adds.
Trusses for the lift were manufactured at Galadari Steel's facility in Dubai, and brought to site in three sections, before being assembled, welded, and prepared for the lift.
"We consider this to be a complex lift [due to] the size of the truss – it's 43m long and weighs about 170 t," Cook explains.
The crane worked at a radius of 58m for the project. The first truss was placed on Gridline 19, with the crawler crane holding it place.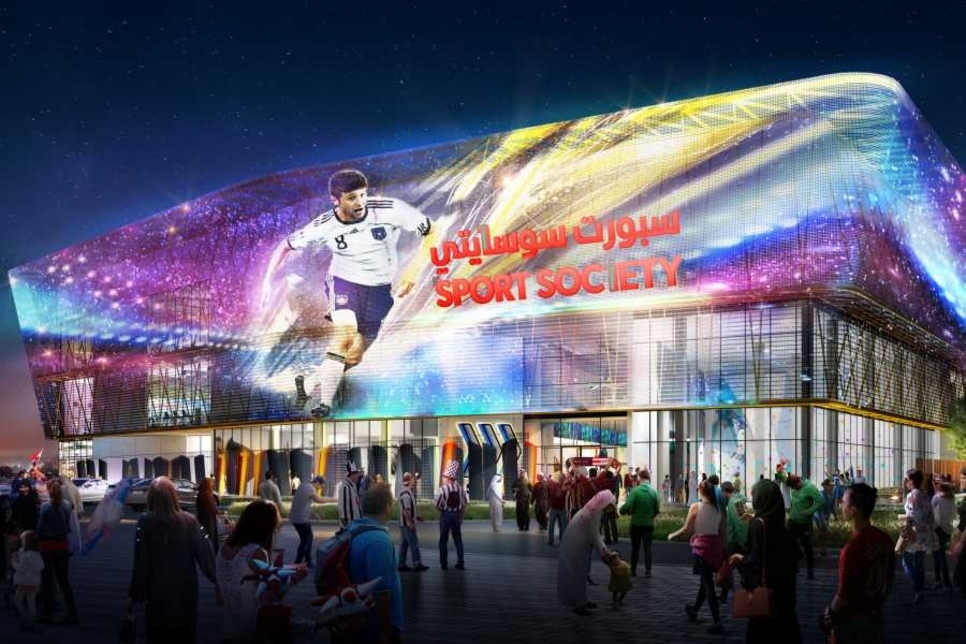 The next truss was placed on Gridline 18 using a 600 t crawler crane positioned north of the site, and two smaller cranes followed to brace the trusses together, Cook explains.
Sport Society's construction team includes, alongside Khansaheb and Viva City, DLR Group as design consultant; John R Harrison & Partners (JRHP) as lead consultant; and Guardian Management and Development Consultants as development consultant and client representative.