Construction begins on Expo 2020 Dubai's 6,000m2 Spain Pavilion
Ground has been broken on the structure that will feature reusable materials such as wood, iron, and fabric
Construction work has started on Expo 2020 Dubai's Spain Pavilion — located in the World Expo's Sustainability District — with ground broken on the Amann Cánovas Maruri-designed structure by Secretary of State for Foreign Affairs at Spain's Ministry of Foreign Affairs, Fernando Valenzuela; executive director of Expo 2020 Bureau, Najeeb Mohammed Al-Ali; and Spanish Ambassdor to the UAE, Antonio Álvarez Barthe.
Spanning 6,000m2, Spain's pavilion will be built with reusable materials including wood, iron, and fabric.
Madrid-based Acción Cultural Española (AC/E), which is working with various Spanish authorities for the country's Expo 2020 Dubai presence, said in a tweet that the foundation stone had been placed for the national pavilion.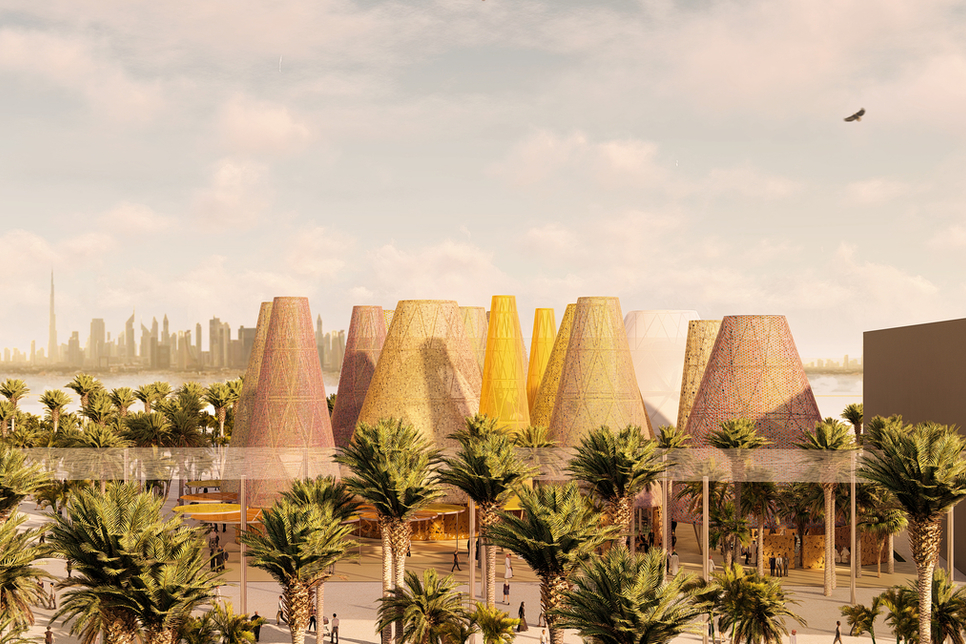 Carmen Bueno, directora del Pabellón de España en la @expo2020dubai agradece la presencia de Fernando Valenzuela, secretario de Estado de Asuntos Exteriores @seaexvalenzuela, Antonio Álvarez Barthe, el embajador de @embespeaus en la ceremonia de #GroundBreaking #ExpoSpain2020 pic.twitter.com/SbEpUAR9UE

— Expo Spain 2020 (@ExpoSpain2020) September 18, 2019
On its official Twitter handle, Expo 2020 Spain's team quoted director of the pavilion, Carmen Bueno, as saying: "The pavilion has a design consistent with its message 'Intelligence for Life'. It has been designed to be sustainable and totally or partially reusable once Expo 2020 Dubai is finished."
¡Ya hemos colocado la primera piedra del Pabellón de España en @ExpoDubai! Representantes de la @EmbEspEAU y @ACEcultura han dado inicio a la construcción del edificio. https://t.co/6K22eFivU3

— Acción Cultural AC/E (@ACEcultura) September 18, 2019
The pavilion has been designed featuring conical shapes to provide increased air flow during the six-month World Expo, which will run from 20 October 2020 to 10 April 2021.