Work begins on Expo 2020 Dubai's Enoc Pavilion, to complete in July'20
Dubai-based contracting heavyweight ALEC, UK's Cundall, Ontario's SRP, and Jack Morton will work on the pavilion
Government of Dubai-owned energy giant, Enoc Group, which is the Official Integrated Energy Partner of Expo 2020 Dubai, has commenced construction work on its future-focused pavilion at the World Expo's site, with ground being broken on the five-building structure.
Located near the UAE's falcon-shaped pavilion, between Sustainability and Opportunity Districts, construction work on Enoc Pavilion is scheduled for completion in July 2020.
The ground breaking ceremony was officiated by group chief executive officer of Enoc, HE Saif Humaid Al Falasi, in the presence of executive director of Expo 2020 Dubai, Najeeb Mohammed Al-Ali.
Dubai-based contracting heavyweight ALEC has been picked as the general contractor for the pavilion, with UK-headquartered Cundall being the engineering consultant. Ontario-based SRP is the executive architect for the pavilion, which has Jack Morton as lead designer and project management consultant.
The pavilion is being built under the theme 'Reimagine Energy', and has been divided into five district pavilion structures or houses that are inspired by traditional oil storage tanks.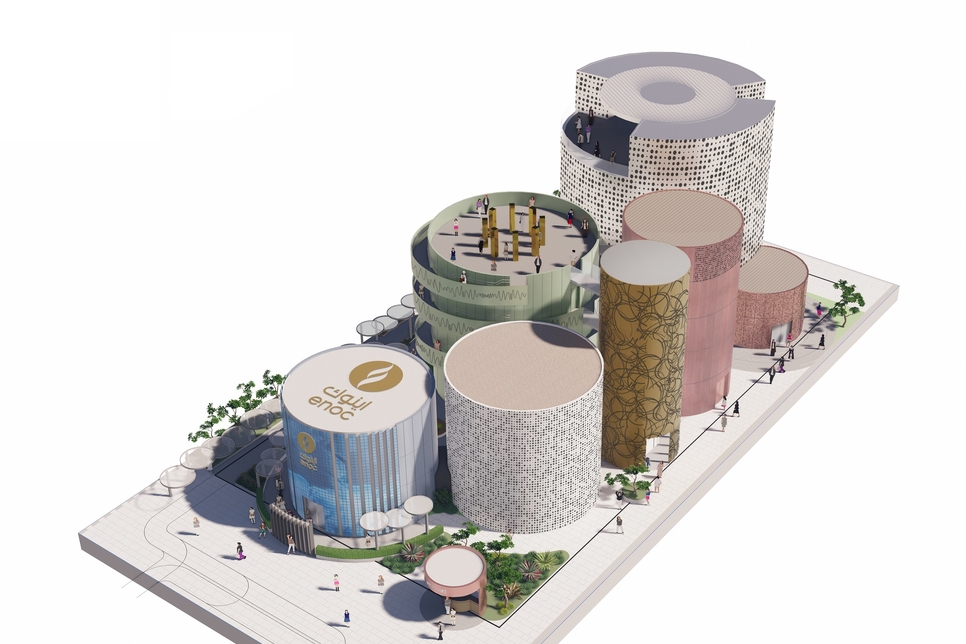 According to Enoc, the pavilion will be built on steel foundations — using 650 tonnes of steel — which will help reduce the use of concrete, thereby reduce excavation works and create less environmental impact during construction and legacy period.
Steel structures will be clad with light-weight and recyclable curved aluminium sheets featuring raw uncoated and powder-coated smooth and perforated finishes.
Once completed and ready for the six-month long event, the pavilion will offer juxtaposition, audio-visual narratives, and interactive projections.
Speaking at the ceremony, Al Falasi, said: "'Reimagine Energy', as a theme, will guide all of Enoc's activity at Expo 2020, including environmental design and build.
"Across every touchpoint, we will focus on using sustainable materials and leverage advanced technologies that reduce our ecological footprint. We are partnering with world-class experts to ensure our pavilion gives visitors an unforgettable experience and we will make sure this is done with sustainable design considerations in mind."
Meanwhile, Al-Ali said: "Enoc, through its pavilion, will help them understand how the business of energy affects us all. With new insights into the opportunities open to us, we're looking forward to sharing with the world how collaboration can shape the future of sustainable energy."