Site Visit: $4bn Sobha Hartland located "at the heart" of Dubai
EXCLUSIVE: Managing director and CEO of Sobha Realty, Francis Alfred, sheds light on the firm's backward integrated model
Located within the master-planned mixed-use community Mohammed Bin Rashid City, along the 3.2km Dubai Water Canal, is Dubai-based real estate developer, Sobha Group's 74.3ha, $4bn (AED14.7bn) Sobha Hartland, which is the group's flagship project in the Middle East.
"In real estate, location is the one thing that matters. Sobha Hartland is the most centrally located large piece of development in the heart of the city", managing director and chief executive officer of Sobha Realty, Francis Alfred tells Construction Week, during an exclusive site visit to Phase 2 and 3 of Hartland Greens, and Phase 1 of Hartland Estates Forest Villas within the master community.
Sobha Group was founded in 1976 as an interior decoration firm in Oman by Indian-born real estate baron PNC Menon, who celebrated his birthday the same day Construction Week toured the Hartland development.
The group delivered the 160-unit Phase 1 of Hartland Greens at the end of 2018. Phase 1 comprises buildings one and four, with ground plus eight floors. Units within each floor range from 12 to 18. Phase 2 of the project includes buildings two and three, followed by Phase 3, which comprises buildings five and six, with both the phases featuring ground plus 12 floors.
According to Alfred, Phase 2 and 3 of Hartland Greens include 360 and 125 units, respectively. He says, Phase 2 is scheduled for handover in December 2019. Construction work on Phase 2 is completed, and finishing works are currently underway.
Currently, Sobha Group employs 4,000 workers across its Hartland development, who have recorded 27 million lost-time injury-free hours at the master community.
Sobha has deployed a backward integrated model for the Hartland development, which means the group has large control on the time and quality of the project, according to Alfred. He says that this project model was successful in India, where Sobha Limited is listed on the Bombay Stock Exchange (BSE). Headquartered in Bengaluru, Karnataka, Sobha Limited is headed by Menon's son, Ravi PNC Menon.
Alfred tells Construction Week: "It is uncommon that a real estate developer also does construction."
He says: "When you depend on contractors or external agencies, you are bound by their efficiency or inefficiency, therefore you do not have full control of the process."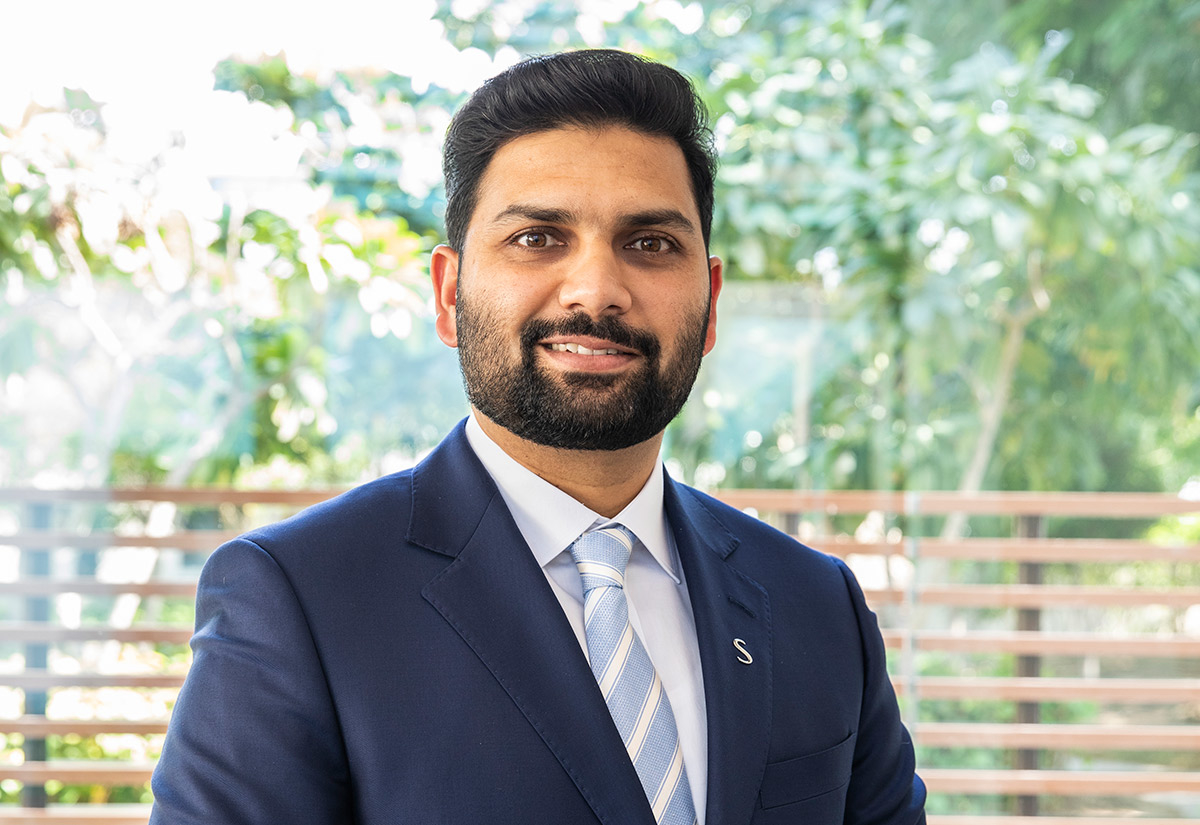 Hartland is designed by the team of architects and designers at PNC Architects, who are also acting as the main and mechanical, electrical, and plumbing (MEP) consultant. Sobha Constructions is appointed as the main contractor for the master development, while MEP works is being delivered by Sobha MEP. Sobha Façades is the glasing contractor for the project, which is managed by Sobha Realty's project management department.
Site offices throughout Hartland's construction site are modular buildings, which are supplied by Fabtech. Meanwhile, a total of six potain tower cranes are erected at the master community's construction site.
Construction and building materials are supplied by various suppliers for the development. Puremix Ready Mix has supplied concrete; Saint-Gobain is supplying glass; Sobha Joinery is providing joinery for the units. Additionally, RAK Ceramics is supplying tiles.
Germany's Caparol is taking care of the exterior insulation and finish systems (EFIS). The company is also supplying paint, alongside India's Berger Paints. Steel is supplied by Abu Dhabi-based Emirates Steel, while MEP systems — particularly air conditioning units — is supplied by Japan's Daikin.
According to Alfred, the developer is putting "a lot of effort in designing the façades of the buildings" to ensure that noise caused by the on-going construction activities does not disturb tenants, who moved to Phase 1 of Hartland Greens at the end of 2018 and beginning of 2019.
He tells Construction Week that the company meets with the limit for construction related noises set by the government, adding that "when you are inside the apartments it becomes really quite".
Green element is one of the major aspects of community developments in Dubai, and Sobha follows this across the Hartland development. 30% of the 74.3ha master plan is enveloped in green spaces. Alfred says, the company has laid a target to plant 8,000 trees across Sobha Hartland.
Talking about the use of technology within Sobha Hartland, Alfred says: "Technology is an integration of design, construction, maintenance, and post-construction. Customer is in the forefront of all our innovation and technologies."
Overall infrastructure work across Sobha Hartland is 90% complete, and activities to be carried out in the next three to six months include construction and landscaping of Hartland Greens Phase 3. Handover of Phase 3 is scheduled for Q1 2020. 
Construction Week also toured the Hartland Estate Forest Villas, 48 units of which have been delivered. The developer plans to deliver Hartland Estates Phase 2 comprising Gardenia Villas in Q1 2020.
In January 2019, Sobha Group launched Tower A of Creek Vistas, while Tower B was launched in March. Alfred says, Tower A was sold out shortly after the launch.
Launched in June 2019, Hartland's 403-unit One Park Avenue is planned to be delivered in Q2 2022.
In November, the developer posted $435m (AED1.6bn) in sales revenue from Sobha Hartland. Alfred tells Construction Week that the company is close to reaching its target of $2bn (AED7.3bn).
According to Alfred, Chinese investments have reached 35% at Sobha Hartland, making them the top investors in the project.
He says that the investment capacity of Chinese investors is "quite high" and they look for the right quality brands, adding that the developer ensures "right quality is delivered".
Referring to Sobha Hartland as "a large-scale development", Alfred says that the company does not develop "standalone buildings". He says: "Sobha Hartland is one of Sobha's big achievements."