Abu Dhabi Ports reveals $1.08bn expansion projects at Khalifa Port
Phase 1 of the South Quay expansion to complete by Q4 2020; Phase 2 of the Khalifa Logistics project will finish in Q1 2021
Abu Dhabi Ports, which is celebrating its seventh anniversary of operations, has announced a further $1.08bn expansion on its flagship Khalifa Port, including the $600m (AED2.2bn) development of the South Quay and Khalifa Port Logistics, as well as the $436m (AED1.6bn) expansion at Abu Dhabi Terminals.
The South Quay development will comprise a 3km quay-wall with 18.5m along-side draft for general cargo, roll-on/roll-off, and bulk usage. It will also include eight berths, and 1.3km2 of terminal yard.
Meanwhile, the Khalifa Logistics expansion, for multi-purpose usage, will encompass a 3.1km quay wall with 8m draft, as well as 15 berths and land plots, which can be tailored to individual customers.
Phase 1 of the South Quay expansion is due to be completed by Q4 2020, while Phase 2 of the Khalifa Logistics expansion will be completed by Q1 2021.
The two expansion projects are projected to create more than 2,800 direct and indirect jobs, and contribute more than $871.2m (AED3.2bn) to the UAE capital's GDP by 2025.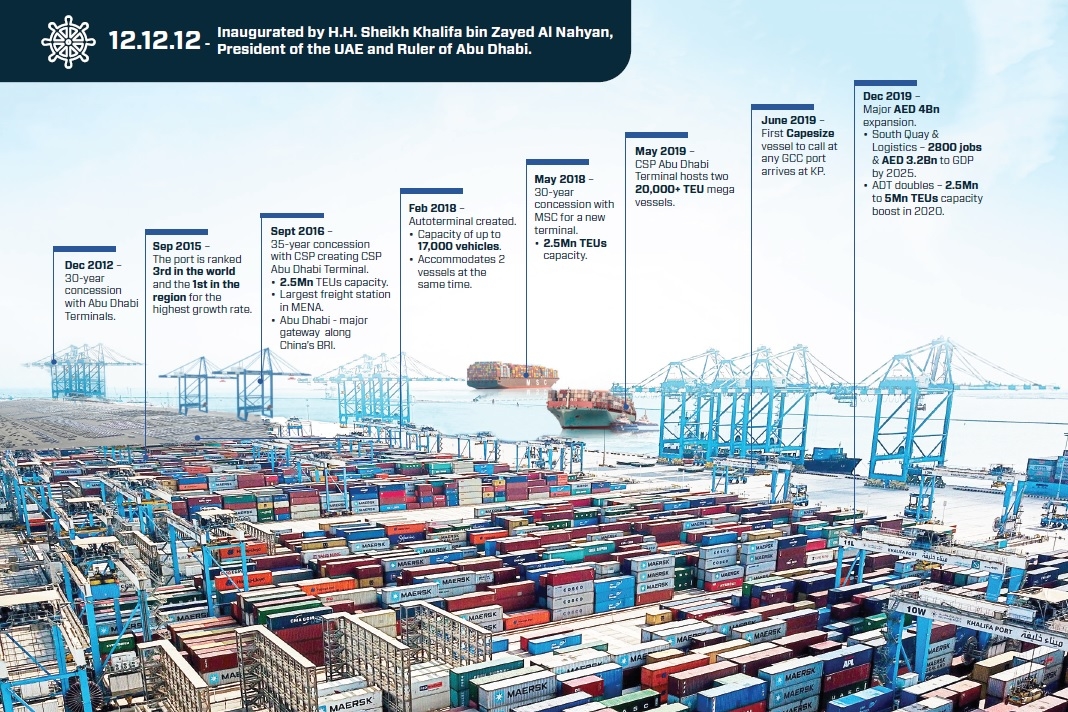 In addition, the expansion at ADT will include an extension of the quay from 1,400m to 2,265m and an addition of 10 new ship-to-shore quay cranes — effectively doubling ADT's handling capacity from 2.5 million TEUs to 5 million TEUs.
With the capacity expansion project in place, Khalifa Port will also witness its container handling capacity jump from the current 5 million TEUs to 7.5 million TEUs, which moves it towards its target of 9 million TEUs over the next five years.
Furthermore, within a single year, CSP Abu Dhabi Terminal has shifted from its trial operation phase to being fully operational commercially.
The deep-water, semi-automated container terminal includes the largest container freight station in the Middle East. It also positions Abu Dhabi as the regional base for COSCO's global network of 37 ports.
Commenting on the slew of announcements, group chief executive officer of Abu Dhabi Port, Capt. Mohamed Juma Al Shamisi, said: "Through strategic collaboration with partners and top industry players, such as ADT, MSC, China's CSP, and Autoterminal Barcelona, Khalifa Port is developing in a sustainable manner and has become one of the fastest growing ports in the world."
Al Shamisi added: "Khalifa Port continues to expand and innovate to meet the diverse needs of our business partners, while driving forward the UAE's economy and its strategic partnership with China, its largest non-oil trading partner. Khalifa Port is not only a global maritime hub but also an important contributor to the connectivity of China's Belt and Road Initiative (BRI)."
Sharing his thoughts on the Abu Dhabi Ports' seventh anniversary, the chief executive officer of Abu Dhabi Terminals (ADT) Ahmed Al Mutawa, said: "With ADT and its customers and stakeholders being the major growth drivers at Khalifa Port since its establishment seven years ago, we remain the strongest supporters of Abu Dhabi Ports' vision for further expanding the port's position as the preferred and the most technologically advanced trade and logistics hub in the region and beyond."
Al Mutawa added: "ADT will continue to make significant investments in infrastructure and the implementation of the latest technological innovations to continuously enhance our value offering to our customers and stakeholders."