VIDEO: RTA, UK's Beemcar to develop sky pods project in Dubai
RTA says sky pods occupy less land area for their operations, lesser than conventional means of the same capacity
Dubai's Roads and Transport Authority (RTA) has signed an agreement with BeemCar Ltd, touted as one of the largest developers of sky pods in the world, to develop sky pods in Dubai, in a move to step up the development of futuristic mobility solutions in the emirate through suspended transport technology.
The agreement was inked between, CEO of Rail Agency, Abdul Mohsen Ibrahim — for RTA — and CEO of BeemCar Ltd, Robin Brownsell, in the presence of the director-general and chairman of the board of executive directors of RTA, HE Mattar Mohammed Al Tayer, and HE Chris Heaton-Harris, Minister of State at UK's Department for Transport.
.@rta_dubai signs an agreement with BeemCar Ltd; one of the biggest developers of sky pods in the world. According to the agreement, the company will develop sky pods; a futuristic urban mobility system in Dubai, characterized by speed, safety & the efficient use of resources. pic.twitter.com/f6KABHdWHy

— Dubai Media Office (@DXBMediaOffice) February 26, 2020
Under the agreement, Beemcar will develop sky pods that are known for their speed, safety, and efficient use of resources. RTA said that sky pods occupy less land area for their operations, which is multiple times less than conventional means of the same capacity.
Sky pods are power-efficient, small-sized, light-weight units that are mounted with steel wheels, which run on suspended rails.
Speaking about the agreement, Al Tayer said: "The signing of the agreement is part of RTA's efforts to deploy autonomous transit means in line with the Dubai Self-Driving Transport Strategy aimed at diverting 25% of total mobility journeys in Dubai to autonomous transit means by 2030.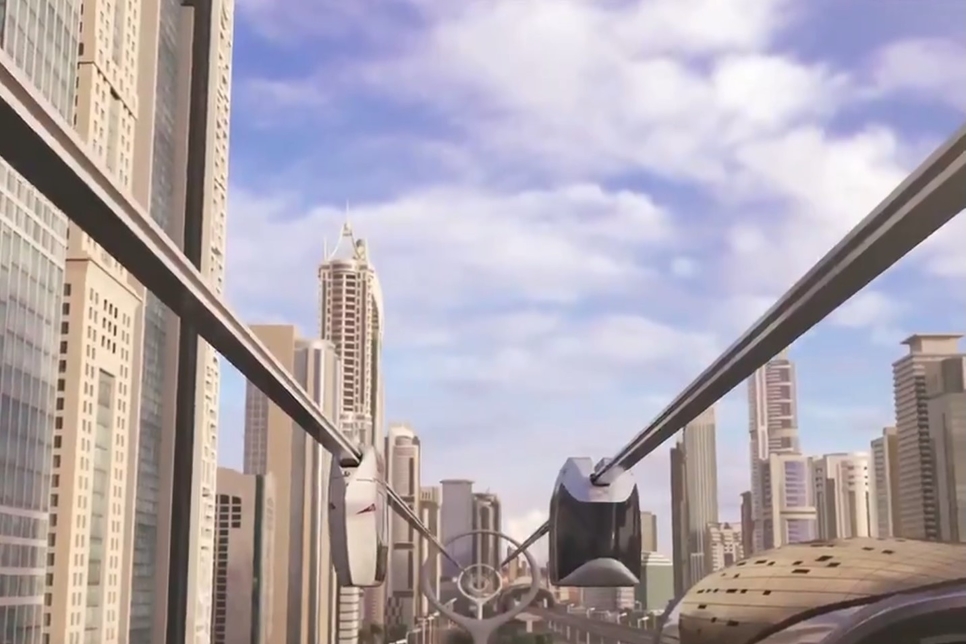 "The move corresponds to RTA's efforts to enhance the integration of mass transit modes, and offer a solution to the first and last-mile challenge; which helps riders reach their final destinations."
Meanwhile, Harris, said: "This exciting collaboration will evaluate the feasibility of an aerial transit system based on BeemCar's unique expertise."
As part of his visit Harris reviewed RTA's efforts in building 425km-long cycling lanes, which are expected to increase to 674km by 2023.
In February 2019, HH Sheikh Mohammed bin Rashid Al Maktoum, Vice President and Prime Minister of the UAE, and Ruler of Dubai reviewd the Unibike and Unicar models of the Sky Pods futuristic transport system on the side lines of the World Government Summit.