Germany tops out Expo 2020 Dubai's campus-themed pavilion
Project manager, NUSSLI Adunic, Mirco Amstad told CW that the steel structure was approximately 60% installed
Construction work is rapidly progressing on Expo 2020 Dubai's 4,600m2, three-storey Campus Germany-themed German Pavilion that is located within the World Expo's Sustainability District, with the pavilion being topped out in a traditional ceremony at the Expo site.
Speaking to Construction Week on the sidelines of the topping out ceremony, commissioner general of the German Pavilion at Expo 2020 Dubai, Dietmar Schmitz said: "The pavilion is completely financed by the government. It is about $55.8m (€50m). And the deeper sense is that we want to give more creative possibilities to the companies and the agencies who develop the system."
Talking about the next phase of construction activities that are lined up for the German Pavilion, Schmitz said: "We will finalise the raw building by the end of April – beginning of May – and the team working on the interior of the building will come next."
German and Expo 2020 Dubai officials including vice president for political affairs at Expo 2020 Dubai, Maha Al Gargawi, signed the last steel beam of the pavilion.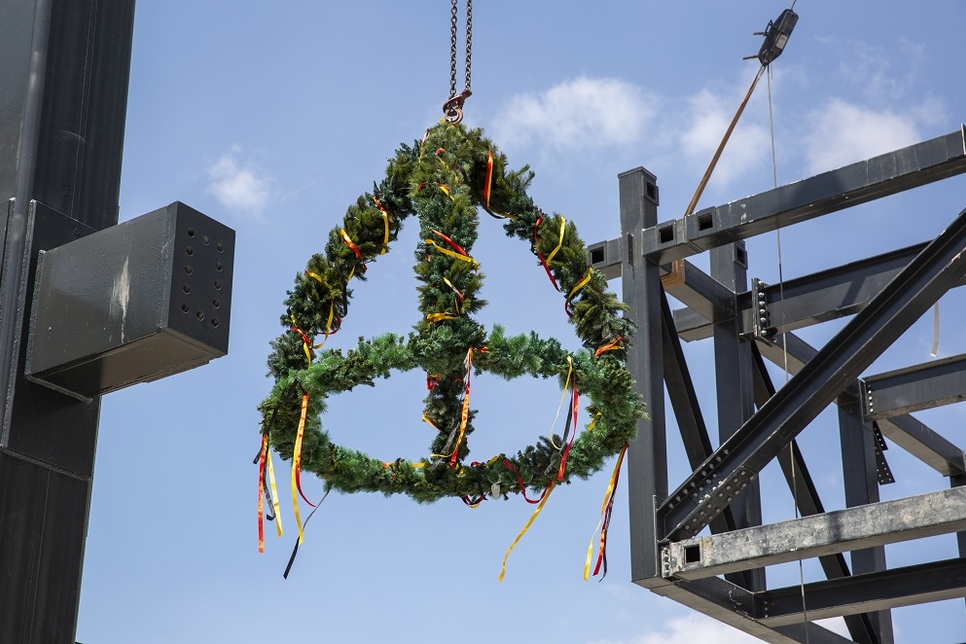 Meanwhile, speaking about the pavilion's construction progress, project manager responsible for the German Pavilion at NUSSLI Adunic, Mirco Amstad told Construction Week: "On-going construction activities for the pavilion include the steel structure, the concrete course, and the composite slab."
"The steel structure, which is the main focus, is approximately 60% installed," Amstad added.
The construction team of the German Pavilion has spent around 38,350 hours helping to complete the shell of Campus Germany. Nearly 480 metric tons of steel has been used for steelwork and 2,300 cubic metres of concrete till now in terms of materials.
Swiss contractor NUSSLI Adunic is responsible for the construction work on the pavilion, the architecture and spatial design of which has been provided by Berlin-based LAVA Architekten. Koelnmesse is the project manager — responsible for organising and running — the pavilion.
Meanwhile, Cologne-based Facts and Fiction will start finalising the details of the exhibition in the coming weeks.