Dubai's Deyaar Development shares "the design-and-build model"
Vice president for project and commercial at Deyaar, Khaled Ababneh, talks about the project being completed ahead of time
It's quarter to ten in the morning and the construction site of Dubai Financial Market-listed (DFM) Deyaar Development's 18-storey Bella Rose project is bustling with frenetic activities. Workers and machines at the site are playing their part to keep up with the construction deadline and to ensure that the project is delivered on-time by December 2020.
Located in Dubai Science Park (DSP), Bella Rose is Deyaar's second development in the area, which has a close proximity to Sheikh Mohammed Bin Zayed Road and Al Khail Road. The developer started handing over homes within its first project in DSP, the three-tower Mont Rose — which is located near Bella Rose — in April 2018.
Speaking to Construction Week, in the comfort of the site office, one of the modular buildings supplied by Prefab Industries, vice president for project & commercial at Deyaar, Khaled Ababneh, says: "This area is growing very fast and it is advancing, which makes it really prime for us to think about developing a new project. We've had previous experience in this area with the development of Mont Rose."
"It is also a prime location because of its proximity to Mediclinic Parkview Hospital as well as several schools, including, GEMS Al Barsha National School, as well as Kings' School Al Barsha," Ababneh adds.
An 18-storey residential tower, Bella Rose features 478 units that are divided between studios, one- and two-bedroom units. Ababneh explains: "The total construction area is 600,000m2, while the gross floor area is about 300,000m2. The tower comprises three basement plus ground floors."
There are ideally 26 units on each floor of Bella Rose, which has a project value of $50m (AED183.7m). "This cost doesn't include the price of land," Ababneh explains.
On being asked about the finance route of the project, Ababneh says: "Deyaar has its own finance, we have the cash. Deyaar used its own capital for Bella Rose"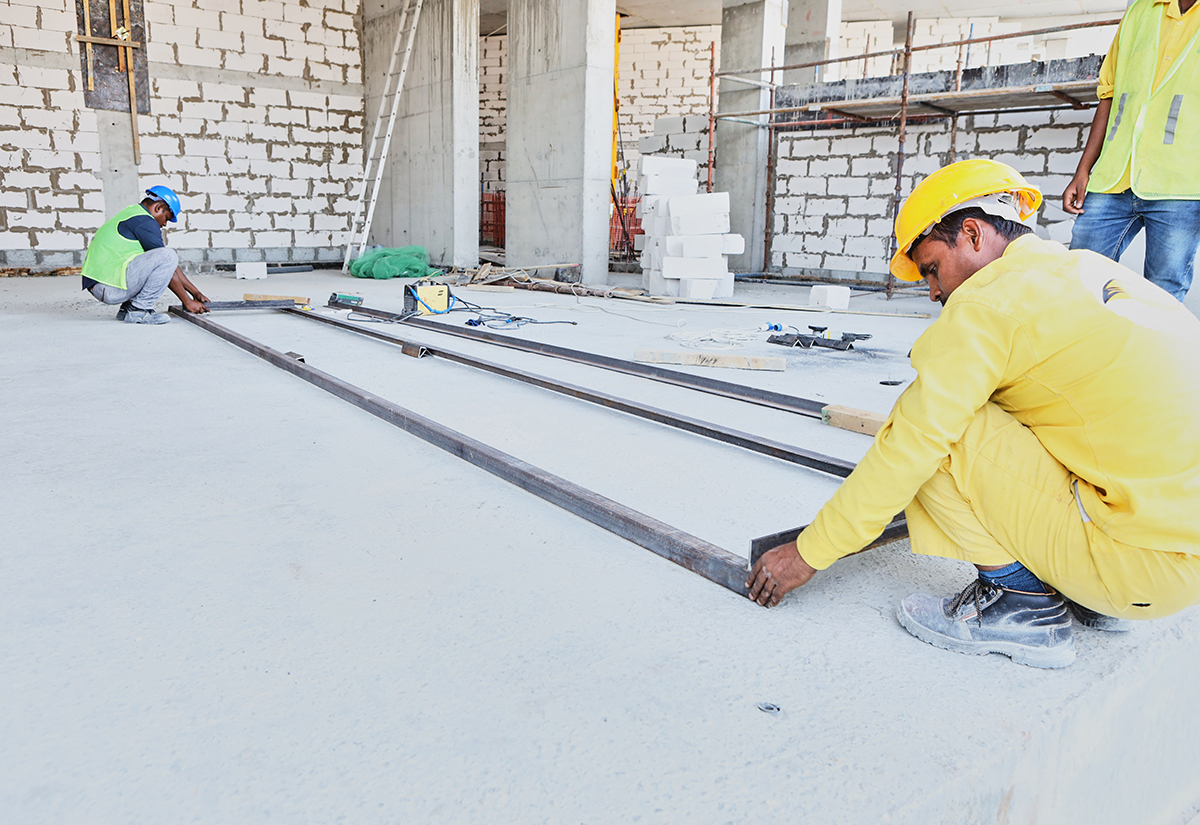 Deyaar awarded the main construction contract for the project to Condor Building Contracting in September 2018. The developer launched the project at the two-day Cityscape Global 2018 event.
Ababneh explains: "Cityscape is always the best way to come up with new projects, project launches, and new strategies for your business. So we took that opportunity to launch Bella Rose."
Bella Rose is Deyaar's entry to the design-and-build model of construction. "We were reluctant on whether to go with a design-and-build model or choose the traditional method of issuing a tender. But we along with the management decided to experience the design-and-build model," Ababneh tells Construction Week.
However, Ababneh stresses that with the design-and-build contract came challenges. "The challenge was solving key concerns including how to set up the project, how to strategise it, how to get the contractors on board, how to make sure that despite it being a design-and-build contract, we keep it up to our standards and maintain it."
"There is an advantage with such contracts. However, there is a disadvantage if we don't really do it right from day one. We had to work hard to make it exactly the way we wanted it."
Bella Rose is a curved structure with a podium as its main attraction.  The podium features an infinity pool with a dry and wet sundeck that overlooks the landscaped public gardens.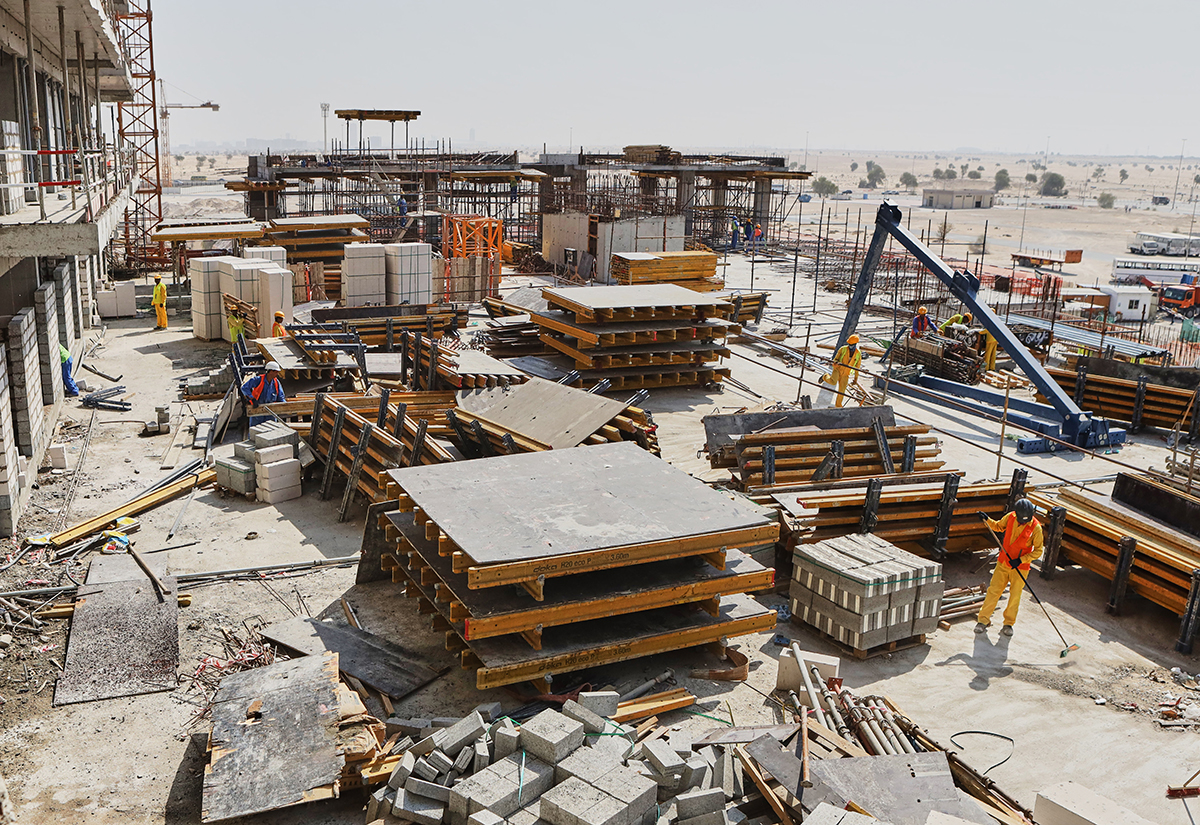 Ababneh excitedly says that the development focuses on community living, which is why the podium is designed in such a way that residents get a proper view of the podium, swimming pool, and amenities from their balconies.
Buro Kling is the lead designer and the sustainability consultant of Bella Rose. Meanwhile, Abu Dhabi-based incorporated consultants, CONIN, was appointed as the main consultant, mechanical, electrical, and plumbing (MEP) consultant, as well as the architect of record. Condor Building Contracting is the MEP contractor. 
"One of the major elements of the project is that you don't face any issues when it comes to the subcontractors, as the contractor has these requirements covered under its umbrella," Ababneh stresses.
He adds: "We appointed Buro Kling more than a year before we awarded the contract to Condor, because we have been planning for a very long time, but decided to launch it once we had met all the requirements.
"We have been cautious about combining design and the functionality of the design. We didn't want to go ahead with the project quickly without properly studying the needs of the market.
"Deyaar is using a software for document control and approval requirements. There is no paperwork involved with the use of Aconex, which makes it easy and simple," Ababneh explains.
Bella Rose is connected to Empower's district cooling plant for its cooling needs. Ababneh is quick to mention that the developer is also using Empower's district cooling at Midtown and Mont Rose.
Health and safety environment (HSE) has been a priority for Deyaar at Bella Rose that has deployed over 650 workers at the construction, who have together recorded 862,380 Lost Time Injury-free (LTI) man-hours as of February 2020.
Workers are working in two shifts — day and night — at the site. Ababneh affirms that night shift mostly covers casting work and does not include "heavy construction activities". During night shifts workers also complete preparatory works for the next day.
Sustainability is another key element at Bella Rose. Ababneh says: "We are following the regulations and Dubai Development Authority (DDA) standards. We are trying to make the development efficient in terms of the design and reducing pollution as much as possible. We are also using insulated light-weight block"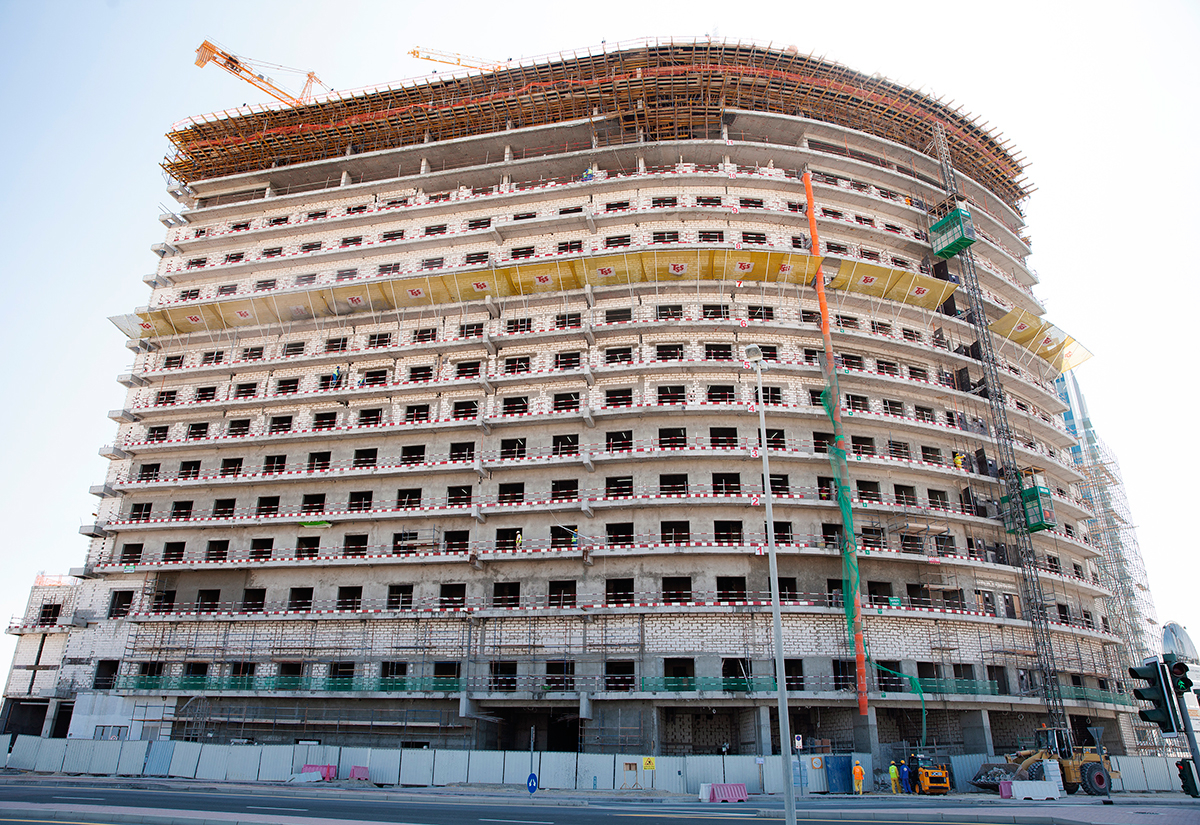 The developer is also using post-tensioning concrete, which not only helps reduce cost but builds the structure efficiently. In post-tensioning concrete is cast with steel reinforcing strands, installed in such a way that it protects the steel from bonding with the concrete. 
"We are using the best materials and don't really compromise on the quality. Since it is a design-and-build project, we control the material specs and the contractor procures the materials.
As of February, 45,000 bags of cement, 4,400 tonnes of steel, 20,000m3 of concrete, 50,000m2 of tiles, and 8,000m2 of glass panels have been used at Bella Rose. Other materials including 50,000m2 of blocks, 5,000m3 of sand, 17,500kg of aluminium, and 283.2m3 of wood have also been used.
Among suppliers of materials are RAK and Star Cements, Wood Stock Trading as well as National Paint. Meanwhile, Courbevoie-headquartered Saint-Gobain supplied glass. Flooring and steel is supplied by Danube and Geap International, respectively. The main contractor, Condor Building Contracting has supplied the façade, whilst Daikin is the supplier of MEP systems — particularly air conditioning units. The elevators are supplied by Finland's Helsinki-listed KONE.
Deyaar has erected two tower cranes at the construction site of Bella Rose, with the cranes being provided by XCMG Machineries.
Overall construction work has reached 47% completion mark at Bella Rose. Commending the contractor's efforts for recording the milestone, Ababneh says: "The contractor is really committed to the project, hence we are almost ahead of time by one to two months. And we as the developer, along with the contractor, are doing our best to be ahead of time for completion."
Ababneh explains that even in terms of logistics, the developer never faced any issues.
He stresses that it is due to the developer's experience working in DSP. "We were 100% sure that things would go smoothly and we will not have any issues with the access. The access is really easy, we don't really have much traffic."
Ababneh says: "Customers are always the main focus and that is why we think about how to give them the best layout and the best quality, with the best functionality."
Deyaar has been showcasing mock-up units since the beginning of construction work on the residential tower. Ababneh says: "The mock-up unit has all the finishes in place, so people know what they are buying from day one."