SRTI Park CEO discusses "breakthroughs" in 3D printing
HE Hussain Al Mahmoudi says that firms at SRTI Park are developing anti-microbial 3D printing construction materials
The construction industry within the UAE has witnessed a number of key milestones, which have not only shed light on the benefits of 3D printing, but have also attracted scientific and investor interest into the field.
In the past 12 months alone, Dubai Future Foundation (DFF) has claimed the Guinness World Record for the first 3D-printed commercial building with the Office of the Future, while Ajman has welcomed its first 3D-printed bus station.
In addition, Dubai Municipality (DM) and Engineering Contracting Company (ECC) have unveiled the world's largest 3D printed two-storey structure, entering the Guinness Book of World Records with the completion of the integrated 640m2 building project.
In an exclusive conversation with Construction Week, the chief executive officer of the Sharjah Research, Technology, and Innovation Park (SRTI Park), HE Hussain Al Mahmoudi, says: "The 3D-printing industry has grown remarkedly compared to a year ago. People are not only able to envision, but also achieve much more complex construction projects with 3D printing compared to a year ago."
Can your building fight COVID-19?
One of the main drivers for the exponential growth is that both 3D printing and additive manufacturing are developing on multiple fronts.
Al Mahmoudi explains: "There are different 3D printing materials being created; there is different 3D printing software being developed; and there are different 3D printing robotic elements being manufactured. All of these together boost the 3D printing industry as well as its potential within the construction sector."
In terms of 3D printing building materials, the construction sector has begun exploring the scaled implementation of concrete 3D printing, polymer 3D printing, metal 3D printing, and other sustainable 3D printed building materials.
For instance, Immensa Technology Labs (Immensa), which launched the region's first commercial metal 3D-printing facility at SRTI Park's Middle East Additive Manufacturing Centre (MEAMC), has witnessed an increasing demand for metal additives in the UAE and across the region.
According to a report by Strategy& – which is part of the London-headquartered consultancy PwC – the market size for metal additive manufacturing was $2.6bn in 2018, but is projected to grow exponentially to $14.2bn within the next 5 years.
However, this is only the tip of the iceberg. "Novel" problems have brought about "innovative solutions".
"In response to the COVID-19 outbreak, and as part of precautionary measures to contain, and prevent contagious diseases in the future, Immensa – in partnership with PRECISE 3DHUB – has made breakthroughs in 3D-printed building materials," Al Mahmoudi says.
"It has begun developing anti-microbial, anti-bacterial, and anti-viral 3D-printing construction material. They are also manufacturing anti-microbial construction parts such as door handles and locks."
The building material is expected to significantly reduce the rate of transmission of COVID-19 as it is proven to deactivate 99.99 % of viruses within hours of contact.
"In the near future, with efficient and integrated 3D-printing construction robots, we will be able to build an entire hospital out of anti-viral construction material within hours, without the need for a large number of workers on site."
"This will not only help us contain the disease, but will also help us overcome it much faster. 3D printing, therefore, has huge potential."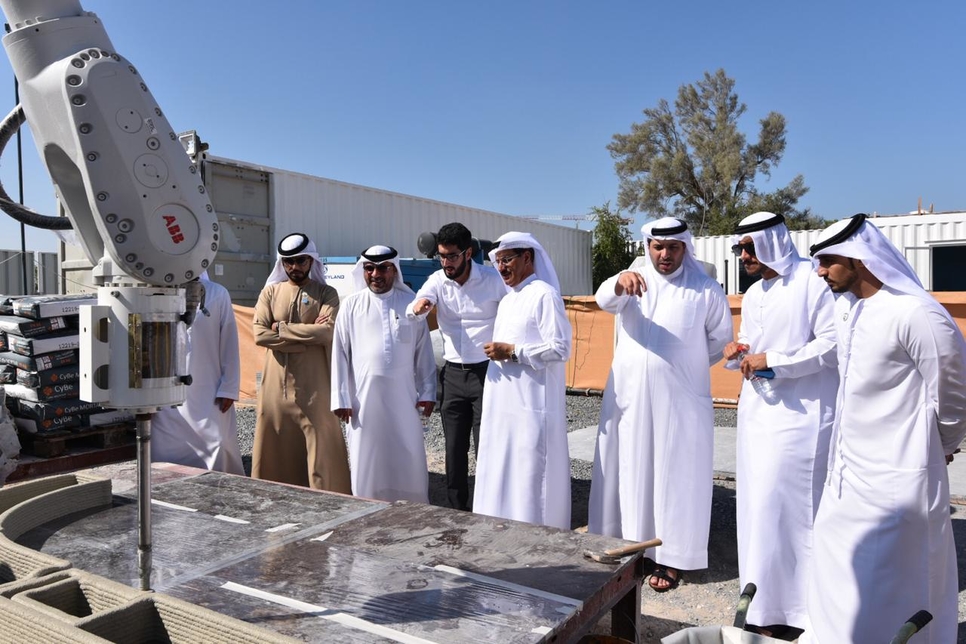 Fast, cost-efficient construction
Apart from improving the quality of building material, 3D printing is also making construction quicker and cheaper.
"At the SRTI Park – in collaboration with various local and international construction stakeholders – we have worked towards making 3D printing cost-efficient and competitive," Al Mahmoudi says.
"We have plans to build a number of 3D-printed houses to prove that such construction delivers high-quality projects, at affordable costs, and within deadlines, thus, making it viable as a business model even if we are producing the building materials locally."
The Middle East Engineering Technologies (MEET) firm, which was formed to explore the latest trends in construction technology, recently unveiled a 3D-printed house in partnership with the SRTI Park.
The 90m2 structure of the house was constructed at the SRTI Park within two weeks, marking more than 50% savings in time, and reducing cost significantly by reducing the wastage of construction material.
In addition, the operation of the 3D-printing robot required only three to four skilled labourers, which reduced manual error, improving the quality of the project, and reducing manhours required to build the 3D-printed house.
"The 3D-printed houses being developed within the SRTI Park is proof that such projects can be replicated and scaled," Al Mahmoudi says.
According to the Construction 4.0 publication, small-scale 3D-printed housing projects in the Middle East potentially offer savings of up to one-third compared to traditional housing projects. These savings come primarily from site labour, site supervision, plant, formwork, and materials.
"We have achieved the ability to scale 3D-printed houses. We have moved past the proof-of-concept stage. The Middle East Engineering Technologies firm has already begun taking bids for commercial projects," Al Mahmoudi adds.
"This is the most exciting part. We are beginning to see companies take the research and technologies demonstrated at SRTI Park, and commercialise it. They have made technologies more relevant; they have built human capital. We are also very proud that Immensa has its own clients for metal 3D printing within the oil and gas building sector."
3D printing has moved from research to implementation and has spurred competitiveness in the construction industry.
"My message to construction stakeholders is this: We are going through a challenging time within the industry. We have to collaborate, because in such times, firms who try to do everything themselves will not survive," Al Mahmoudi says.
"In addition, there is no time to lose. There is no point in duplicating efforts by trying to do the same thing. Companies that are embarking into this industry, where the competition is already high, need to come work with us. We work with universities and researchers; we have boots on the ground that they can utilise; and we have the right materials and software that can be the recipe for success. Let's join hands to create opportunities."