Adnoc awards $1bn contract to build 10 islands for Abu Dhabi energy hub
National Marine Dredging Company wins contract to build artificial islands that will support Ghasha Concession
Two causeways and 10 artificial islands will be built by National Marine Dredging Company (NMDC) to support Adnoc's Ghasha Concession energy megaproject.
NMDC won a $1.3bn (AED5bn) contract for Phase 1, which will see infrastructure built to develop, drill, and produce gas from nearby offshore fields.
The 10 man-made islands have been named Ghanem, Sawalem, Chananiz, Mudaifena, Reeah, Seebeh, Seemeh, Shalhah, Jzool, and Duroob, after former pearl diving sites.
At the peak of construction, the project will employ more than 3,500 people. NMDC's contracted scope includes dredging, land reclamation, and marine construction under a 38-month timeframe.
The contract award comes after Adnoc awarded stakes in the Ghasha Concession to Italy's Eni, Germany's Wintershall, and Austria's OMV. The megaproject will come on stream during the middle of the next decade.
Gas supplied by Adnoc's project will produce enough electricity to power more than two million homes, with more than 120,000 barrels of oil and condensates expected per day as well.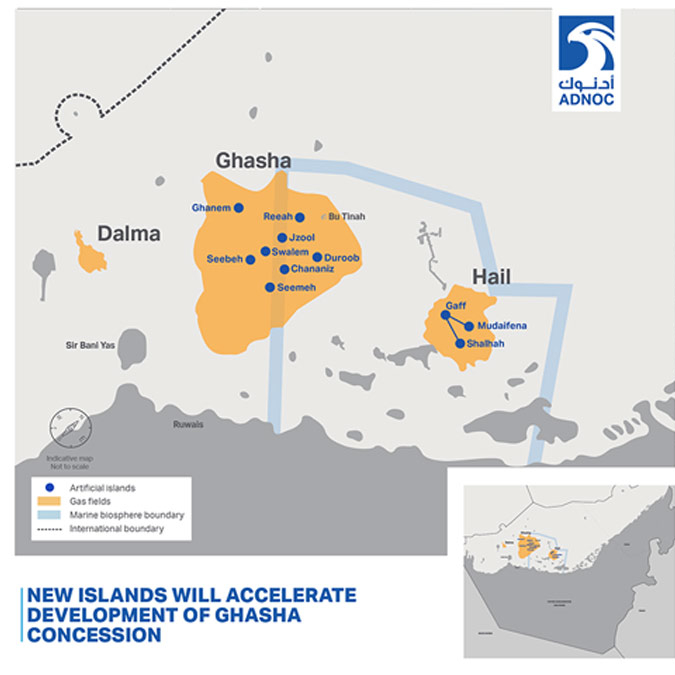 Adnoc said NMDC was awarded the contract partly due to in-country value benefits. As part of Adnoc's qualification process, the state-owned energy giant explored how its contract award could support socioeconomic growth and create jobs for UAE nationals.
NMDC's bid was also successful because it prioritised the use of local materials, and committed to mostly rely on local suppliers, manufacturers, and workers. However, the contractor will work with international companies on the 10-island development.
HE Mohammed Al Rumaithi, chairman of NMDC, described the 10 artificial islands as an "exciting new megaproject" that will support UAE development, with the contracting company planning to generate in-country value by "spending almost one billion dollars of the contract award in the UAE" and creating jobs for locals.
"We aim to increase the use of local resources, such as products, facilities, and infrastructure in this sector of dredging equipment and services," Al Rumaithi said.
Adnoc's group chief executive officer, HE Dr Sultan Ahmed Al Jaber, added: "This award accelerates the development of the Hail, Ghasha, and Dalma sour gas offshore megaproject, which is an integral part of Adnoc's 2030 smart growth strategy.
"As one of the world's largest sour gas projects, it will make a significant contribution to the UAE's objective to become gas self-sufficient and transition to a potential net gas exporter."
HE Dr Shaikha Salem Al Dhaheri, Acting Secretary General of Environment Agency – Abu Dhabi (EAD), said one of the largest marine environmental baselines surveys in UAE history had been carried out to assess the impact the oil and gas megaproject will have on marine life.
"Adnoc has worked in close partnership with the EAD to ensure that this oil and gas development project, including artificial islands, is sustainable – both for the environment and the people," she added.