Kuwait's $27bn Al-Zour complex notes 80% completion of oil refinery
$16bn oil refinery within Al-Zour energy complex makes major progress as $3bn LNG processing facilities reach 66.5% mark
Kuwait's $27bn (KWD8.2bn) Al-Zour crude complex's oil refinery is 80% complete, according to a statement by Kuwait Integrated Petroleum Industries Co (Kipic), a subsidiary of Kuwait Petroleum Corporation. 
Divided into three projects, Al-Zour complex includes a refinery, liquefied natural gas (LNG) processing facilities, and a petrochemicals complex. 
The $16bn (KWD4.8bn) oil refinery is expected to deliver 615,000 barrels per day. Construction listings website ProTenders cites Canadian contractor SNC-Lavalin as Al-Zour oil refinery's testing and commissioning consultant, whilst Van Oord and Saud Abdulaziz Alrashed & Brothers Company are named dredging contractors for the project.
The FDH joint venture that includes America's Fluor, and South Korea's Daewoo Engineering and Construction and Hyundai Heavy Industries, is Kipic's engineering, procurement, and construction contractor for the oil refinery's Packages 2 and 3. In a project listing on its website, Fluor says it is delivering work on lump-sum basis for the oil refinery.
Fluor booked its $2.6bn portion of the contract in Q3 2015, according to a statement published by the US firm in October 2015. Fluor is leading the FDH JV, which as of October 2015, was also implementing a package for Kuwait National Petroleum Company's Clean Fuels project.
ProTenders data shows 2020 as Al-Zour oil refinery's completion deadline. Fluor's involvement with Al-Zour's oil refinery is also demonstrated through Cooec-Fluor, a partnership formed by the American firm and Offshore Oil Engineering Co (Cooec) for the offshore, onshore, infrastructure, power, and mining markets.
The Cooec-Fluor partnership is recognised by Chinese law as an independent company, and owns, operates, and manages the Zhuhai fabrication yard near Hong Kong in the Guangdong Province of China. Cooec is a listed entity "controlled by China National Offshore Oil Corporation", according to the partnership company's website.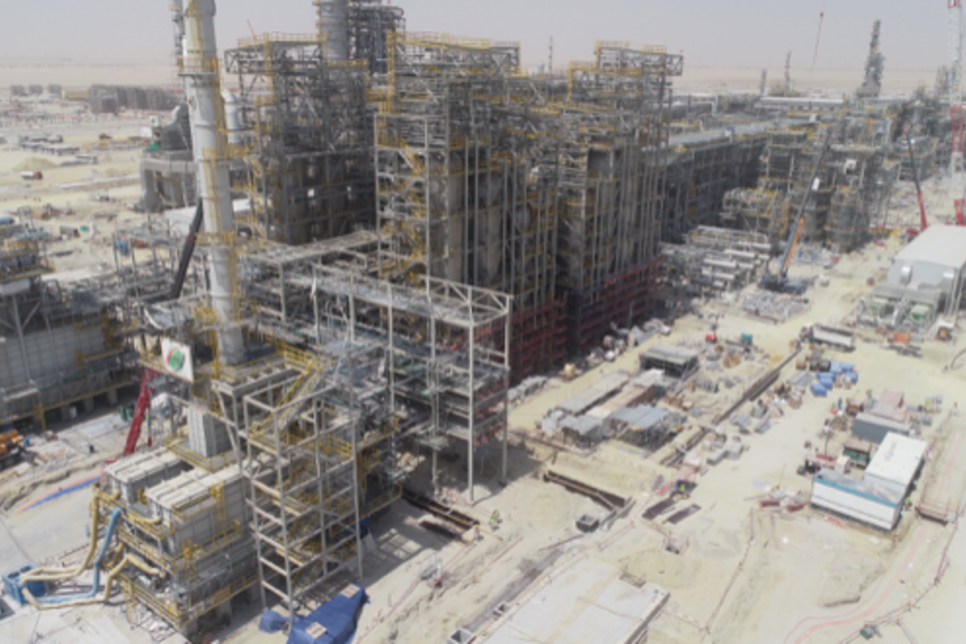 Cooec-Fluor is carrying out "large-scale offsite pipe fabrication", as well as developing a pre-assembled rack and unit, for Al-Zour oil refinery. Modules for the project are being manufactured at the Zhuhai fabrication yard, and in May 2018, 14 of the project's 188 modules were shipped from the yard to Kuwait.
Meanwhile, the $3bn (KWD912m) LNG processing facilities within Al-Zour complex are 66.5% complete, according to official Kuwaiti data released in March 2019. Upon start-up, the plants will have a production capacity of three billion thermal units of gas.
SMBC is among the LNG plants' financiers according to ProTenders data, whilst Kogas and Hyundai Engineering and Construction are said to be jointly involved as the LNG components' EPC contractors. Like the oil refinery, Al-Zour's LNG projects are also due for completion in 2020. 
Additional details of Al-Zour's petrochemicals complex have yet to be revealed, but in January 2019, Kuwait's oil ministry said that the project was in the front-end engineering design (Feed) phase, on which work is due to complete this year. 
At the time, Kipic said that EPC work on Al-Zour's petrochemicals complex would complete in Q3 2023, with start-up expected in Q1 2024. ProTenders lists Equate Petrochemical Co alongside Kipic as Al-Zour petrochemicals complex's developers, with KBC and SCPD named feasibility consultants. The listings website places the petrochemicals project's value at $7.8bn (KWD2.3bn).
Public relations officer of Kuwait's Ministry of Oil, Sheikha Tamathur Al-Sabah, said Al-Zour's developments are part of "a new ideology" adopted by the energy authority, Kuwait's state-news agency, Kuna, reported.
Kuwait expects to meet 15% of its local energy needs through renewable sources by 2030. 
For extensive insights about Kuwait's construction projects, follow Construction Week on Facebook, Twitter, LinkedIn, and Instagram; and subscribe to our YouTube and SoundCloud pages.