Construction progress of Deyaar's Midtown homes in Dubai revealed
EXCLUSIVE: Construction Week explores how MEP prefabrication is supporting the 46-hectare megaproject's programme
Dubai-based real estate company Deyaar Development has merged 40 plots of land to bring its 46ha flagship community, Midtown, to life. But the firm's vice president for project and commercial, Eng Khalid Ababneh, tells Construction Week it has been something of a "challenge" for the company, which has more than a decade of building experience.
Midtown is located in a growth corridor of Dubai and has direct access to Sheikh Mohammed Bin Zayed Road. Its transport links are further supported by its proximity to Jebel Ali Port and Al Maktoum International airport.
We have almost finished all MEP services, and using prefabrication has saved us a month of work and [a month of] costs.
The Route 2020 extension of Dubai Metro, which is now more than 75% complete, will also travel past Midtown, providing an affordable transport option for the thousands of residents that Deyaar expects to flock to the up-and-coming area.
Tucked behind Jumeirah Village Triangle and adjacent to Dubai Sports City, in Dubai Production City, Midtown is a long-term Deyaar project that will eventually have 26 residential buildings of varying sizes. They will be built over many years, and there is no timeline to complete the entire project. This is because the developer has so much land that it has not yet decided how to fully maximise the plot.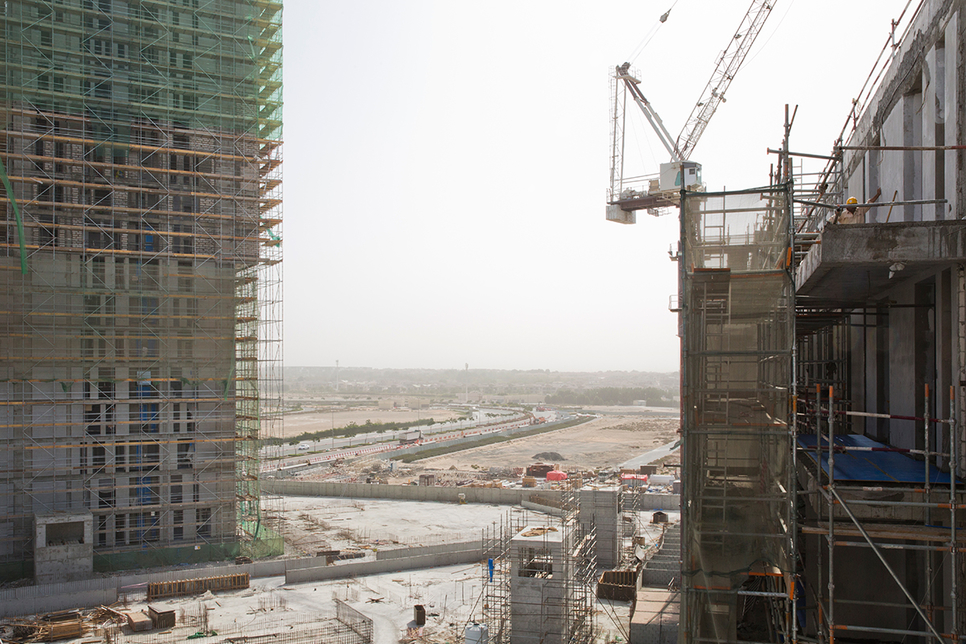 Under the current masterplan for Midtown, the mixed-use community township will be split into six zones. Afnan, Dania, Noor, and Misk are four of the six that Deyaar has already named. The remaining two – Ababneh refers to them as zone 1 and zone 6 – are future developments that are still being fleshed out.
What has been front and centre in the company's plans all along is that Midtown will have a single ground-floor level that runs horizontally along all of the building zones. This walkable boulevard will have more than 6,500m2 of real estate space populated by restaurants, coffee shops, and other amenities.
Greenery is another prominent feature. More than 70,000 shrubs and flowers and 750 trees will be used to landscape zones 2 to 5, creating "one lush green podium", says Ababneh.
The final finishes, MEP installations, and aluminium façade installations are under way. Basically, the superstructure is completed, with most of the blockwork and plastering already done.
Building communities with ample green space is becoming an increasingly important aspect of community development in the Middle East and Ababneh says it helps to create "attractive" real estate. "The greenery of Midtown's podium level is really special because it gives people the feeling that they are walking through a garden."
While green spaces alone will not attract people to Midtown, early sales figures make for good reading. More than 1,000 units have already been shifted, with months still to go until the handover of the first two zones.
The first zones that will be given to buyers are zones 2 and 3, or the Afnan District and Dania District. They are due to be handed over in the fourth quarter of 2019, marking the first handover for Midtown. Starting work with the development of zones 2 and 3, rather than with zone 1, was a "strategic" decision, Ababneh says. Based on detailed real estate market research, Deyaar identified growing demand for affordable housing in Dubai, which prompted this move.
Zone 1 will comprise Midtown's hospitality offering and may have a three-star hotel. These plans, however, are fluid. But with more than nine out of 10 residential units already sold, the decision to focus on zones 2 and 3 first appears to have been a good move.
Midtown's Afnan and Dania districts collectively have 13 variously sized buildings and more than 1,238 units. Afnan District has seven building, three of which are joined at the top floors. None of the buildings in Afnan are particularly tall, ranging from six to 16 storeys. Dania is similar – it has six buildings with three joined at the top levels, and sizes ranging from six to 16 floors, like Afnan.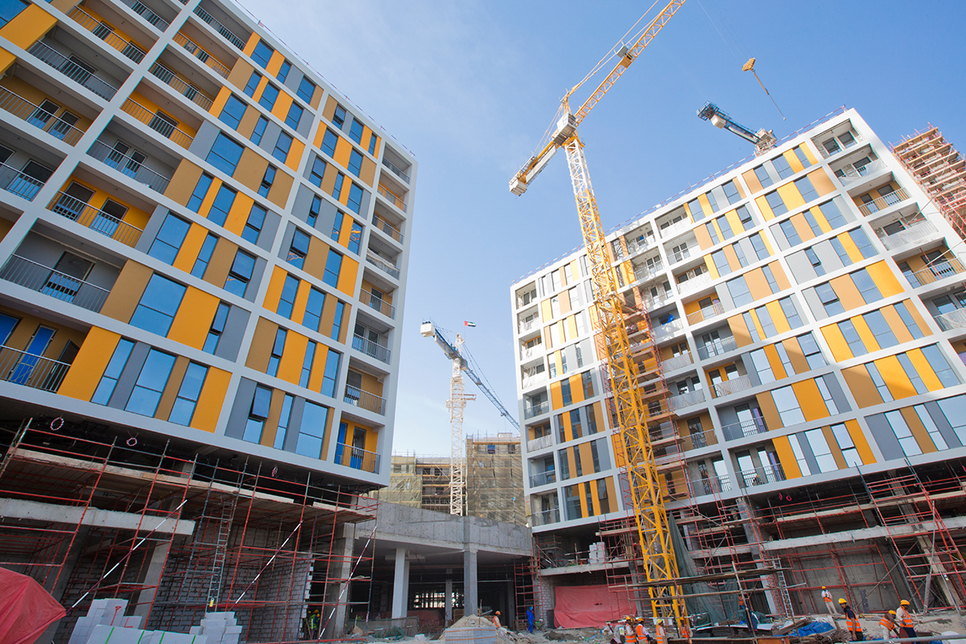 "We are more than 75% complete on the project so far," explains Ababneh.
"The final finishes, MEP (mechanical, electrical, and plumping) installations, and aluminium façade installations are under way. Basically, the superstructure is completed, with most of the blockwork and plastering already done."
MEP prefabrication has made an important contribution to Midtown. It is the first time it has been used on a Deyaar project, and Ababneh says the system has yielded higher productivity, faster progress, and better quality installation and performance.
"Very few construction companies use this system, but we have developed it here on our project and it is helping to keep things moving," he adds. "We have almost finished all MEP services, and using prefabrication has saved us a month of work and [a month of] costs. We try to reduce the amount of manpower we use, which can be expensive for MEP, so if we can reduce manpower [costs], it gives us and the contractor a saving."
As well as using prefabrication to lower costs and speed up construction, Midtown has remained on track thanks to close collaboration between all parties on site. Belhasa Engineering is the main contractor, having won a $163.3m (AED600m) contract to work on Midtown in 2017. U+A Architects is the project's lead architect, and Ramboll is working under it as the main consultant.
Working on 40 plots is different to doing a full community masterplan, so that was challenge.
Local sub-contractor Menasco is carrying out the MEP scope, under the supervision of Belhasa. Together, more than five million man-hours without loss-time injury (LTI) have been achieved on the project and Ababneh says risk analysis and regular meetings have helped to achieve this.
"We always do risk analysis to prevent small problems from escalating," he explains. "We also hold weekly and monthly meetings, where we sit down to discuss issues before they get bigger. This is part of our continuous efforts to [avoid] problems or delays.
"You will always find some challenges, but these challenges are small when you attack on time and finish it off, rather than waiting."
While important safety milestones have been recorded and modern techniques have been utilised to reduce construction time, Ababneh says that merging 40 plots of land was a challenge.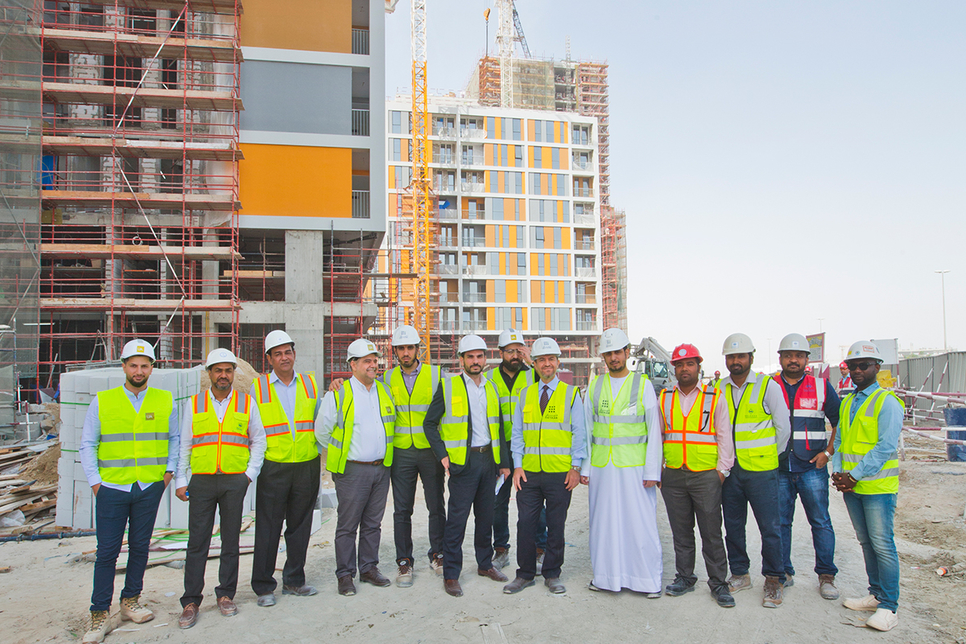 Before construction even began, the developer had to sit down with the master developer, Tecom, and the regulatory authority in charge of issuing non-objection certificates and building permits, Dubai Development Authority, to assess every detail of the plan.
"Working on 40 plots is different to doing a full community masterplan, so that was challenge," he says. "We brought in many consultants to explore several options and masterplans. All of this was handled from day one and we were happy to have a little bit of delay at the beginning of the project, rather than a big delay at the end."
Deyaar's flagship project, Midtown compliments others the developer has completed this year, such as the Millennium Atria Business Bay Hotel. But what sets this project apart from the others is its width and breadth – Deyaar has only built standalone towers to date, never a full-scale community.
With two swimming pools, a 1km jogging track, a tree-lined podium, tennis courts, coffee shops, restaurants, a nursery, and a landscaped piazza – not to mention ventilation shafts that have been redesigned as a climbing wall for children – Midtown is a fully fledged residential community. Ababneh says the fact that 90% of the residential units have already been sold demonstrates that Deyaar understands what people are looking for, adding that the firm's pragmatism in not rushing the project will likely mean buyers are able to move in this year.