Construction progress hits 13% on Oman's $7bn Duqm Refinery
All three ongoing EPC packages for the megaproject have noted significant growth as 3.7 million safe man-hours are recorded
Months after having secured the largest project finance in Oman's history, worth $4.6bn (OMR1.8bn), in November 2018, construction work on the $7bn (OMR2.7bn) Duqm Refinery has reached a progress rate of 13%.
According a company statement, project growth was predominantly focused on construction activities implemented by three engineering, procurement and construction (EPC) contractors delivering excavation, concrete pouring for foundations, and piperack construction work.
Six companies have been appointed to deliver the three EPC packages for the refinery, which marks an important part of Oman Vision 2040.
Delivered by a joint venture (JV) of Técnicas Reunidas and Daewoo Engineering & Construction, Package 1's progress covers temporary construction facilities, including civil and foundation works.
Growth was also noted on ongoing concrete superstructure works, foundation works for buildings, and excavations for underground piping.
Progress on EPC Package 2, which a JV of Petrofac International and Samsung Engineering is working on, included the build-up of temporary site facilities, comprising warehouses and offices.
Simultaneously, fencing, excavations, and foundation works for the main substation and administration buildings have also progressed under the package.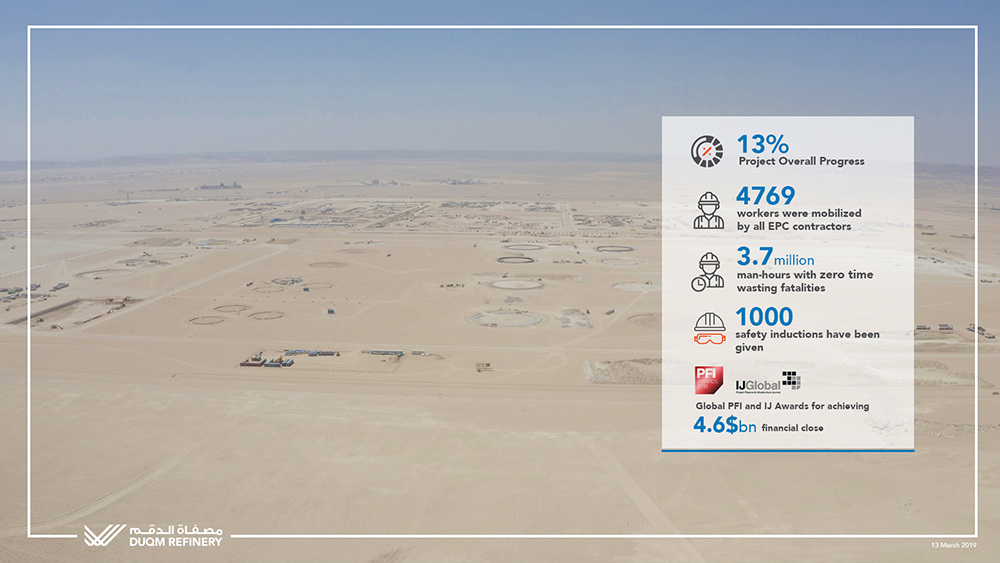 Work has begun under EPC Package 3 with general site clearing blasting and filling works to lay foundation for tanks. A JV of Italy's Saipem and CB&I is delivering this package.
In addition to winding up excavation work, 25 cabins and 10 office modules have been delivered and installed for temporary construction facilities.
The project has recorded a total of 3.7 million safe man-hours with 4,769 workers deployed by all EPC contractors, of which 3,275 have been delivering initial construction works on the site.
Commenting on the progress, Dr Salim Al Huthaili, chief executive officer of Duqm Refinery, said: "Once delivered, Duqm Refinery will contribute in boosting the Omani economy and will be a catalyst for growth in the Special Economic Zone of Duqm."
Al Huthaili stated that the refinery will contribute in creating 'direct and indirect job opportunities for locals.'