Kuwaiti Emir opens Sheikh Jaber Causeway built by Hyundai, CGC
The South Korean contractor joined Kuwait's Combined Group Contracting to build the 48.5-kilometre record-breaking bridge
Kuwait's Sheikh Jaber Causeway, a Korean-built structure that is sure to be among Kuwait's top construction projects of all-time and has been touted as one of the longest bridges in the world, was inaugurated on 1 May, 2019, by HH the Amir Sheikh Sabah Al-Ahmad Al-Jaber Al-Sabah. 
Constructed by Seoul-headquartered Hyundai Engineering and Construction and Kuwait's Combined Group Contracting at a cost of $2.6bn (KWD790m), the causeway is 48.5km long and has been designed to link Kuwait City with Subiyah New Town, reducing travel time from an hour to 20 minutes. 
Construction began in 2013 for the causeway, which also includes a 36.1km main bridge, and a 12.4km land link, making it 7km longer than Qingdao, China's 41.6km Haiwan Bridge.
An inauguration ceremony was held for the project, attended by Crown Prince HH Sheikh Nawaf Al-Ahmad Al-Jaber Al-Sabah; National Assembly Speaker, Marzouq Al-Ghanim; Prime Minister, HH Sheikh Jaber Al-Mubarak Al-Hamad Al-Sabah; South Korean Prime Minister, Lee Nak-yeon; and President of the French Senate, Gerard Larcher, the causeway was officially opened.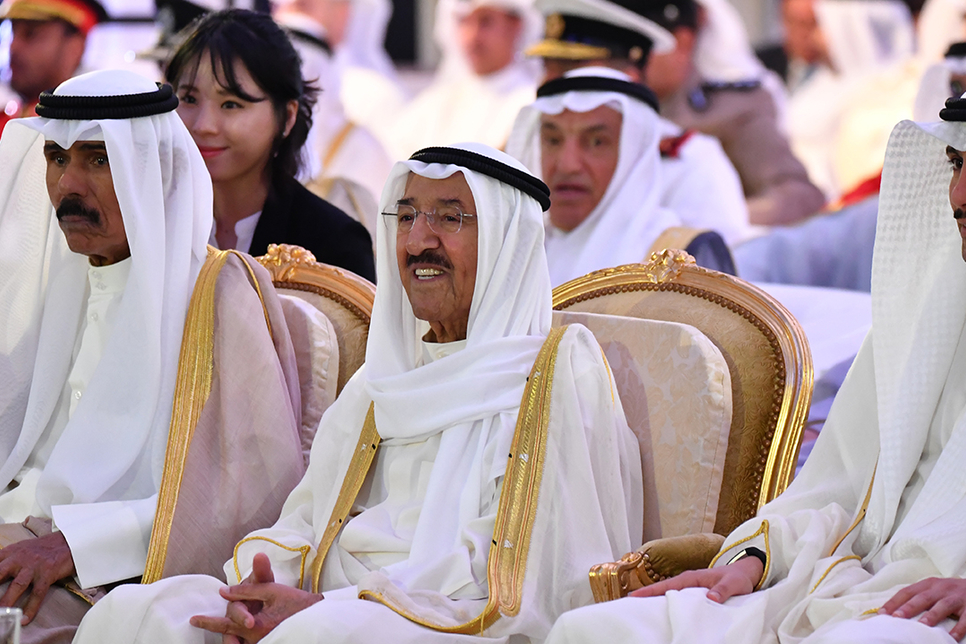 Speaking at the event South Korean Prime Minister, Lee Nak-yeon said: "It is a great pleasure for the South Korean companies to participate in the largest national project in the history of Kuwait."
Deputy director general of the Public Authority for Roads and Transportation (Part), Saud Al-Naqi told Kuwait's state news agency, Kuna, that Sheikh Jaber Al-Ahmad Causeway is part of Kuwait's integrated development plan.
Al-Naqi stressed that the project is the new development "gate" for Kuwait and will link Kuwait City with the under-construction Silk City.
According to the Korean Prime Minister, the causeway has been built using latest civil engineering and environmentally-friendly technologies.
Sheikh Jaber Causeway crosses through two artificial islands – each spanning 280,000m2 – in addition to government buildings, green spaces, and areas for Kuwait's future investment projects under New Kuwait 2035.