Ground broken on Expo 2020 Dubai's $35m New Zealand Pavilion
Contractor Cimolai Rimond Middle East and UK consultancy Mott Macdonald are working on the project
Construction work on New Zealand's 'Care for People and Place'-themed pavilion for Expo 2020 Dubai has started, with ground broken for the project on the next World Expo's 438ha site, with Abu Dhabi-based Italian builder Cimolai Rimond Middle East and UK-headquartered consultancy Mott Macdonald working on the Kiwi project. 
Located in Expo 2020 Dubai's Sustainability district, $34.8m (AED128m) have been allocated by the New Zealand Government for the design, construction, operation, and promotion of the national pavilion.
Project work is due to complete by mid-2020. 
New Zealand's plot at the Expo 2020 Dubai site was shovelled by the country's Ambassador to the UAE, Matthew Hawkins; commissioner-general to Expo 2020 Dubai, Clayton Kimpton; Expo 2020 Dubai's executive director of bureau, Najeeb Al Alil; alongside vice president for international participants, Maha Al Gargawi.
Cimolai Rimond Middle East has been tasked with the enabling and foundation works for the pavilion, while Mott Macdonald – which is also involved as main consultant for Dubai's Jebel Ali M-Station power and desalination plant, among numerous other projects in the region – is managing the engineering work for the pavilion.
The architectural concept of pavilion is inspired by New Zealands's waka taonga, made by the indigenous people of the country, called Māori.
Auckland- and Sydney-based creative agency Special Group will implement storytelling work for the pavilion, which will be designed by local architecture firm Jasmax.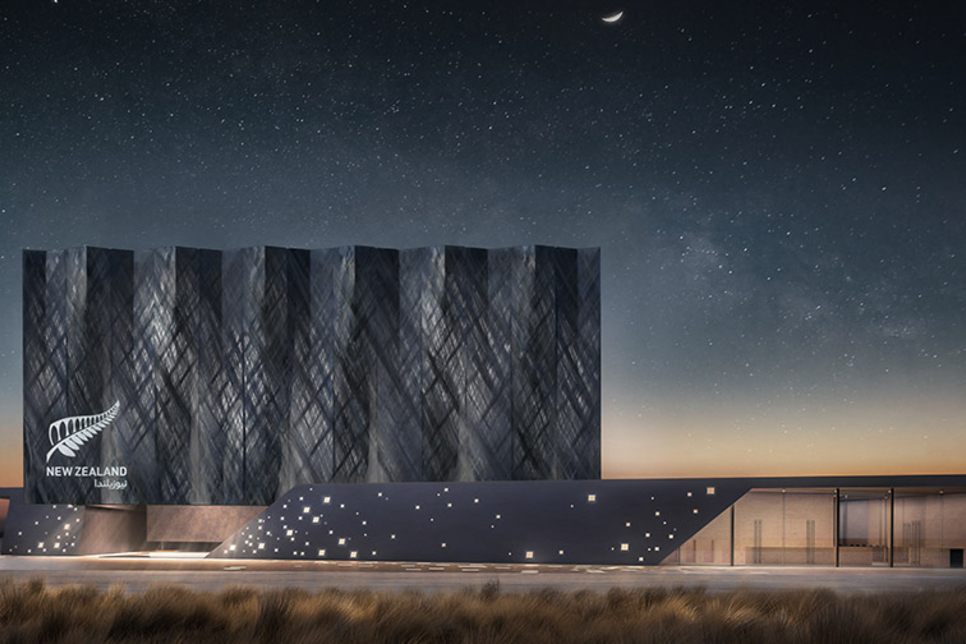 The spiral-shaped building will include an exhibition space, a multi-purpose area, a restaurant, a shop, administrative offices, and technical facilities.
Speaking at the groundbreaking ceremony, Kimpton said: "The groundbreaking and start of construction is a major milestone for New Zealand at Expo 2020, and we are pleased to be one of the first countries to begin building on site.
"Our theme [...] will not only be part of the visitor experience, but will continue through to the pavilion restaurant, where patrons can experience our warm hospitality and enjoy food that has been grown and prepared with future generations in mind," added Kimpton.
Expo 2020 Dubai will open its doors on 20 October 2020 and run until 10 April 2021.
Editor's note: This article has been updated to accurately reflect the New Zealand Pavilion's cost, which a spokesperson confirmed is NZD53m (USD34.8m, AED128m).