Construction site update of Dubai's $817m Mirdif Hills megaproject
EXCLUSIVE: CW reviews the construction progress being made at DIRC's 9.3-hectare Mirdif Hills homes near Dubai's Mushrif Park
Dubai Investments Real Estate Company (DIRC), which is owned by Dubai Financial Market-listed Dubai Investments, is developing Mirdif Hills, a mixed use development covering an area of 9.3ha adjacent to Dubai Municipality's Mushrif Park in the city's suburban Mirdif neighbourhood.
Mirdif Hills  – which is the only freehold project in Mirdif – is a residential, commercial, and retail development. Valued at $816.7m (AED3bn), the project comprises three clusters, which are called Janayen Avenue, Nasayem Avenue, and Multaqa Avenue.
Each week we held 10-12 meetings to make sure communication with the teams flowed smoothly.
Mirdif Hills will have a total built-up area of more than 37ha and will feature a total of 1,500 apartments, with studios, one-, two-, and three-bedroom units and duplexes available.
Overlooking Mushrif Park, Janayen Avenue is a cluster of five buildings that house 359 residences, with one-, two-, and three-bedroom apartments as well as three- and four-bedroom duplexes. It also features 33 penthouses.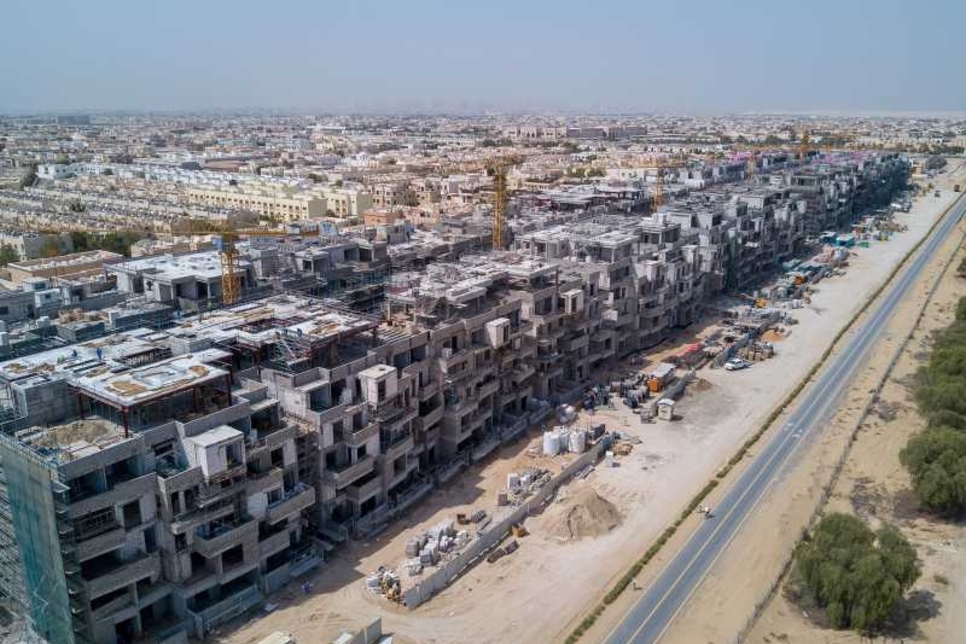 Nasayem Avenue is situated in the centre of Mirdif hills. Primarily a residential district, located in the development's North Village, the avenue also comprises five buildings, each with five floors and offering 402 residential units and six retail spaces.
Scheduled to complete in March 2020, in time for Expo 2020 Dubai in October, the development's Multaqa scheme includes 297 residential units, 52 retail premises, and 14 offices. It is a cluster of seven buildings, four of which are dedicated to a Millennium-branded hotel with 116-rooms and 128 serviced apartments.
ECC planned everything in advance, including taking approvals for materials from the project manager and DIRC to minimise the problem of oversupply.
Multaqa Avenue is also home to a 230-bed hospital that is being developed by London Stock Market-listed NMC Healthcare, founded by Dubai-based billionaire businessman B R Shetty. DIRC expects to begin enabling work on Mirdif Hills' South Village, where the NMC Hospital is located, in July 2019.
Construction work is speeding up at Mirdif Hills, and DIRC has noted overall construction progress of 75% on the development. Each building within Mirdif Hills typically includes a basement plus five floors, with the fifth floor mainly consisting of penthouses.
The UAE's Engineering Contracting Company (ECC) is the main contractor for the Mirdif Hills project. The construction giant was among three companies that were shortlisted for the master-planned project during the tendering stage and fought off competition from India-based Shapoorji Paloonji Group and South Korea's Ssangyong Engineering & Construction Company.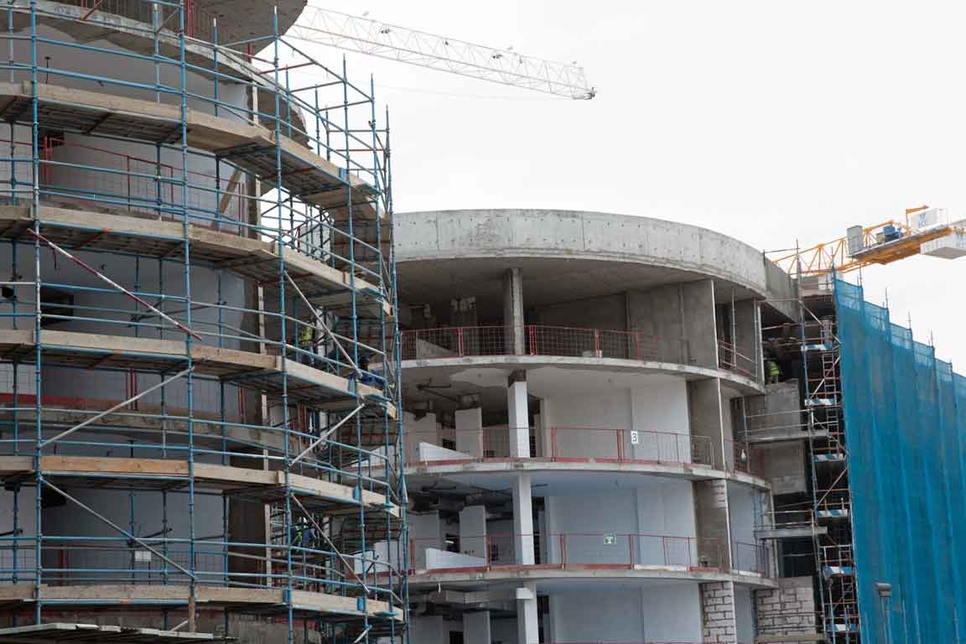 General manager of DIRC, Obaid Mohammed Al Salami, says ECC was chosen for the multimillion-dollar project because the firm is "very familiar with latest technologies, techniques, and strategies of the construction industry".
"ECC was chosen based on their prices and commitment, as well as the good quality of their finishes," he explains.
The tender was awarded to ECC in October 2016, and the company began groundworks in November of that year, with construction commencing in the December, recalls Al Salami. Advanced Building Constructions Company (ABCC) was awarded excavation and enabling works before ECC took charge of the building works.
In March 2019, both Janayen Avenue and Nasayem Avenue reached 95% and 90% project completion, respectively. DIRC expects to fully complete both of the clusters by June of this year. 
ECC has deployed a 4,200-strong team at the site. By March, the project had recorded 1.1 million safe-man hours since construction commenced. However, it has not all been plain sailing for the contractor.
Initially, getting raw materials to the site was a challenge given long vehicles are only permitted to access the site at specific times. ECC allotted three separate teams for each area of the project, and these teams were then split into night and day shifts.
"Each week we held 10-12 meetings to make sure communication with the teams flowed smoothly," says Al Salami.
The separate shifts helped to ensure that completion milestones for the project were met, and also helped the contractor to meet Dubai Municipality's limits for construction-related noise levels, which must not exceed 55 decibels.
"ECC planned everything in advance, including taking approvals for materials from the project manager and DIRC to minimise the problem of oversupply," says Al Salami.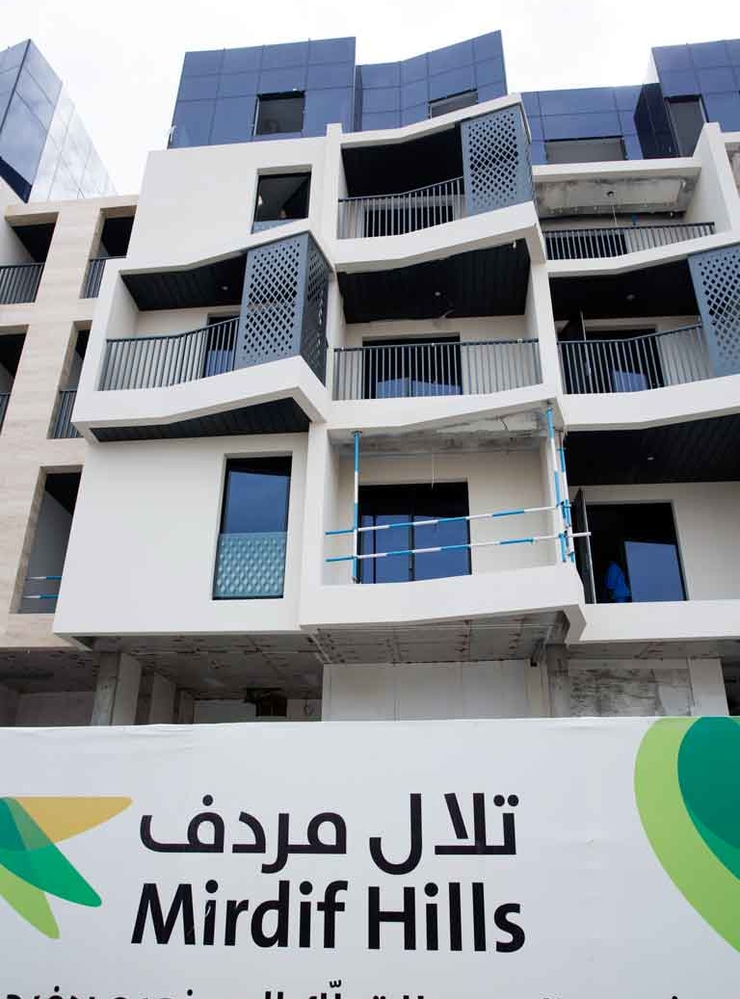 DIRC has appointed A to Z Consultants as the local consultant and GDA Design Associates as the international consultant for the project.
Project Management Group (PMG) is also involved with the residential development. As an ECC subsidiary, United Master Interior is the mechanical, electrical, and plumbing (MEP) contractor for the project.
Cement has been supplied by Fujairah Cement and Ras Al Khaimah Cement. Meanwhile, façades for the buildings were supplied by Prime Metal Industry, another sister concern of the main contractor.
Home-grown Emirates Steel is fulfilling the steel-related needs of the project, while Abanos Furniture and Decoration Industry, an ECC company, is supplying wood. Emirates Glass is providing glass for the buildings, and the project is using Jotun paints.
A joint venture of Dubai Investments and Union Properties, Emirates District Cooling (Emicool), will provide district cooling services at the Mirdif Hills development. The company will deliver 15,000 refrigerated tons (RT) of chilled water from its utility complex at the site through pipes, valve chambers, and heat-exchange stations.
With completion of the Mirdif Hills at 75%, 200 professionals – including engineers, construction managers, and DIRC employees – are working round-the-clock to ensure the project's deadline is met.