Indian-born architect reveals vision for Saudi's Mada'in Saleh Unesco site
Shanghai-based architect Amey Kandalgaonkar releases renders for 'House Inside A Rock' in Mada'in Saleh
Indian-born, Shanghai-based architect Amey Kandalgaonkar has revealed his vision for Saudi Arabia's 'House Inside a Rock', inspired by the Mada'in Saleh necropolis — a Unesco World Heritage Site in Saudi Arabia — through a series of concept renders that visualise a modernist concrete house almost growing out of a giant rock, featuring elaborate facades carved into tombs made from sandstone rock.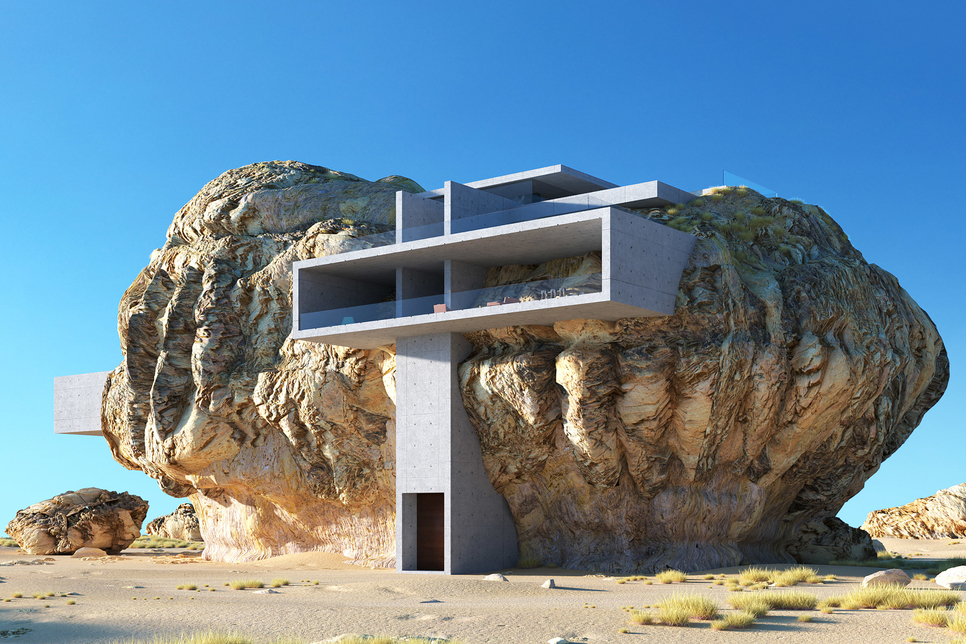 For the renders, Kandalgaonkar designed a ground floor entrance shaft connecting an exterior open-air living space with raw concrete slabs forming around rocky protrusions.
According to a report by Construction Week's sister title Middle East Architect, the volume is topped by a terrace that leads to a higher set of terraces and a swimming pool set on the top of the outcrop, next to a shaded penthouse.
"Considering the visual complexity of the rocks at Mada'in Saleh, it was imperative to use simple planes and cubes to achieve visual balance," said the architect, who cites heritage buildings as those that cleverly integrate natural elements into built environments.
He added: "I tried to keep its visual impact from eye-level as minimum as possible. The real extent of intervention is revealed only when observed from a birds-eye view."