The MEP engineering behind Dubai's ICD Brookfield Place in DIFC
JLW Middle East speaks on delivering MEP contracting services for Investment Corporation of Dubai's and Brookfield's tower
To the untrained eye, the ICD Brookfield Place tower would mimic any other glassed skyscraper that decorate Dubai's glittering landscape, but there is more to this building than meets the eye. Once completed, the 283m-tall ICD Brookfield Place in Dubai International Financial Centre (DIFC) – comprising commercial (9ha) and retail (1.4ha) space, 2,700 parking spaces across seven basements, and 46 lifts – will be a prime example of why mechanical, engineering, and plumbing (MEP) is a critical function of the construction industry. 
The 54-floor ICD Brookfield Place project is being developed by a joint venture between the Investment Corporation of Dubai (ICD) and Brookfield. 
ICD Brookfield has appointed Fosters & Partners as the project's architects, Robert Bird Group as structural engineers, Aecom as project management consultants and engineers, and a JV of Multiplex and Ssangyong as main contractor. 
BSBG is working as lead consultant, executive architect, executive interior designer, and construction supervisor for the project, and JLW Middle East is implementing MEP work for ICD Brookfield Place. 
Established in May 2006, ICD is a state-owned holding company that can be characterised as a sovereign wealth fund owned by the Government of Dubai, while Brookfield Properties is an American real estate services company that provides development and portfolio management capabilities in tandem with Brookfield Asset Management.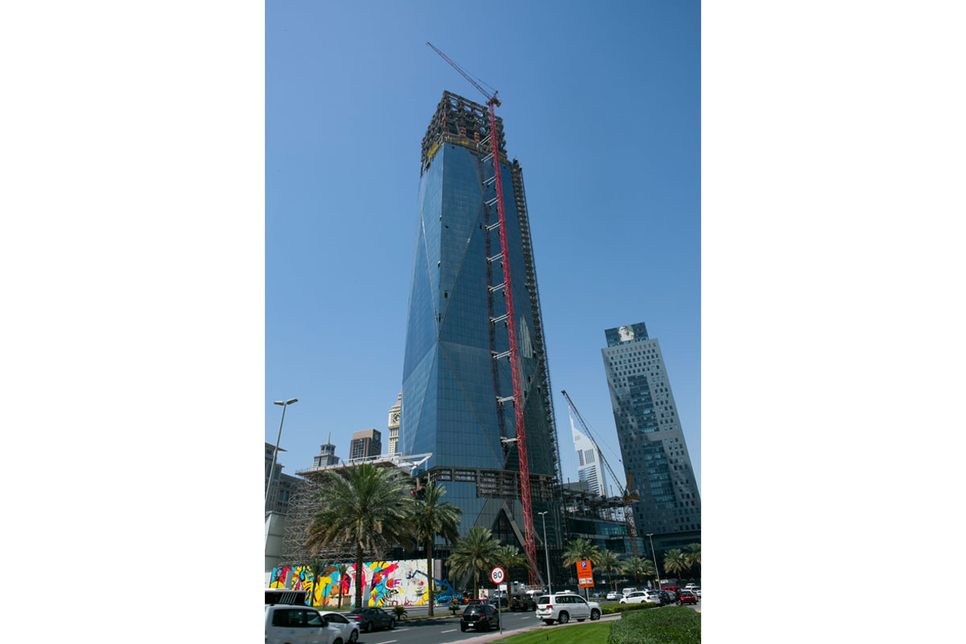 Commenting on the project, Ramy Boufarhat, chief operating officer, JLW Middle East, tells Construction Week's sister title MEP Middle East: "If you think about Brookfield, it is one of the biggest international players when it comes to office spaces in the world, and then you bring in ICD, which is a top investment company.
"They got the best designers, architects, and engineers, [and they] also wanted the best MEP contractor. That's how we basically got involved."
Australian MEP contractor JLW Middle East is a design and build specialist, with half of the firm's turnover attributed to such projects, with the rest dedicated to traditional, build-only schemes.
Boufarhat says: "This client is building, retaining, and operating their own asset. They're not selling it off. Their focus is quality, reliability, and obtaining an optimum life cycle. The entire design team, including ours, has always been encouraged by this client to push the envelope when it came to the use of the latest technologies."
There were two major issues that JLW faced in terms of the project: one was that the client wanted the entire tower to have a clean façade, and the other were the spacial constraints in building the tower at a high density location such as DIFC.
To ensure the former, ICD Brookfield Place's main MEP plant rooms are only located at the bottom (Level 5) and the top of the tower (Level 54). Tall buildings normally feature louvered sections between glass façades, which means the MEP plant room can be easily identifiable from the outside. Boufarhat says that usually in a skyscraper "after every 25 levels or so, there would normally be a plant room level", but not here.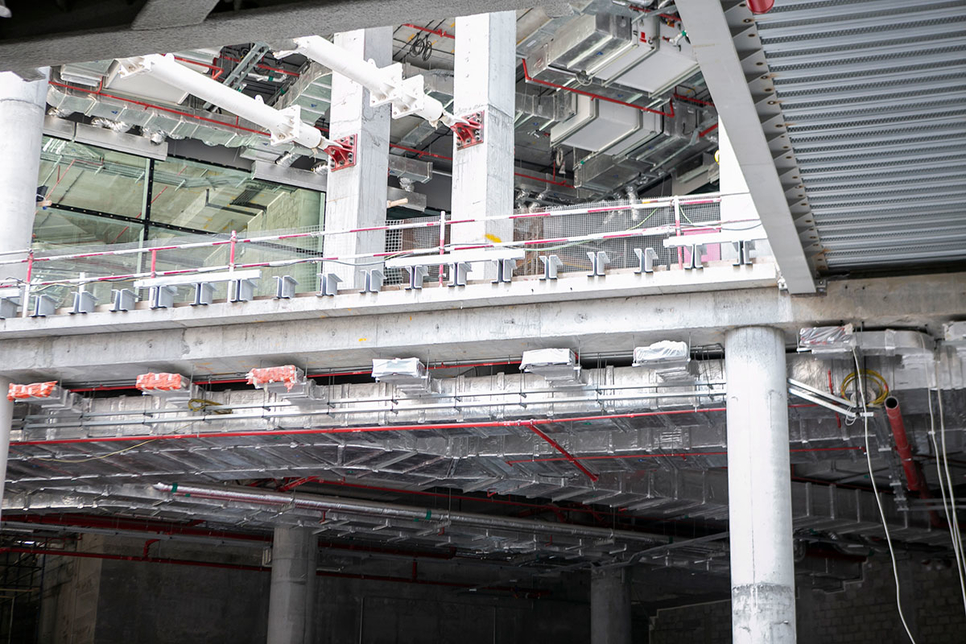 Bryan Heffernan, technical director at JLW Middle East, explains: "A clean façade means that there is no mid-level louvers or anything other than the glazed façade from the top to the bottom of the tower.
"This drove the MEP plants to the bottom and top of the tower. So you end up having a very concentrated MEP plant."
LEVEL 5
The plant room at Level 5 is 9m high and is stacked with layers of MEP systems with narrow passageways for distribution.
The area of the plant room is only 3,500m2 and there are secondary steel support structures for MEP systems from the plant room floor, with steel access and maintenance gantries provided for all equipment and valves located above 2.5m.
Eight to 10 layers of MEP service distribution are stacked throughout the height of the plant room, in an intricate and orderly fashion.
MEP Middle East was shown a computerised building information modeling (Bim) model wherein everything in the plant room – from pumps, plate heat exchangers, Hvac systems, control panels, cable reticulation routes, and accessories – were modelled to replicate all the equipment's exact physical characteristics in 3D.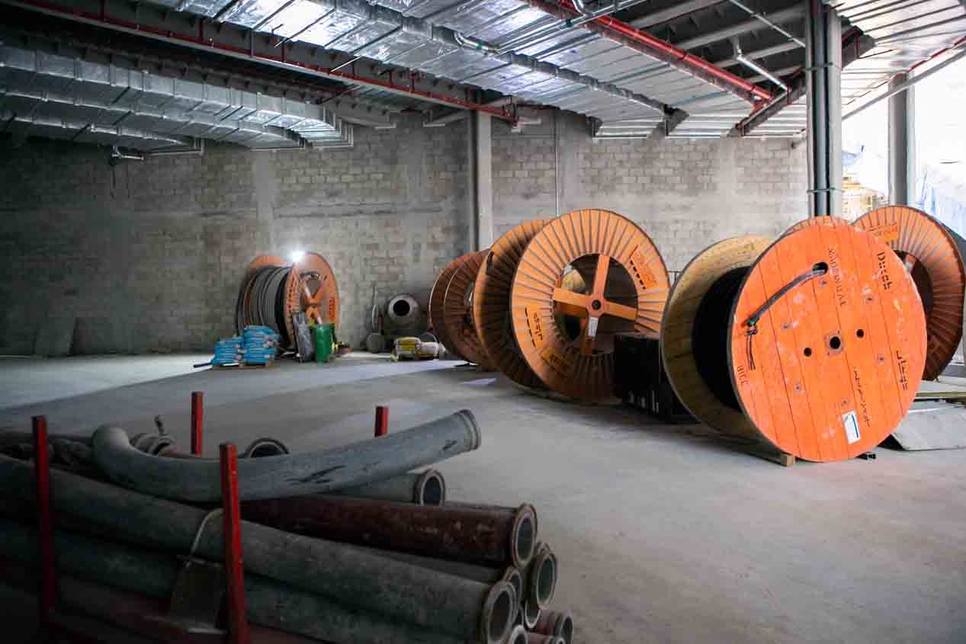 Heffernan says: "We then immersed ourselves into the Level 5 plant room model using virtual reality (VR) headset allowing us to walk through and visualise the plant rooms in its actual size – all in 3D.  The Bim model is a real life-size representation of what was constructed. We believe we have far surpassed anybody here in the region with this design."
The Level 5 plant room houses the MEP plant that serves the tower's basements, podium retail levels, and everything up to Level 30.
The triple-height plant room consists of three 2,500kVA generators, which serve the entire building; chilled heat exchanger plant and pumps; 6m-high fresh air handling units; a large low-voltage switch room; fire water storage and a pump set; and a host of electrical panels and extra-low voltage equipment that service the building.
The height of the plant room presented logistical challenges during installation, with no permanent mid-level access, but JLW had to make the plant easily accessible for asset management.
"The client is quite focused on facilities management and because they own the building, they needed to be able to maintain that building," Heffernan says.
"We've been getting them heavily involved in workshops as we developed this design. We had to have their buy-in on everything that we did, before we moved ahead with the construction."
LEVEL 54
The Level 54 plant room is constructed using steel members with rigger steel zig-zagging across the plant room from the core towards the external façade, with limited footprint for the MEP plant.
"It was a similar challenge in terms of congestion," Heffernan says.
"It is a 12m-high plant room; however, the biggest task we faced at Level 54 was the logistics."
Every MEP element to be installed at Level 54 had to be individually numbered and allocated an activity in JLW's programme, he explains. 
"We had to plan every crane lift precisely and ensure that the sequence for the material shift was planned in such a way to ensure that no piece of plant installed in the wrong sequence could block the material shift of other plant, as space was limited.
"We had to physically sequence every movement of the equipment because it's so congested up there. If you place a wrong equipment in before another, you end up blocking the horizontal movement.
"In addition, the drop zones, through the steel structure for the MEP plant, were limited to two locations, which put further pressure on the planning sequence for the MEP installation."
JLW overcame this logistical challenge by completing a 4D simulation of the MEP installation to visually mimic the movement of every element and track this against time.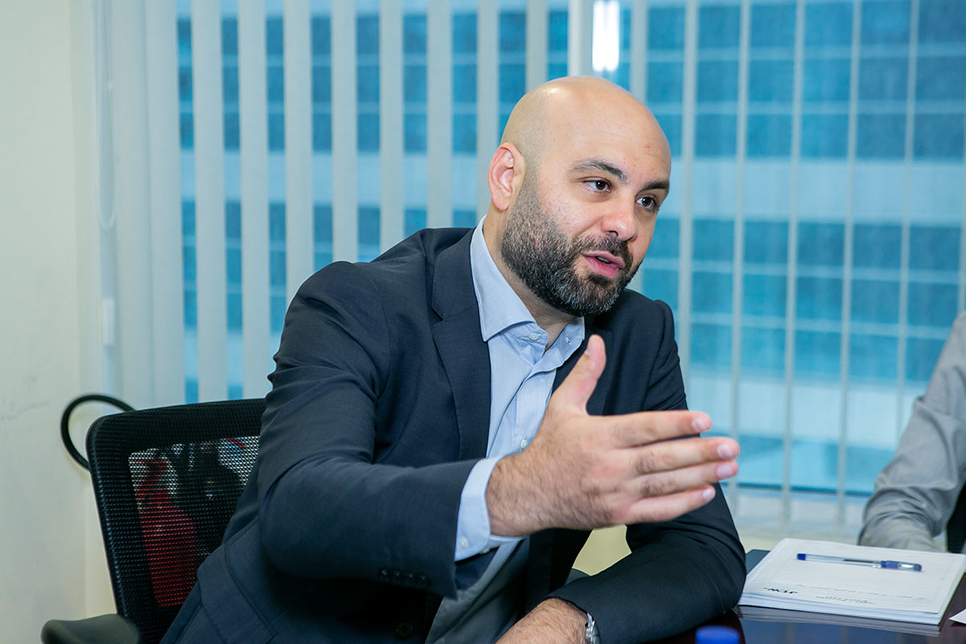 4D scheduling allowed the firm to precisely track all its deliveries, and time each lift and material shift; the opening and closing of crash decks; and the implementation of the last lift to allow the tower cranes to be dismantled.
Prefabrication played an important part in the process, Heffernan says: "To help with the [logistical] challenge, we used offsite prefabrication.
"Because the main contractor in this case had various other trades such as the steel fabricators, and façades specialists, the crane time was precious and extremely limited. The only way to deal with the limited crane time for MEP was to prefab."
PLANNING, PREFAB, AND PROCUREMENT
Prefabrication was, in fact, used for the entire tower, Heffernan says: "Considering this is a mega-tall structure, one of major challenges for us was the inefficiencies involved with vertical construction. 
"The introduction of MEP offsite prefabrication wherever we could was a must to overcome the vertical construction challenge. Prefabrication allowed us to quickly get our multi-service modules to the work front in a preassembled manner. It also allowed us to reduce onsite labour by over 30%."
The total number of offsite prefabricated MEP modules utilised on the project is over 3,000, which consists of the single-service electrical containment and ductwork modules throughout all seven basement levels; single-service ductwork and multi-service pipework modules for vertical services within the tower core; multi-service MEP modules for horizontal distribution services within the tower core; and multi-service horizontal and vertical modules within the Levels 5 and 54 plant rooms.
"[Prefabrication has] been a process of about six years [for us]," Heffernan says.
"We had to get our engineering process up to date in order to start using prefab facilities such as ducting manufacturers. Everything is now planned, visualised, and executed."
Commenting on the use of prefabrication, Boufarhat adds: "As long as we have a main contractor who buys into the plan, everything goes according to the plan. 
"Also, because of spacial constraints at the site, lots of planning is involved in executing this mammoth task. Once you've got a great sequence and planning established, you then have to procure the equipment. An MEP contractor will never buy all the generators, air handling units, and pumps, leave it at their factory, and bring it all [to the site] at once.
"You have to deliver things just in time to the site, [especially since] there is no space at the [DIFC] site to store materials.
"If you have the [storage] area, you don't want to leave equipment there for six months before it gets installed, because you would have already paid for it in full and won't be able to invoice it [to the client] in full until it is installed. That could get you into a serious negative cash flow.
"If you've got too much of a lag between the time that you bring [plant and equipment] to the site and the time you install it, your cash flow will go into an unplanned negative."
JLW has been vigilant in this regard, especially since even if there a minor discrepancy in the measurement of a module, it will be difficult to install in an already congested Level 5 or Level 54.
To ensure smooth delivery of its services, JLW sometimes sends teams or agents to inspect the equipment at the prefab facility before it is delivered. This is also important since the option of sending back an inaccurately manufactured product is cumbersome – and an activity that would take another three to four months, including international shipping.
"We have to go [to the factory] and make sure that the manufacturer is producing what we've asked them to," Boufarhat says.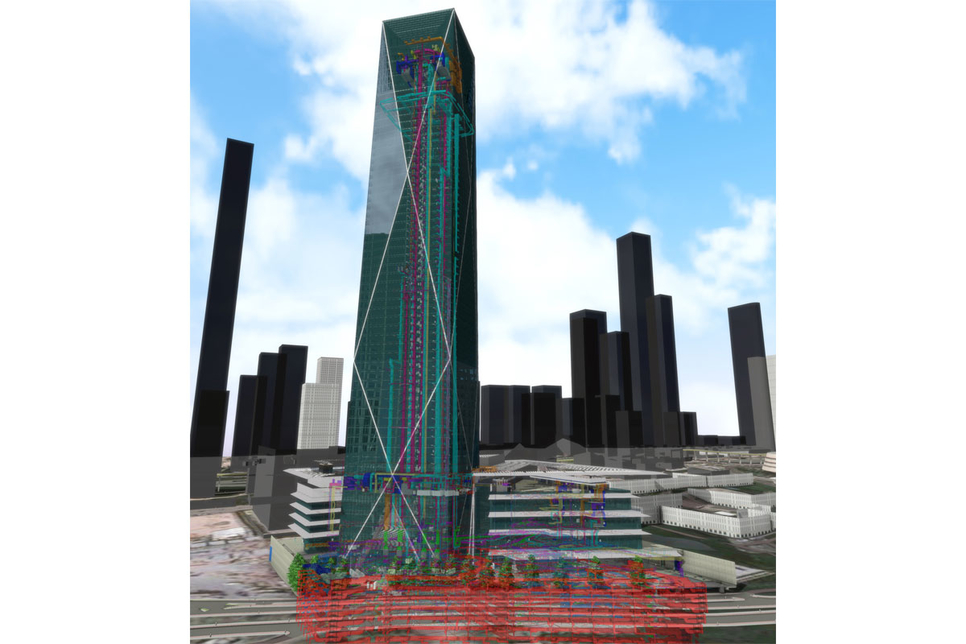 Remarking on this process, Fadi Boufarhat, project manager at JLW Middle East, says: "We like to have a proactive approach to construction as opposed to a reactive [approach].
"In the latter, risk is not identified beforehand. A risk occurs, and then you go and resolve it, like putting out fires as and when they happen.
"We like to adopt a more proactive approach of identifying the risks and challenges in engineering, procurement, construction, planning, and coordinating. We use prefabrication extensively in our projects, since it saves roughly almost 30% of the onsite construction time, which helps us adhere to the programme and constraints of the project."
ICD Brookfield Place has been designed to achieve Leed Gold certification. The building utilises the latest electro-mechanical systems currently available to Grade A, super-high rise office towers around the world, such as centralised fresh air systems with double heat-wheel technology and occupancy-based demand and control ventilation, with fresh air volumes 30% above Ashrae norms.
The project's ground floor lobby, podium summer garden, and roof garden are air-conditioned through underfloor distribution systems, with all air delivery integrated into the architectural floor and bench finishes. Air-conditioning condensate recovery will be deployed for landscape irrigation.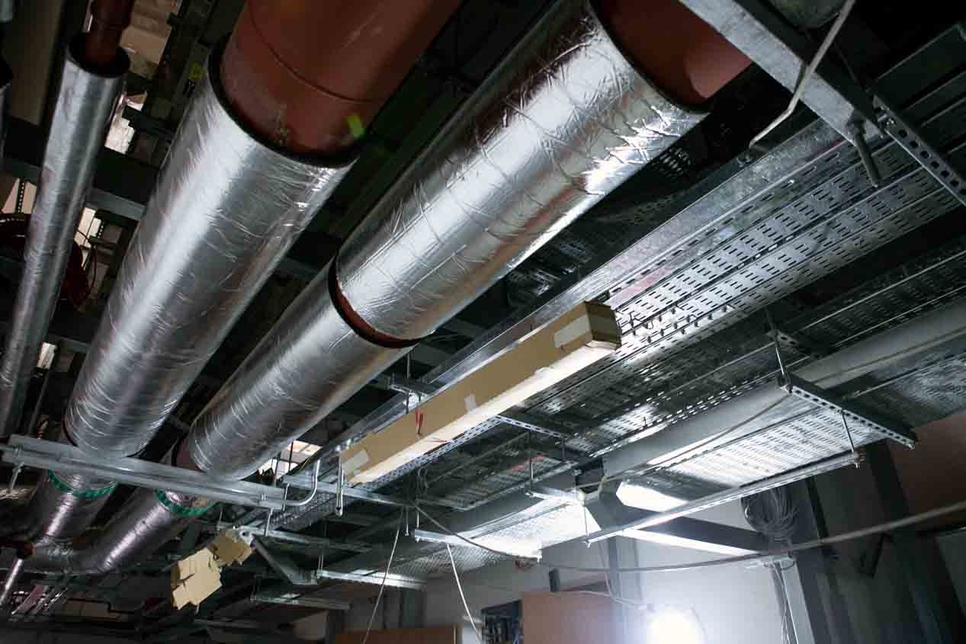 22MW of district cooling with three-pressure break chilled water systems, designed with variable volume pumping, is used for the project, which also features differential pressure control for tenancies, and pressure-independent control for air-conditioning units.
JLW carried out a detailed simulated hydronic analysis of each system to optimise operational efficiencies. The system is designed and controlled to maximise design delta-T during both full- and part-load conditions.
The building and MEP systems are designed to achieve a building energy use reduction of 30% below Ashrae 90.1 baseline values, and domestic water systems with 40% water use reduction against Leed baseline values.
Also installed are around 16 distribution transformers across a 25 MW medium-voltage network; and smart building technologies connected through an IP-based intelligent building management system that covers lighting controls, emergency lighting, and fire alarm systems.
ICD Brookfield Place features a high-speed fibre IT backbone network that has in-built redundancy; intelligent metering that is capable of monitoring and trending energy consumption; and fully-connected lighting controls system with KNX-powered communications, all of which is integrated with the building management system.
"Basically for us, as the MEP party, it was exciting to be involved because the client pushed for open protocol [in technology]," Ramy Boufarhat explains.
"Open protocol means no matter what you install, one can still add to the technology. In two years' time, if there's a new technology, I can add that from any other manufacturer into my building because of open protocol tech."