PICTURES: Saudi Arabia's Haramain Rail stations by Foster + Partners
Makkah, Madinah, Jeddah, and King Abdullah Economic City stations have been linked by the four stations
British architecture and design firm Foster + Partners has completed design work on four rail stations in Saudi Arabia's Makkah, Madinah, Jeddah, and King Abdullah Economic City (KAEC) that have been connected by the 450km-long Haramain high-speed rail link and were opened over Eid Al-Fitr 2019. 
Design details for the stations have been revealed by the firm, which stated that modular systems were used to build the four stations, which share some design elements.
Steel columns and arches have been used throughout the stations' architecture, connected by differently coloured vaulted roofs signifying the identity of the four cities.
Small openings have also been designed within the vaulted roof and walls to draw streams of daylight to the concourse level.
Head of studio at Foster + Partners, Luke Fox, said: "The designs of the new stations focus on passenger comfort, while building on the sense of excitement and wonder that is inextricably linked to the idea of travel."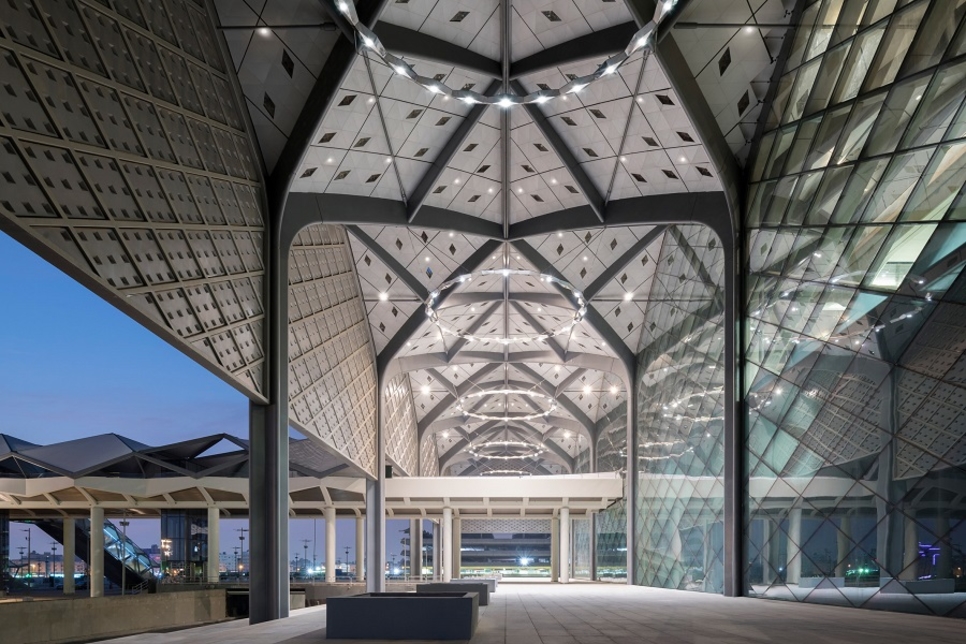 According to Foster + Partners, the design and construction of the four stations was carried out independent of the civil works and track installation, which was one of the major challenges that the company faced.
The four stations are conceived as gateways to each city and inspired by the ancient architectural traditions of the region, providing a shaded retreat from the sun while creating a new infrastructural spine for sustainable transport in Saudi Arabia. https://t.co/t69uEz92us pic.twitter.com/3p7kbjkFh9

— Foster + Partners (@FosterPartners) June 13, 2019
Each station can accommodate more than 20,000 hourly commuters, and the facilities have been designed to link with other local transport networks, including the Foster + Partners-designed Jeddah Metro.
Senior partner at Foster + Partners, Angus Campbell, explained that the stations were based on a common 27m2 module, comprising the roof, the concourse, and the platform, which can be rearranged for through and terminus stations.